The smart bulbs, it's good. As we know, as good Alexians, we all have at least two dozen at home. But what would be great is a connected night light, for the little ones. That way, we turn it on when we want, we change the color, the intensity, we turn it off when the monster finally sleeps or when he is acting just to show him who is the boss… Top right? Well, Les Alexiens, faithful to their habit of internet backpackers, High Tech talent scouts, bargain seekers ... In short, true to themselves, you have found not one, not two, not three but 5 connected night lights !
This is the brand COUNTRYSMART who offers this set of lights! You have certainly already read reviews of the Chinese brand's products. Our conclusions are that the products are of good quality, practice and to relatively attractive prices. Indeed, these CE and RoHS marked night lights are sold at the single price of € 32,40 excluding promotion and exist in five forms. You will surely find the one you like.
ZEMI connected night lightsSMART : the choice and the detail
If you've been following us for some time, you certainly know that Earthsmart, to offer products at an attractive price, do not rely on packaging. And this case is no exception to the rule. Moreover, we have not immortalized the moment when our feverish little fingers eagerly opened the plain brown cardboard without any identification or marking ... So in summary, packaging is more than basic and ugly, but your night light is well protected in bubble wrap. Besides, because there is only that to say about the packaging, cardboard is a French invention from 1751!
What do we finally find there? The connected night light (in bubble wrap), the power cord and installation guide (a fairly well done 4 page booklet). Indeed, it addresses the connection, the buttons, the installation with Smart Life, the connection with Alexa, voice commands as well as various subtleties and characteristics. Ah yes, in English, of course.
We tested the lamp in the shape of a "shell" but there are four others: a cylinder, a rectangle, a sphere and Moon, which seems to be a victim of its own success. However, the operation is exactly the same.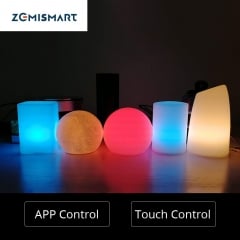 It is difficult to give you a description of each night light, but notwithstanding the fact that we had only one reference in hand, we can assume that, all other things being equal, the conclusions of this test are extrapolable. Yes, you have the right to reread the previous sentence if you did not understand ...
Our luminaire is made ofone block, the two parts (the base and the pilot light as such) cannot be dismantled. The plastic of the body is opaque white and do about 2mm thick. It is not made to emit a brilliant light but to diffuse it. The base is in glossy white plastic. It is on this last part that you will find the USB port and on / off button. That's all ... There are 6 small lugs on the underside serving as feet. Without being on an exceptional quality, we are on standard quality materials, hardly marking and resistant to the shock. It is a product made to resist and to be highlighted once illuminated. Except for the moon night light which is very pretty as such and will be sublimated once lit.
In terms of dimensions, we are not on a dinette nightlight. For example, in our case, the size of our lamp is 20 cm high et 12 cm wide, 240 grams. Okay, that's the biggest of the lot, but the others aren't ridiculous. The cable is 1,5 m, but there is no adapter supplied with.
Now let's take a closer look at its characteristics: it will work in 5V, 1,5 A, therefore use a mobile phone charger or a connected plug / extension cord with USB port. When recharging, it will consume 3 W, which is little. It contains a 1200 mAh / 3,7 V lithium battery. To be used between 0 and 40 ° C, with 2,4 GHz Wi-Fi.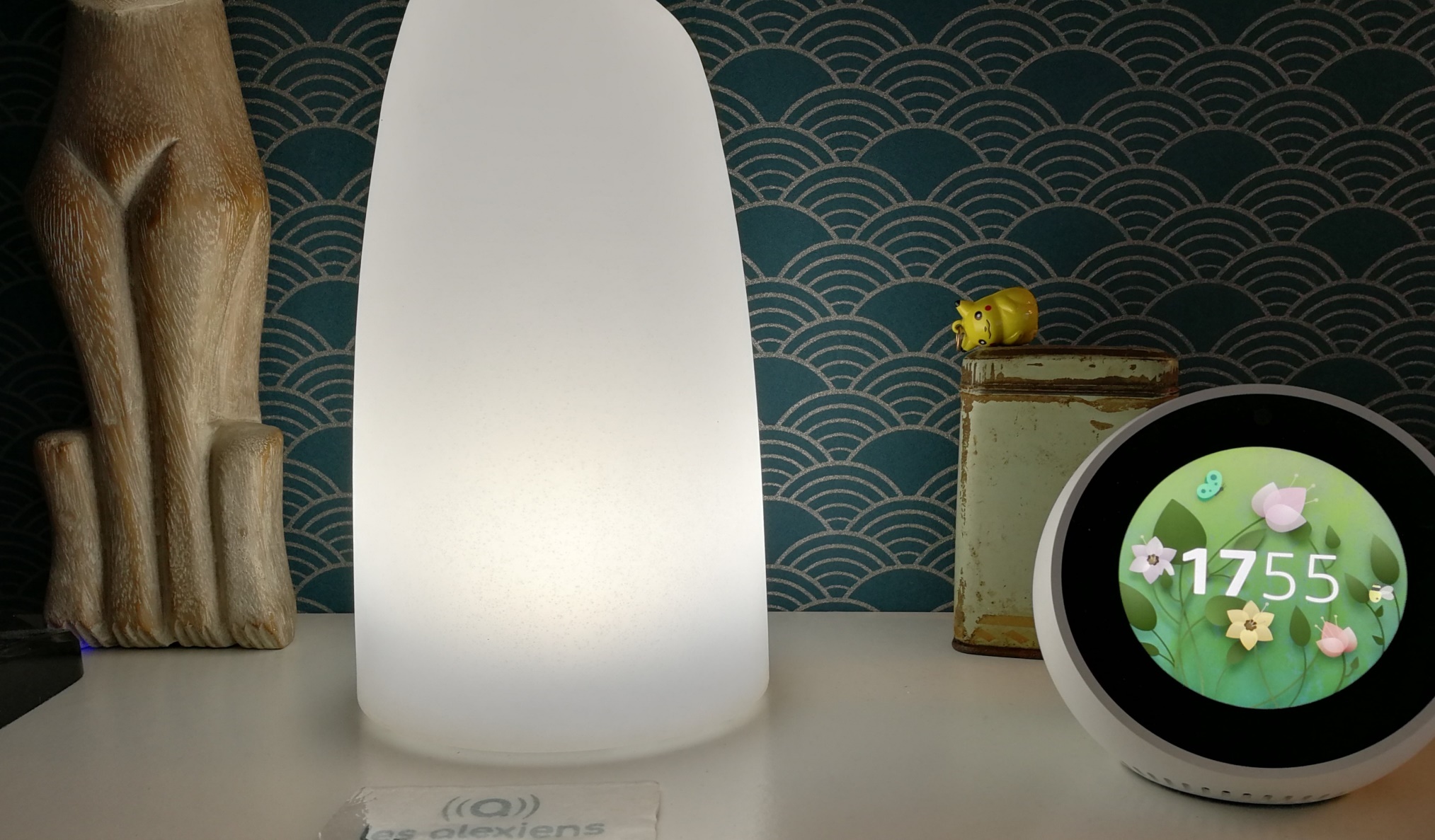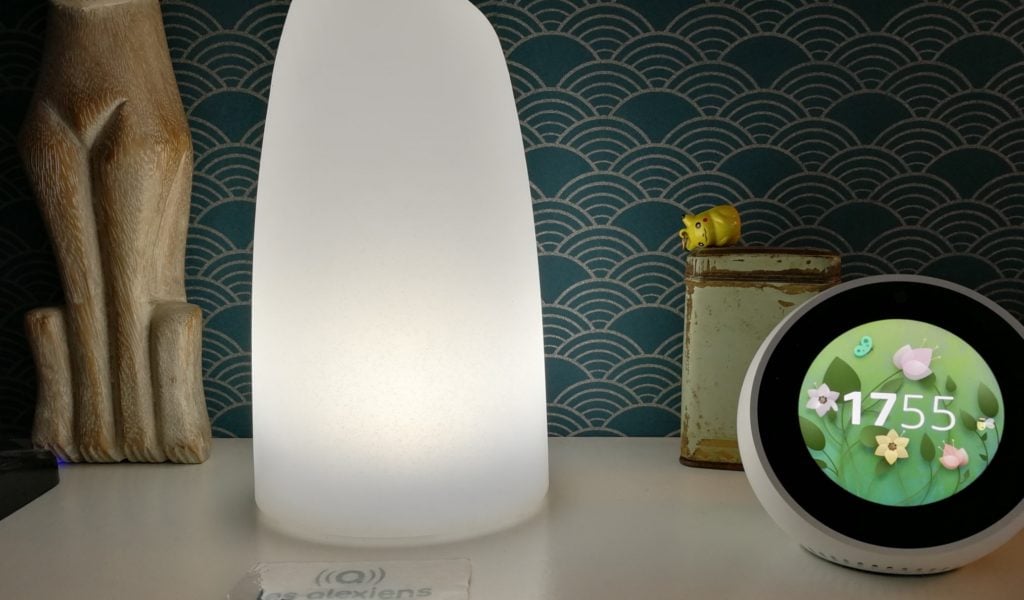 But let's dwell a bit on the strengths of this product:
The connected night light works autonomously, on battery. Recharge it 3 hours maximum and let's go 3 to 10 hours of use.
She has a mode of manual color change by tapping the base on the surface it sits on: cool white, warm white, red, green, blue, purple, yellow, blue (but not the same), pink and lime green, in order of appearance.
Operation via app Smart Life to vary colors, whites and intensities
Operation with Alexa, by voice, even when not plugged in.
There is a charge indicator integrated into the pilot : red when you plug it in, then it turns blue when it is charged. Attention, to turn off this light, you must unplug the lamp, if you press the on / off button, it will turn on the lamp in white.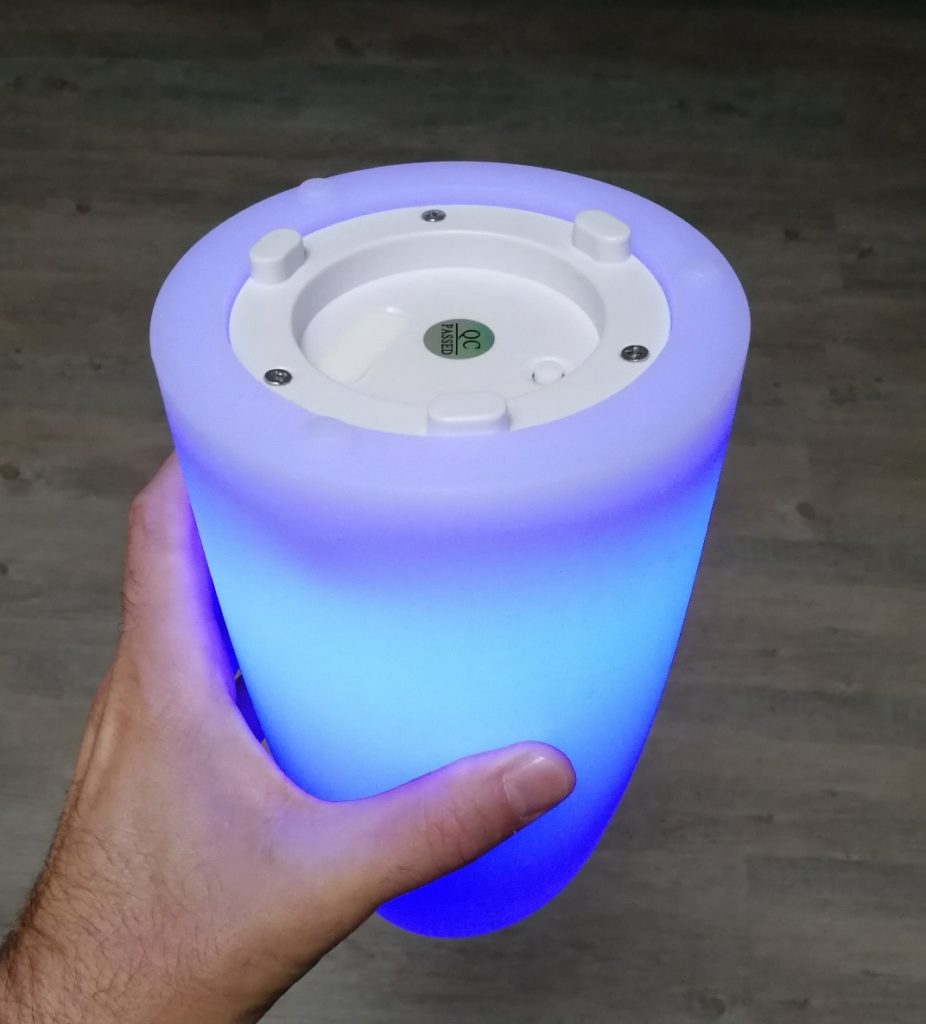 It only remains to confirm that this is all real. And for that, start by loading it and having it recognized by Smart Life.
ZEMI lampsSMART : night use with Smart Life and Alexa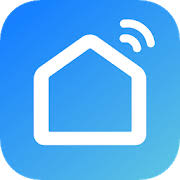 The installation of this lamp will be done with Smart Life as a standard bulb. To enter pairing mode, press the on / off button for a few seconds. We did it 3 times and finally, by doing a long press and turning on / off several times, it worked. The lamp will start to flash, take the opportunity to launch the application Smart Life.
Don't forget to activate the Skill Alexa to be able to use it with your Echo. Under Smart Life, press " add " and select " lighting ". Then, as usual, once in pairing mode, select your Wi-Fi network (2.4 GHz) neighborhoods, are the mot de passe and let it be. Unless you are a player, we invite you to change the name of the nightlight to be able to use it by voice.
A firmware update will definitely start, just let it go.
In the application, you will be able to control the night light in different ways:
Setting thelight intensity
Setting the warmth of white
Adjustment of colours
Setting the color saturation
You can see an icon "Shock Power". The latter will allow you to activate or deactivate the fact of being able to turn off or change the color of the lamp by striking it on a surface. Being able to deactivate it may be interesting depending on where you put it to avoid changing the settings if it is moved a little suddenly.
As with all "bulbs" under the app, you also have the option to put it into practice from scenes (i.e. pre-installed atmospheres with specific luminosities) and a ignition planning or shutdown.
THEuse with Alexa is done via the skill Smart Life and will consist in driving it like a lambda bulb. There are 5 heats of whites under the application as well as 15 colors which are callable by voice. Do you want natural light? « Alexa, turn on X in daylight white », « Alexa, turn on the night light in blue », « Alexa, turn on the night light at 10% "...
In theory, this is really great, but in practice? Well in use, the colors are very good for connected night lights. Be careful, do not expect intense and very bold colors, we are a product whose purpose is to emit a diffuse glow. But as you can see from the photos, they are really pretty and "deep". The variation of saturation works very well being able to pass from a blood red to a pink white. The heat of the whites is also very good for this type of product. Frankly, no complaints.
Also, you can expect some latency with battery-operated hardware, but it isn't. Again, the color changes, switching on and off are also relatively fast. In short, no change compared to a standard mid-range bulb.
After several nights of testing, the operating time without being connected to the mains is approximately 10 hours in color at 1% brightness et 7 hours in color at 20%. This duration will vary in depending on light intensity, where you place the night light (Wi-Fi network with an excellent signal or not) and use (the more actions you ask, the less the battery will last). About 10 min before the battery is discharged, the night light turns red and flashes 4 times. If you use it in a child's room, it is a real asset to be able to vary the intensity once your little blond head is asleep, or even to turn it off completely (we let you manage the alarm clock in the middle of the night) .
In summary of this test, these connected night lights Zemismart do not look like much but have the advantage of existing in several references including a nice moon, and are

a very good surprise

. Let's disregard a non-existent packaging and documentation only in English to highlight an autonomous night light, functioning by voice or by application, having rather good colors and very present. The battery life is not exceptional, with a maximum of 10 hours (8:30 in our tests) but sufficient for most uses. A more powerful battery would however have been a plus to prevent, for example, that the night light goes out as soon as possible. The Shock Power system is a good idea, but a little too sensitive.

We are therefore on a completely acceptable product, of good quality and of completely satisfactory quality. Let yourself be tempted!