It's hard not to talk about Xiaomi as its connected objects are so numerous and attractive. There are, you know, different brands within the world of Xiaomi home automation and in particular its Mijia brand, but also the Aqara company to which we will come back very soon, the Roborock company, of which we will soon present the Roborock S6 robot vacuum cleaner, but also the connected lighting brand Yeelight whose Chinese giant has also made the acquisition. After testing the Wi-Fi bulbs in color and shades of white, we were drawn to the Yeelight mood lamp. Also nicknamed Candela, this lamp is not made to light powerfully, but to create a warm atmosphere, inside and out. Let's see if it lives up to the brand's reputation!
79,29€
In stock
August 13, 2022 9:52 a.m.
Not available
August 13, 2022 9:52 a.m.
Yeelight Candela: a truly attractive wireless design
By browsing the Aliexpress online shopping site in search of connected objects at a low price, our gaze landed on the Yeelight Candela, whose price was much more affordable that on Amazon where we had of course already spotted it. Neither one nor two, so we brought it to France!
Unboxing and presentation
Received quickly thanks to DHL and perfectly packaged, we were immediately surprised to discover its cardboard box. As always with Yeelight and companies in the Xiaomi ecosystem, the packaging is neat, the glossy cardboard quality, the omnipresent white and the logo elegant. We find "the Xiaomi Touch"!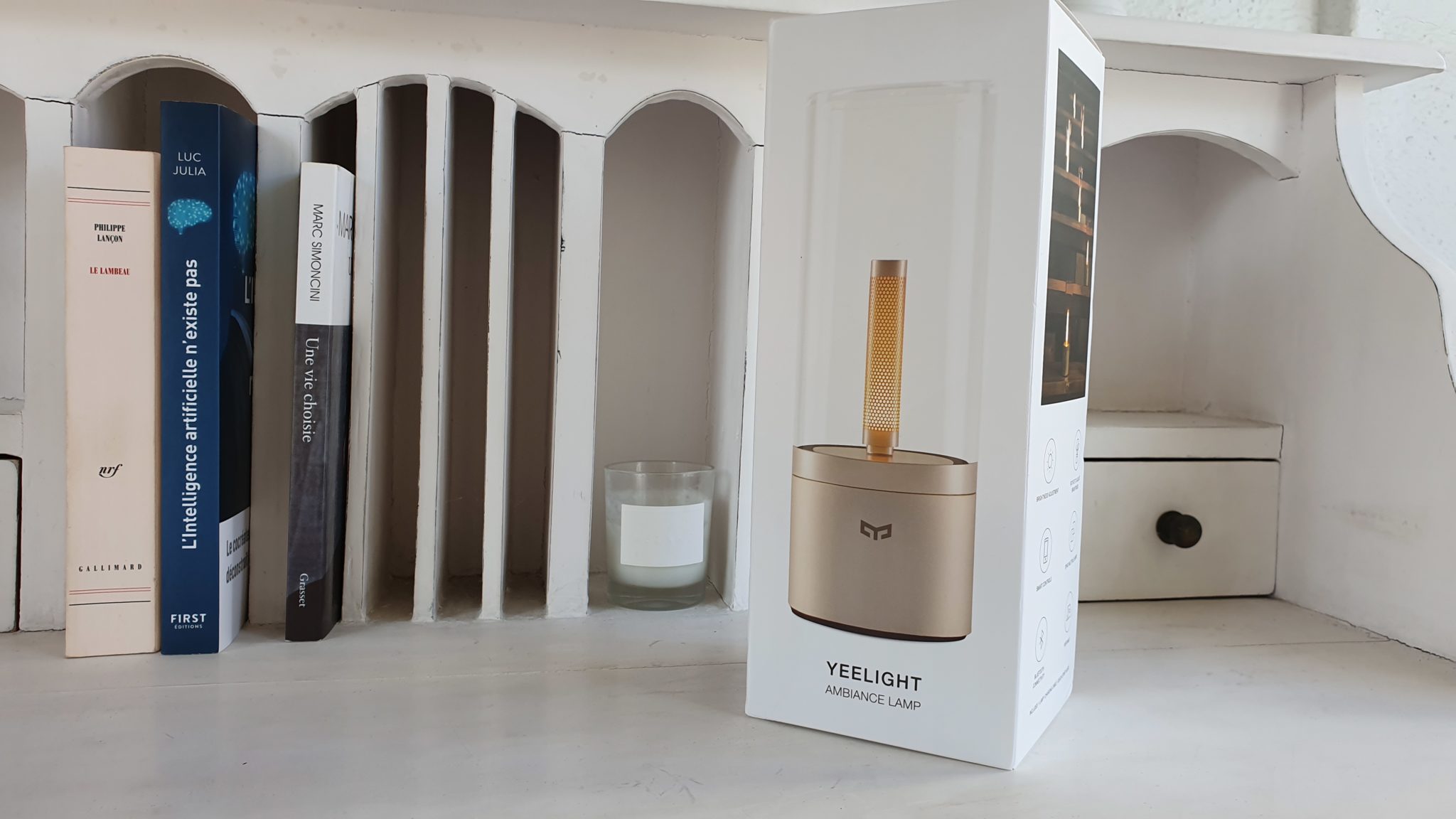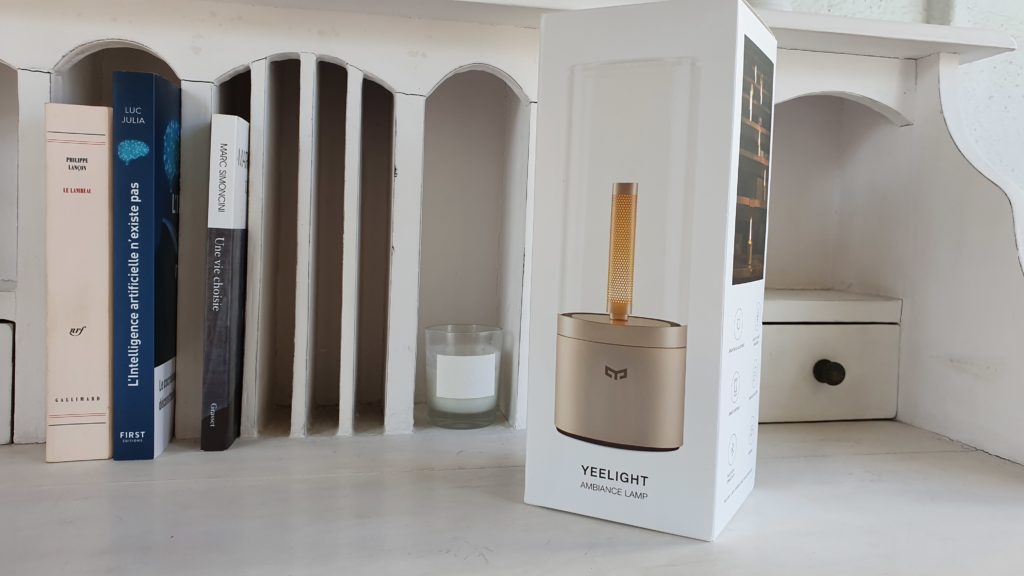 A first visual presents the object on its front face. On the left, Yeelight presents the main features of the product, just as the right is decorated with six small pictograms teaching us what we can do with the Yeelight Candela:
Adjust the brightness of the lamp,
Switch on / off / adjust by printing a rotation to the device,
Check the device with our smartphone,
Synchronize multiple lamps of this type,
All in Bluetooth and not in Wi-Fi,
Take her for a walk with us because it has a battery.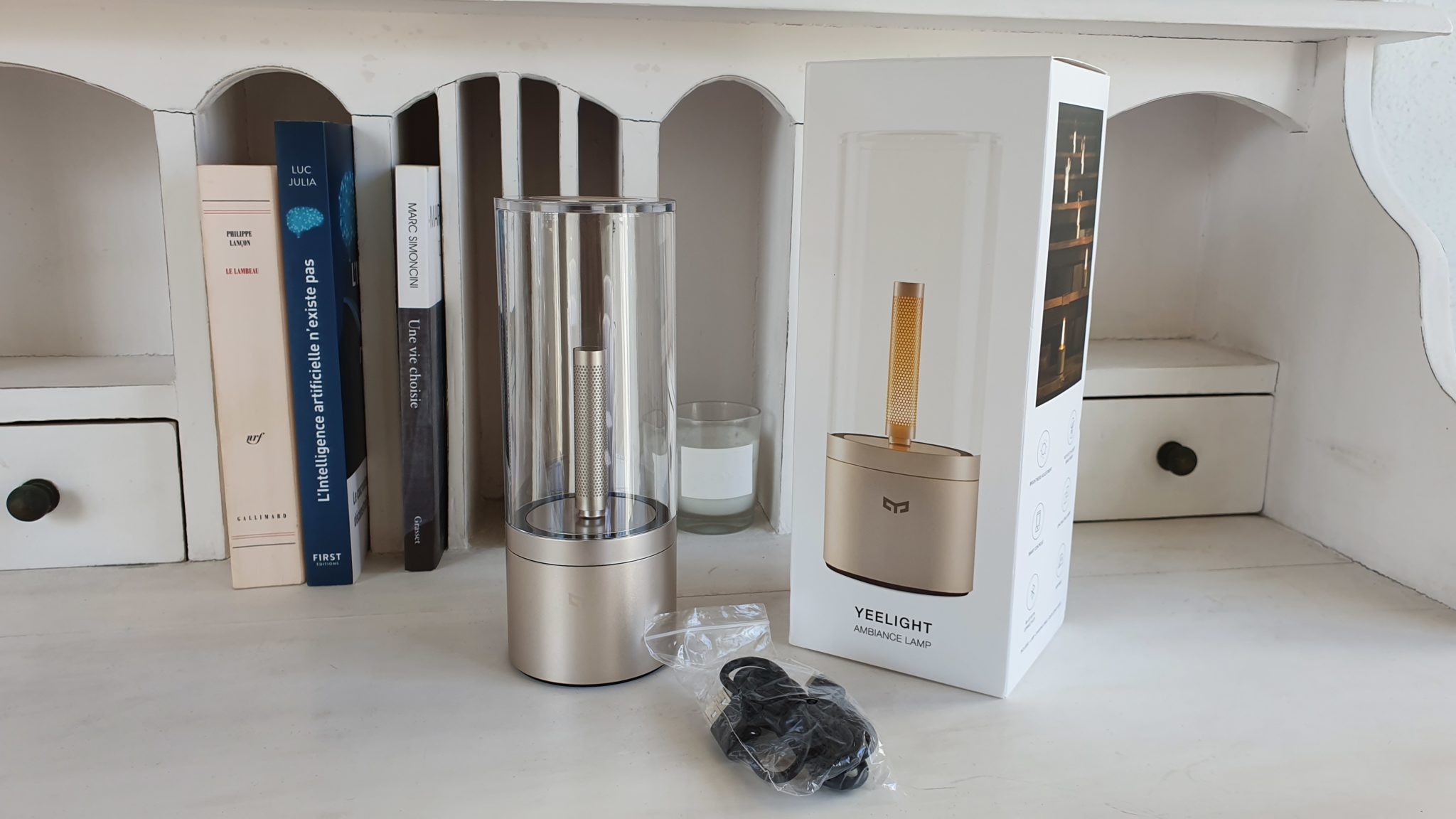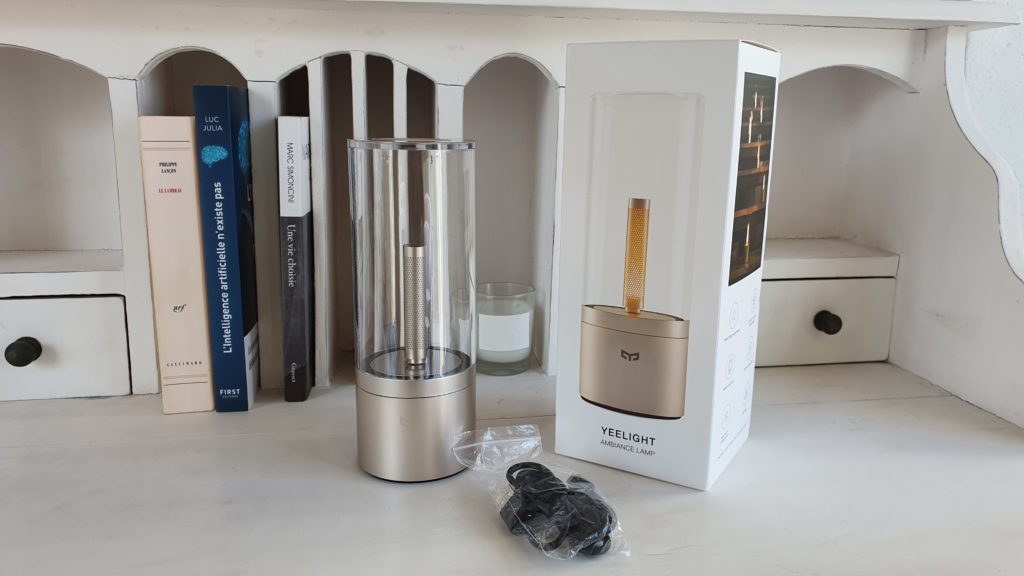 But does this mood lamp keep its promises?
From a design point of view: without a doubt! Tastes and colors are always open to discussion, of course, but when writing we were immediately won over. The Yeelight Candela is beautiful and it exudes solidity. Its design is successful, its robust design. Besides, because of its weight, we almost believed for a moment that its upper part was made of glass ... Well no, it is polycarbonate, but a really top quality, as you can see from the photos. At night and on, it's simply bluffing! Believe us, this is impressive, and know that we have never had any contact with Yeelight yet and that our judgment is in no way oriented.
Datasheet
Measuring 19.5 cm high for 7.2 cm in diameter, this little lamp from 430 grams is in a way the candle of modern times. If it only delivers 13 lumens for a power of 6.5 Watts, it is nonetheless pleasant. Its white is warm like that of a flame 1800K (we consider that a real flame is around 1500K). A digital flame therefore, animated by Dimmable LEDs, connected by Bluetooth and equipped with a rechargeable battery offering an autonomy of 6 hours! Recharging will be carried out in a very classic way via a micro-USB port on the port of a computer, or a connected socket equipped with USB port for example. Too bad, moreover, that only the cable is provided… But not enough to stop an Alexien, is not it? Note, finally, that the lamp rests on a non-slip rubber surface which ensures perfect stability to the whole and hides within it the on / off button which can switch to Bluetooth to control the device (allow two hours of more autonomy if it is not connected…). A small button "reset" is also part, as well as an LED indicating or not the good charge of the device.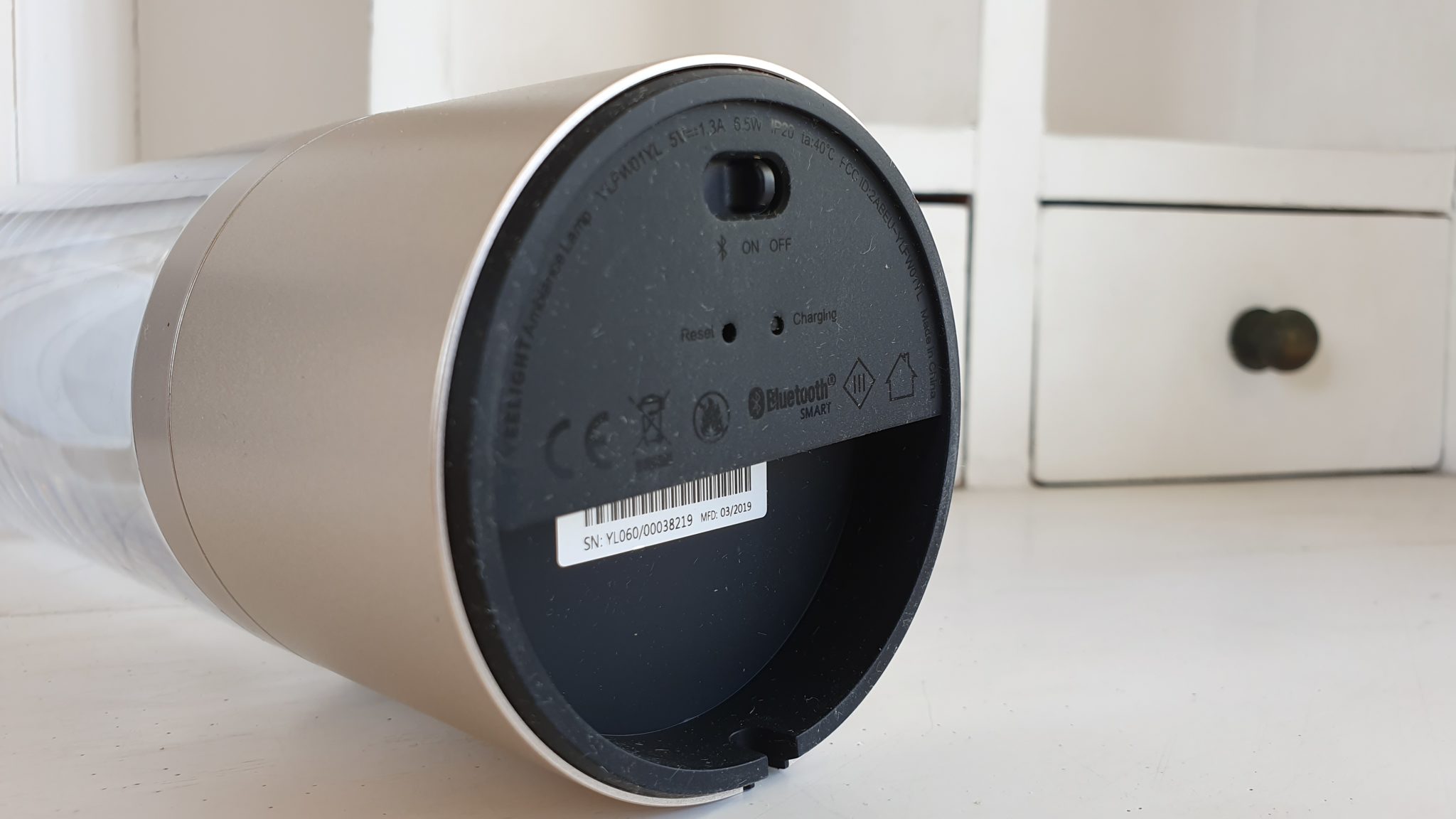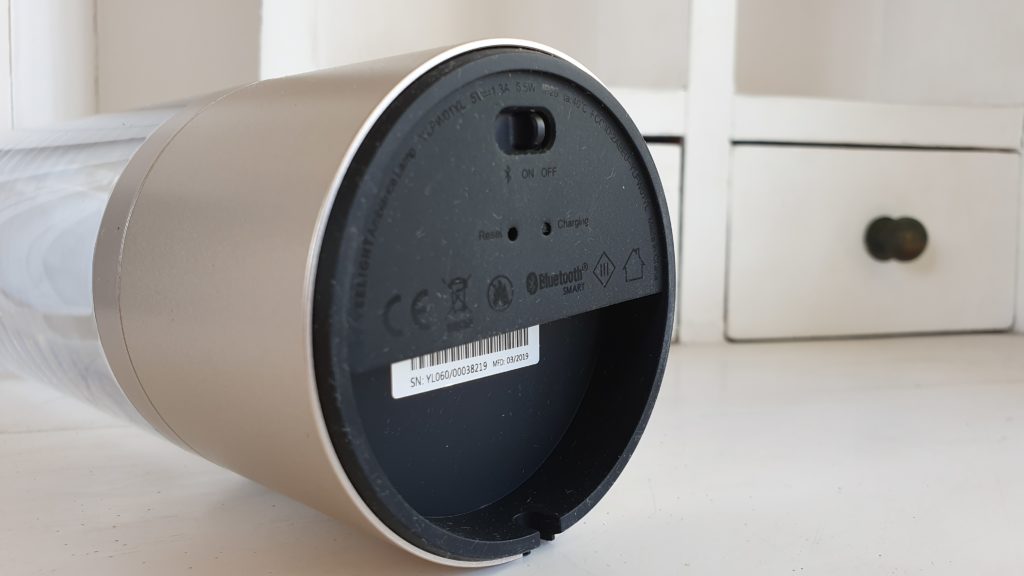 Brand
Yeelight
Model
Candela - YLFW01YL
Color
Or
Dimensions
72 x 195 mm
Weight
430 grams
Luminous flow
0.3 - 13 lm
Engime
6.5 W
Color temperature
1600K
Starter
5V / 1.3A
Battery
2100mAh rechargeable via micro USB
Connectivity
Bluetooth 4.2 (BLE mesh)
Range
20 meters
Operating temperature
-10 / + 40 ° C
Yeelight Candela: a bluetooth connected mood lamp
Bluetooth-only connectivity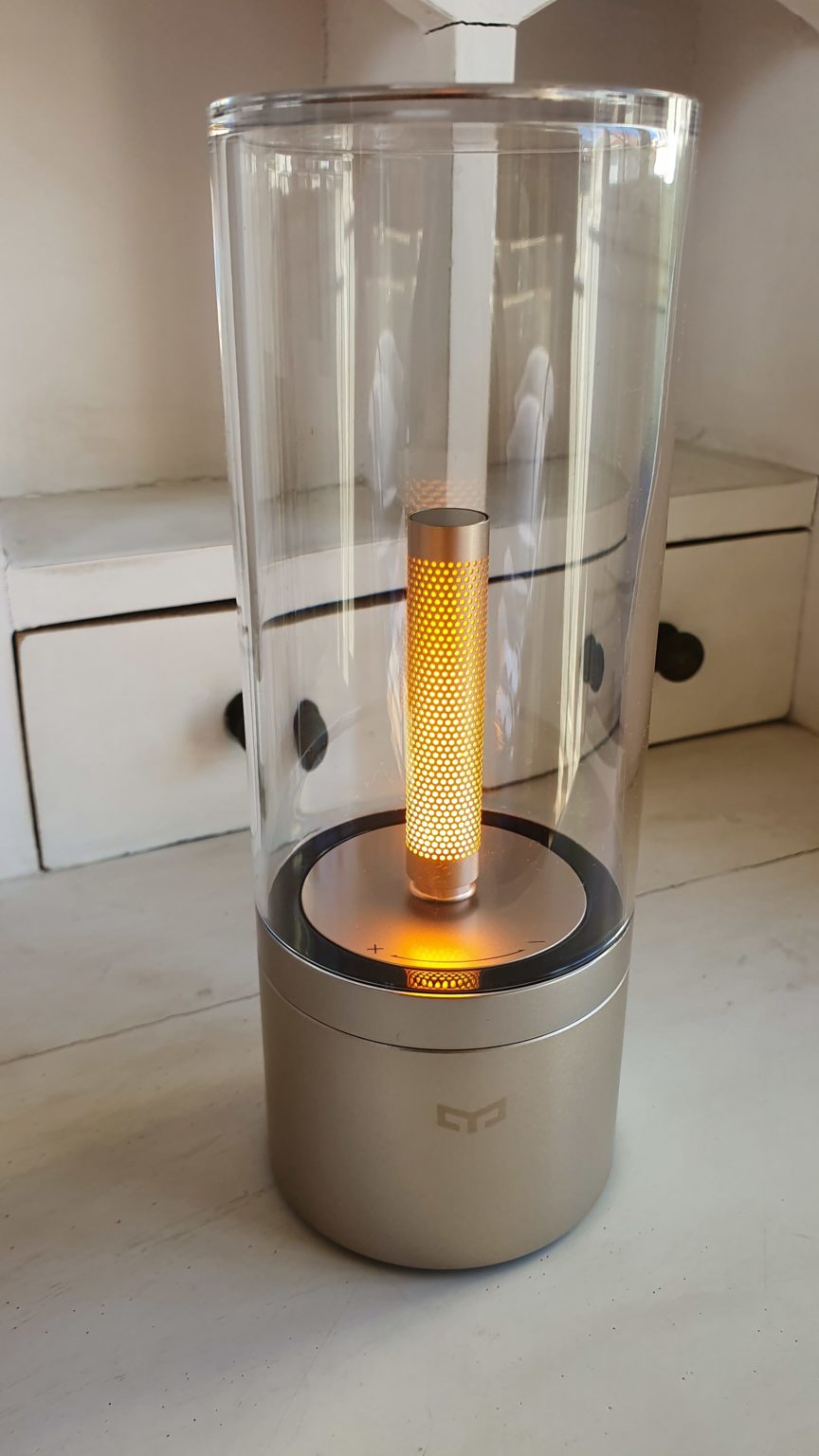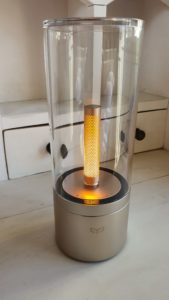 In its early days, Yeelight bet on Bluetooth, a practical protocol because it is very widespread, but which does not benefit from an extraordinary range, does not cross walls with difficulty, and is unfortunately difficult to connect to our voice assistants. This is the only regret we have to express regarding this product. But, would it be really that interesting to turn it on, off and set it to voice? Not so sure… Even if, like any self-respecting Alexien, we would like to integrate it into routines Alexa. Yeelight, if you can hear us, find us a solution! A new product for example, in Zigbee perhaps, just to keep an interesting autonomy.
Indeed, the Bluetooth Low Energy is much less voracious than Wi-Fi, which probably explains this choice for a product intended primarily to adorn our terraces and gardens, or why not our dining room tables. Yes, basically, you do what you want with it and this lamp can fit very well into a contemporary interior as it is discreet and aesthetic. Moreover, if you fall for like us and take only one, it's a safe bet that you will quickly want to acquire more.
We put our finger on an interesting feature possible thanks to Bluetooth: several lamps of the same type can communicate and synchronize. Indeed, you may not have known it, but the Bluetooth 4.2 of this Yeelight Candela allows a mesh or mesh network, like the latest versions of Wi-Fi or Zigbee to name only these well-known protocols. Imagine that you want to put them all over your large terrace: no need to tire of going around them to turn them all off at the end of an evening! Only one Yeelight Candela will be able to control her sisters and the number of devices is almost unlimited ... Actually, the only information we have found on this subject comes down to "add as many as you want". Hmm? Ok, why not basically, it remains to be seen how much the application will support ...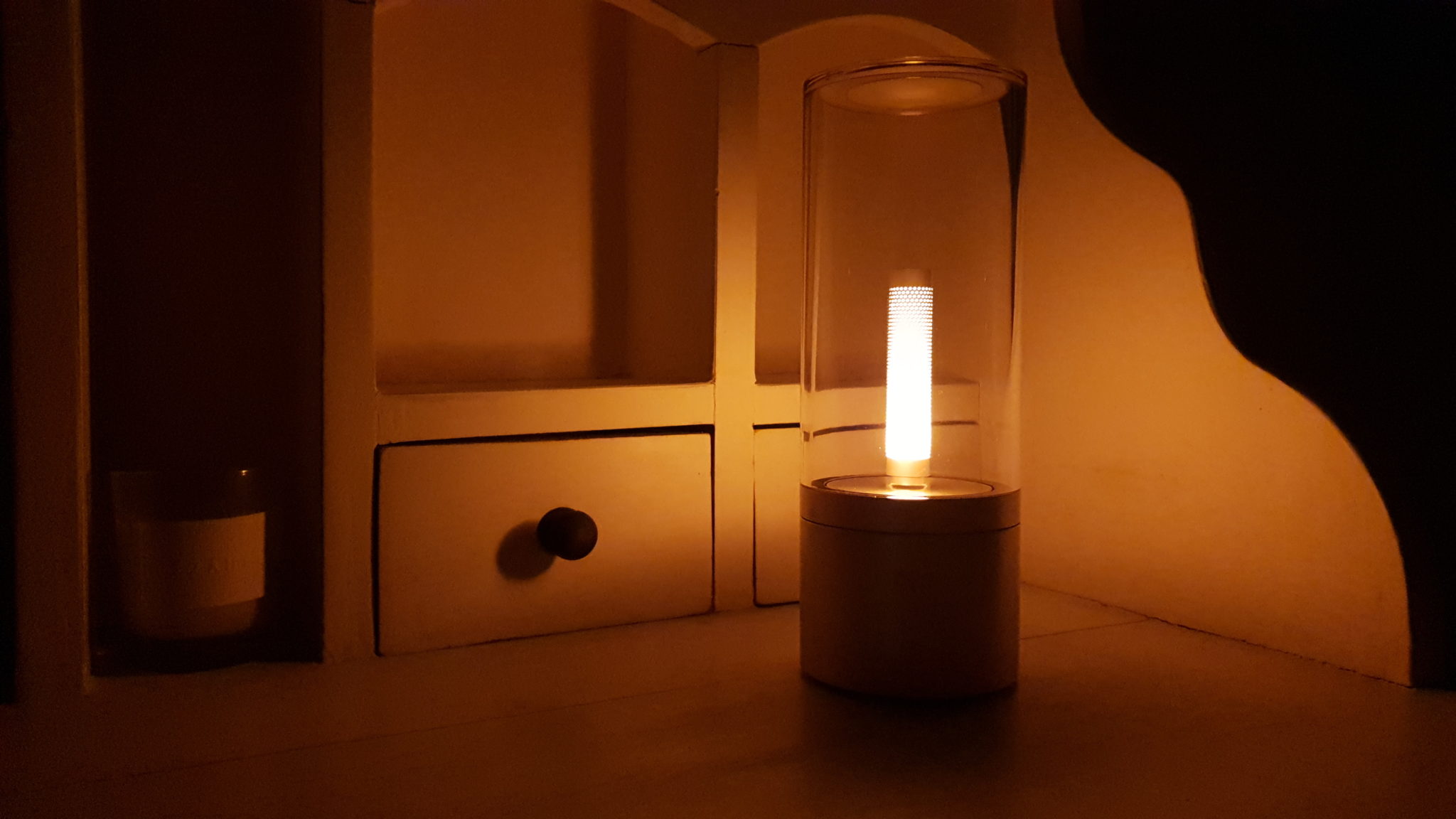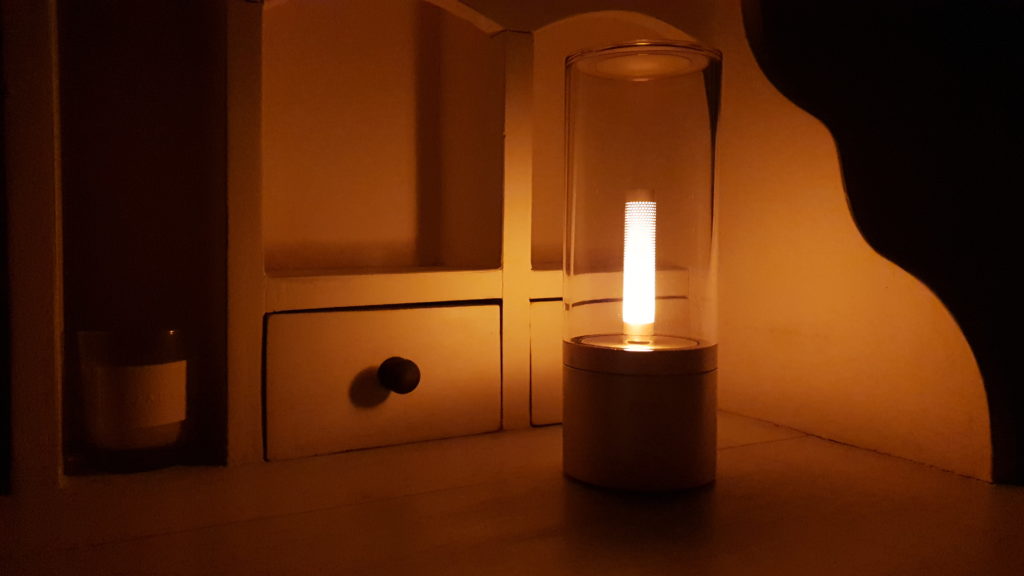 A well thought out application
Speaking of app, you won't be surprised to learn that you can control the Yeelight Candela thanks to the excellent brand application. If you already have Yeelight bulbs, you just need to add your new mood lamp. Otherwise, you can obviously download it from the stores Google et Apple. For the future smartHuawei phones, we'll see!
Once the application is installed and your account created, all you have to do is select the traditional small "+" at the top right of the application! Definitely, the developers and UX designers have spread the word! Then you arrive on a screen offering the different Yeelight devices. Go all the way to the bottom, it's the very last!
Then follow the instructions, namely toggle the button to "Bluetooth" mode et Switch on the light. In a few seconds, you will come across a screen offering a MAC address. Select it, validate, and that's it!
Let's see what this lamp has, or rather its application, in the belly!
Several scenes are available:
night mode,
Home,
Music Moment,
Romance,
Bath,
dinner
You can obviously manage theluminous flux intensity, create some favorites to save a state particular, program timers, or create device groups if you have more than one Yeelight Candela.
To be honest, the scenes are not very useful and it is difficult to perceive differences other than light intensity. However, the programming possibilities remain interesting, just like the possibility of finely adjusting the lamp from a smartphone from his hammock, or even better, well wedged in his spa.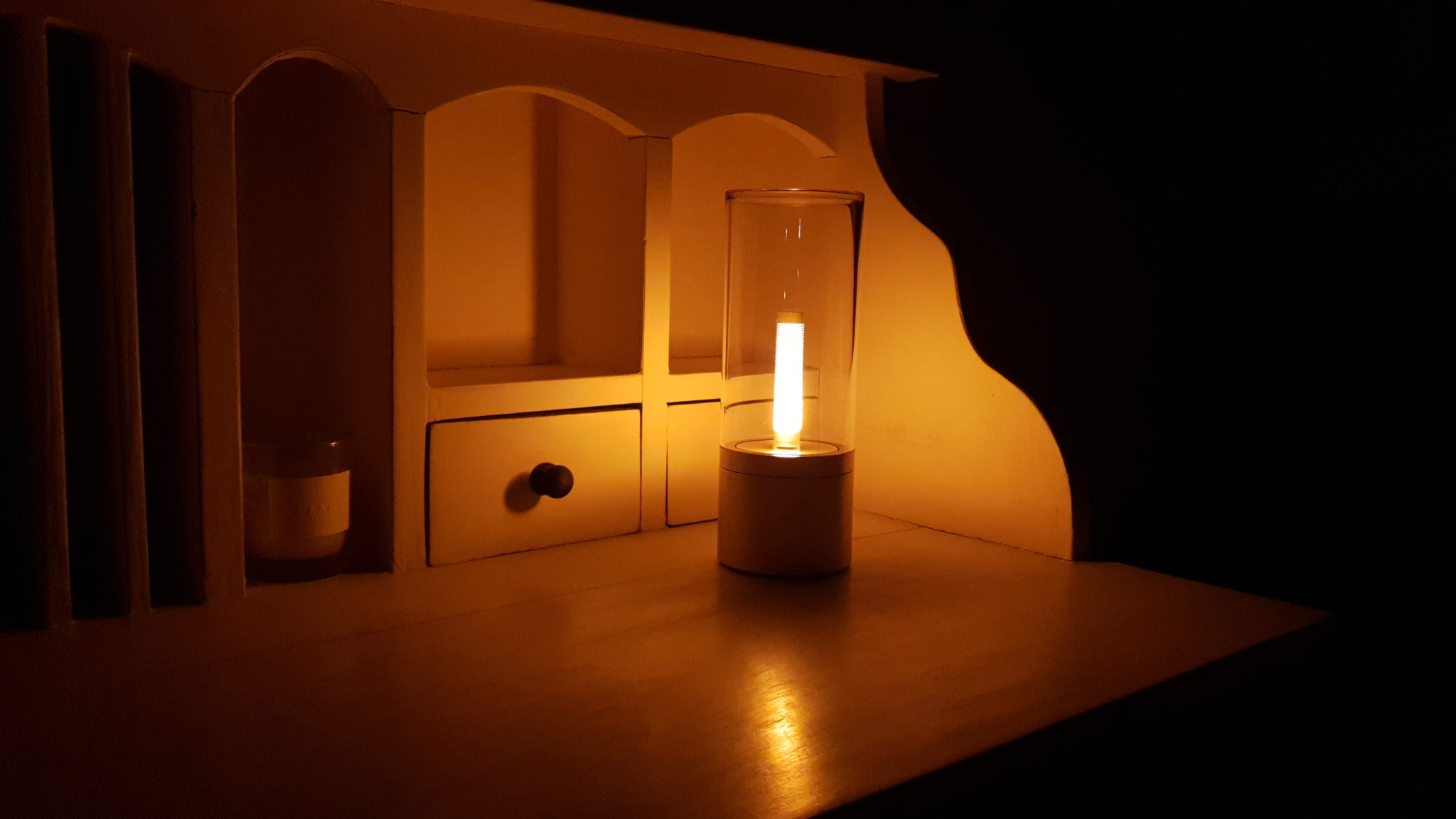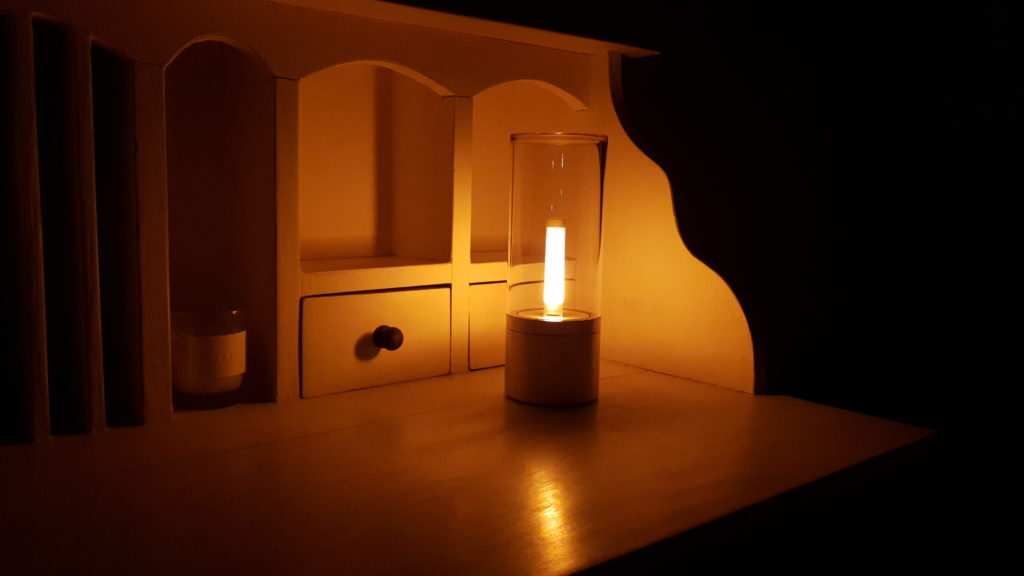 Finally, our crush clearly goes to the "candle-style" mode where the Yeelight Candela lives up to its name more than ever. Thanks to this mode that you can activate by making several quick movements from right to left, the Candela becomes a candle and perfectly mimics the light effect so typical of a candle flame, varying its intensity randomly, as if a slight breeze came to annoy our digital flame. It's well thought out, it's nice and perfect for a cozy atmosphere. At Les Alexiens, this convinces us that this little device is worth buying several copies and placed on our terraces to enjoy the mild summer nights.
In short, and you will understand it throughout this test: we are fans of this Yeelight Candela! Even though it is only Bluetooth and not compatible Alexa, it is a more than pleasant object for the amateurs of luminous atmospheres that we are. A Xiaomi BLE gateway or gateway would perhaps allow us to resolve the problem, but we have no confirmation on this point and have not had the opportunity to test this possibility, being only equipped with Aqara gateway. Europe. Anyway, if you are looking for a nice connected object to warm up the atmosphere of your summer nights or give it a touch of romance: this is the connected lamp for you! As we have already said in our pages, Yeelight is a stunning brand in many ways that really comes close to supporting the aptly acclaimed Philips Hue. With much more affordable prices and a growing range of connected objects with designs each more successful than the next, Yeelight is definitely a brand to watch!
And, as is now our custom, we leave you with the few pictures of our video test of the Yeelight Candela mood lamp which you can find on our fledgling YouTube channel. Please be indulgent, we are still working hard on this platform!
79,29€
In stock
August 13, 2022 9:52 a.m.
Not available
August 13, 2022 9:52 a.m.
Yeelight Candela YLF01YL - Connected mood lamp
34 € in promo !!!
Most
Very successful design: an original connected object
Solid design
6 hours of battery life
Original settings
Its flame mode that mimics the flicker of a flame with random variations!
The lessers
Lacks a bit of power, but it is a mood lamp ...
Bluetooth only
No mains charger (only a cable is supplied)