Connected video doorbells, aka Video Doorbells, are on the rise and brands like Ring have a strong presence in this market. However, not everyone wants to pay a monthly or yearly subscription in order to be able to use it fully. Indeed, why have to pay to see who rang your doorbell? We therefore looked for other solutions for you, our choice fell on the Earthsmart Video Doorbell M16,
Always on the right foot, the brand offers this connected doorman, M16 of its little name, at around 48 to 64 € depending on the pack. It will combine a surveillance camera busy at the motion detection, the video doorbell with two-way audio, night vision, separate chime, local storage… At this price, do we still have quality?
Zemimart Tuya WiFi 1080P Smart Video Doorbell Installed Battery Wireless Video Intercom Remote Recording Night Vision Camera
Earthsmart Video Doorbell M16: an affordable video doorbell
Unboxing and features
As announced above, this product is offered by Zemismart. We therefore did not expect the most sought after packaging. However, efforts have been made. The box is quite colorful, but still very poor in information. There are still the highlighting of some interesting features such as connectivity, battery operation, video quality, angle of view ...
The interior consists of layers of expanded foam for a better protection of your doorbell. This is clearly seen because you can see from the photo that the box had some disappointments during transport.
The first impression when opening the box is: wow she is huge ! Indeed, she is quite big with her 13 x 7 x 3,5 cm and 209 g with its batteries. The tested version is the black version, but there is also a silver one. The announced thickness takes into account the installation plate supplied with it.
Let's take stock of what you will find in the box, in addition to the doorman and the installation guide.
A mounting bracket and screw kit. Attention, unlike the visual, there is no screwdriver provided but a Allen key. You will have 4 screws cruciform et 4 ankles (of medium quality) in addition to mini security screw (the one to be fixed with the key). So plan your 4 mm drill and your screwdriver because nothing else is included.
You will also have an 8,2 cm side, 2,5 cm thick chime (once installed) and 68 grams. You will need to plug it into a standard French outlet as it operates on 220-230 V. It will then connect to the doorbell via 433 MHz radio waves. It has the particularity of allowing you to come choose your ringtone and volume (up to 100 dB).
If you bought the pack for 64 €, VYou will also have two 2600 mAh batteries. This is enough, on paper, to power the device for 3 to 6 months. Attention, at the first use, remove the insulating paper on the negative pole of your "batteries" because, otherwise, they will be unusable.
The doorman (it looks opulent doorman, it looks pompous, we like it) as such will present, two distinct parts :
The upper part which contains the camera and just above, the PIR motion detector. There are also around the camera 6 infrared LEDs at 850 nm.
You will also see a small blue indentation. It's about light sensor to switch the camera to day or night mode automatically.
The base of the Zemismart Video Doorbell M16 will feature the call button surrounded by a led ring which will light up during interactions but also during charging. You will have micro and HP two-way sound devices below and above.
The whole thing is pretty cool, but even if the materials, like the ABS plastic, are of quality, we do not have that impression of robustness that some brands can give us. The finishes are good but not exceptional and the general design is quite basic, it must be admitted (the PIR outgrowth), the too visible light sensor…).
As announced several times already, follow a little please, the Earthsmart Video Doorbell M16 may be powered in two different ways :
Either via the 2600 mAh batteries, so 5200 mAh in all, via the pack to 64 €. You will need to charge it regularly. To do this, detach your doorman, plug in a micro-USB cable (not supplied) attached to a charger and let it be. You can follow the load on the application or visually with the evolution of the ring.
Either by direct feed. Be careful, however, to be in low tension. But the precise parameters are rather obscure ... We are however, it seems, on standard low voltage values. IF you want to install it like this, you will use the support which has 2 screws under which to fix your electric wires. You can also tweak to use a micro-USB, but it's more complicated to wire. The version without battery is sold for 48 €. If you already have a low voltage inlet, this is the one for you.
Looking at the back of the device we see:
Un placement detector (the little white picot),
La Micro-USB plug
Le reset button (used for pairing if necessary),
From power pins in case of low voltage connection.
A cover to insert the batteries.
Under this cover, you will find a slot where you can install a Micro-SD card for local storage of the images and videos taken. The maximum capacity is 32 GB.
Technical characteristics :
Brand : Zémismart
Model : Zémismart Video Doorbell M16
Dimensions: 130mm × 70mm × 35mm for the doorbell. 82mm x 82mm x 25mm for the chime.
Available colors : silver (often not available) or black.
Resolution and Features : HD 720 or 1080p, H.264 format, infrared night vision via 6 IR LEDs 850nm, live video, motion detection within 2m, local or cloud storage.
Field of view : 166 °, so wide angle
Audio : Two-way audio system with background noise suppression
Food : Works on rechargeable batteries supplied with the pack at 64 €. Can be wired to an existing doorbell system or transformer for continuous charging.
Internet Requirements : Recommended minimum download speed of 2 Mbps for each device.
Connectivity : 802.11 b / g / n @ 2,4 GHz Wi-Fi connection
sealing NC
Working conditions : from -20 ° C to 45 ° C. Waterproof.
Earthsmart Video Doorbell M16: installation
Before going to install your Zemismart Video Doorbell M16 on your wall or gate pillar, we recommend that you connect it to your network first. Why ? Because once the doorbell is paired and functional, if you realize once installed outside that it does not work, theThe problem is probably with the location and not with the product. It should be borne in mind that if you put it on a pillar with reinforced concrete in it, sometimes the scrap metal can completely block the reception of the Wi-Fi signal.
The Zemi video doormansmart will work via Tuya, so Smart Life or Tuya Smart, a choice. It's really simple, you will see.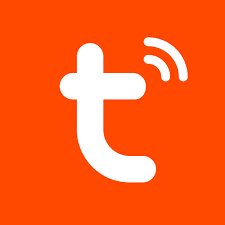 For the doorbell, you can use one of the two applications mentioned, the operation is the same. If you haven't, start by creating an account. Activate your GPS, your Wi-Fi and even your Bluetooth (it's no use but sometimes it simplifies things). When you turn on the doorbell for the first time, the blue circle will flash slowly. If not, press the reset button for a few seconds. Then :
1. On the main screen, press "+" top right ;
2. Select "video surveillance" et "Wi-Fi security camera"
3. Validate your Wi-F networki
4. With your doorbell, come Scan the QR Code displayed on your Smartphone. You will hear a beep coming from the M16, proof that it worked.
5. Let the app do the pairing
6. Once the detection is complete, choose the name of your connected doorbell : "Portal", for example.
7.Enjoy
It is really very simple and it hardly takes 5 minutes. You can then go and set it up on its final location. But before that, we also advise you to come and set the chime. It's even easier. Plug in your Chime and press the top button (the one with the Wi-Fi symbol even if there is no question of Wi-Fi). The musical note will flash blue. Within 5 seconds press the doorbell button. And as if by magic, the chime will chime. With successive presses on the Wi-Fi button, you will change the volume. On the one below (up and down arrows), change the melody. Be careful to choose it well because even if you answer the ringtone, the music will continue until the end.
There you go, you can now go and make holes, little holes, always little holes. But try it first: put the doorbell in place and press the button. If the chime chimes, if your phone rings, it's good. If nothing happens, the network is not reaching, or not well, your Zemismart Video Doorbell M16. Find another location and test again. If only the chime does not work, then the radio waves do not pass and do not reach your doorman. A metal door can block them for example ... In this case, change the position of your Chime.
We advise you to change the pegs supplied with the bell. They do not give complete confidence. Apart from that, the software and physical installations are very simple and fast. This shouldn't be a problem for you.
Let's address a point that is not noted anywhere on the documents, and for good reason. It is not compatible with voice assistants Alexa and Google Assistant. We had hoped seeing the fact that the doorbell works under Tuya. But no, nothing helps. It does not go back in either one. You can therefore only use it with your Smartphone and chime. It's already good, isn't it?
Earthsmart Video Doorbell M16: everyday use
Let's take a look at what you can do with the Tuya app / Smart Life.
From the main screen, you will have access to:
Screenshot : press to capture the camera image
Speak : select and… speak. The sound will come out through the camera.
Save : take a live video.
Photo album (the reverse is also true): access the recordings and captures that you have made.
Litterature : it is an access to the detections over a particular period
Online storage : paying option with Tuya.
Live view camera on the home page
Very responsive, the image will be displayed within a second. Of course, this will depend on your speed.
By going to the settings (the little pencil at the top right (no, the other one), you will have access to a few options, but you're done quickly.
Change the name,
Device information: IP, account ...
Scenario and atomization : to turn on your doorbell at certain times or, on the contrary, to turn it off at night, for example.
Basic function settings: image inversion (why not), overprint, audio-mode (uni or bidirectional) and anti-flicker.
Infrared sensor switch: OK, that doesn't mean anything. But basically, come and settle the sensitivity. We recommend the mini if ​​you do not want to have notifications at each passage of a fly that is zealous.
Power management : here you will have a view on the charge of your batteries, choose the power supply mode (battery or sector) and at what battery level your bell will pull the peg and make the coil expensive because it is dry. Cherra comes from the verb to fall, to fall. The bobbin being a small latch. But if you read our test, you have passed to the next stage of securing access to your home.
SD card settings : you come to manage here if you decide to record images, figures or if you use your phone. By default, this is saved to your smartphone.
Purchase of service: access to cloud. So far, we have not seen the interest of the fact that everything can be recorded locally.
Offline notification : interesting to make sure your doorbell is always connected.
You will notice some lack of options compared to what is offered by more expensive products like being able to blur or hide detection areas so as not to have regular releases or not to film public areas (even if we are not on continuous shooting, which weighs this ban). If you are looking for this type of functionality, look instead to a Ring Video Doorbell 3 for example.
In use, when someone rings your doorbell, your chime will go to its most beautiful melody and you will have on your phone a floating notification if you are using it or a call type overlay (with the image of the person in front of the doorbell) if it is on standby. Really very practical!
After several days of use, it appears that the Earthsmart Video Doorbell M16 is really very interesting in several ways. First of all, it is very responsive (even too much, so lower the IR sensitivity), the notifications go up very quickly and the video quality is really very good for a product at this price. The connection with the Chime is done without difficulty We are really happily surprised by this product. Even if he lack of features et that the batteries are far from last 6 months (3 months with luck), this connected doorbell remains childishly easy to use. We also had it tested in "heavy cases" who came out with honors!
In order to allow you to judge on the piece, here is a video showing you the M16, its installation and its use.. And don't hesitate to follow us by subscribing on YouTube.
In conclusion, the video doorbell Earthsmart Video Doorbell M16 is an excellent surprise and a very good palliative for more expensive brands. Even if you don't have all of the options you can get with these premium products, the design is pretty basic, the overall quality is good but not great, and the battery needs to be charged every month or so. two months, it is indeed a very interesting product. The quality of the images in 1080p is really excellent, the detection is also very good, the chime also works very well And especially, no subscription to a Cloud thanks to its local storage! If you are looking for a product that is simple and accessible, and you don't mind the lack of connection to voice assistants, then this may be right for you ...