After'installing Home Assistant on Raspberry Pi, today we are going to look at a slightly more muscular solution and see how to install Home Assistant on Synology NAS.
Although there are two methods of installing Home Assistant on NAS, virtualization and containerization, we will focus here on Virtual Machine Manager (VMM), an easier solution for those who are not familiar with Docker.
Prerequisites
Unsurprisingly, you will obviously need a Synology NAS. We invite you to consult our file if you do not know yet which NAS to choose for your home automation. For this tutorial, we used a Synology DS920 + with the latest version of DSM 7, but you can do the same with all the brand's models capable of virtualization.
Note that while our tutorial is based on Synology's virtualization solution, the procedure is not much different with QNAP's Virtualization Station and you can easily transpose it to other systems.
Recommended configuration:
Processor : Intel VT-x or AMD-V compatible processor,
RAM : 2 GB RAM minimum, 4 GB recommended
Other : volumes in Btrfs format;
Here are the three Synology NAS models we recommend for home automation:
Installing Home Assistant on Synology VMM
1
Install Virtual Machine Manager
The first step will be to install Virtual Machine Manager from the Package Center of the DSM 7 operating system. This is done in a few clicks and without any difficulty. This package will allow us to easily create, run and manage one or more virtual machines on our Synology NAS.
Meet in:
Package Center > Virtual Machine Manager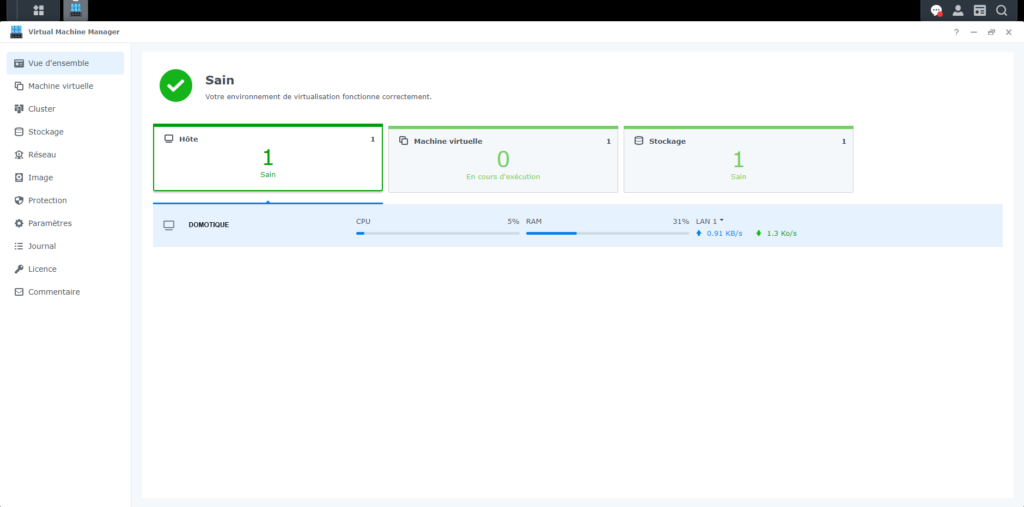 2
Download Home Assistant image
We will then retrieve the latest version of Home Assistant for Linux on the official site. We have available a ready-made virtual machine named VMware Workstation (.vdmk). Once downloaded in .zip format, you just need to extract it using a utility such as 7zip to get the file in .vdmk format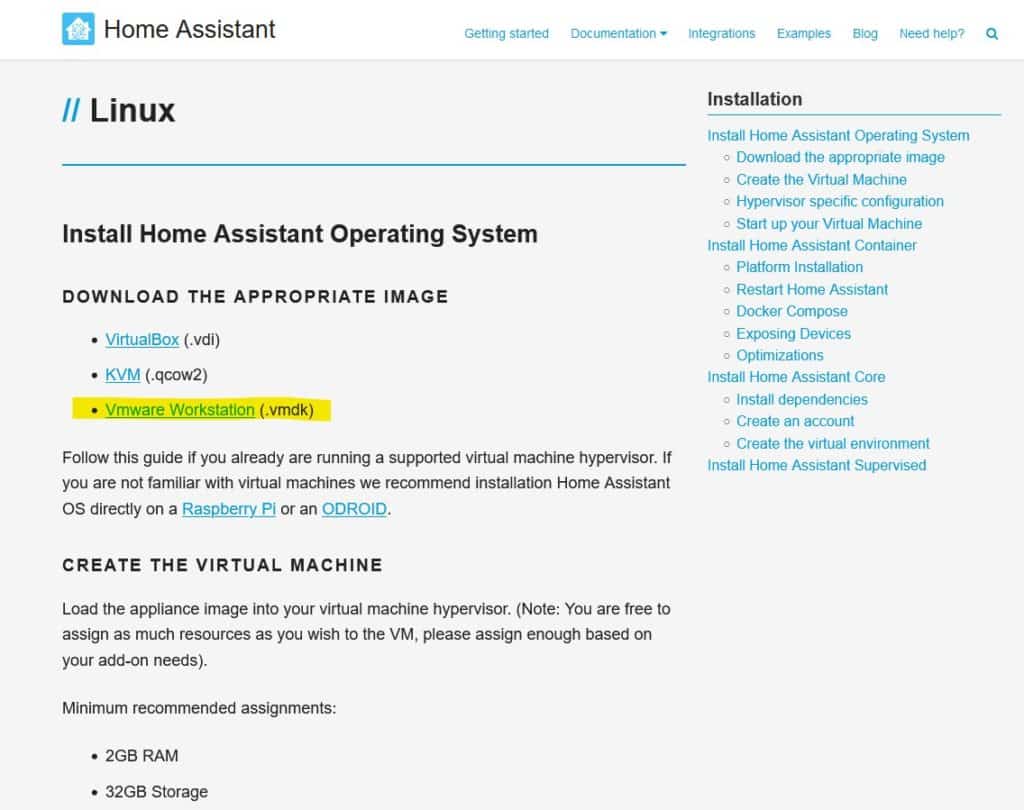 3
Import Home Assistant image into Virtual Machine Manager
Now that we have our image ready, we will import it as is into Virtual Machine Manager (VMM). To do this, just select the image.
Virtual Machine Manager > Image > Disk Image > Add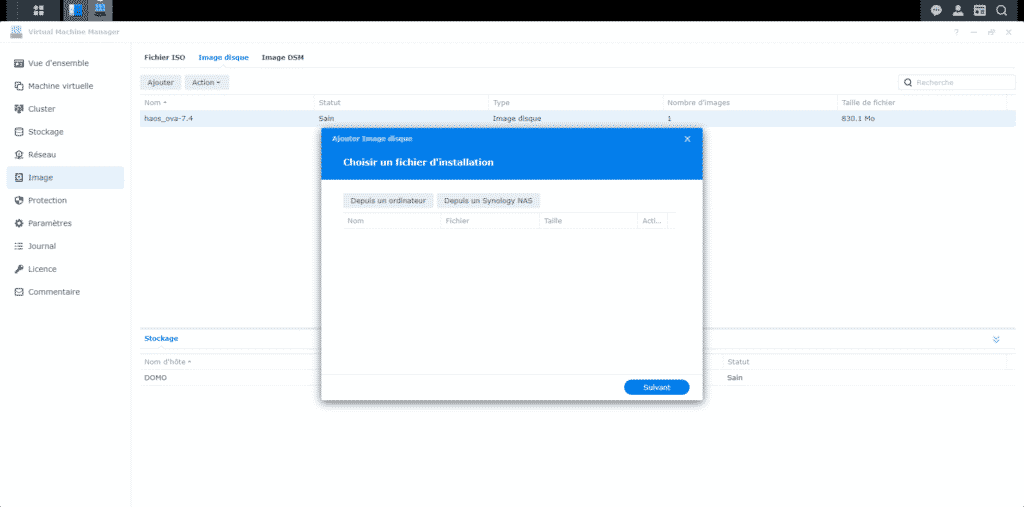 4
Select storage
We now need to choose on which Btrfs volume our Home Assistant virtual machine will be stored.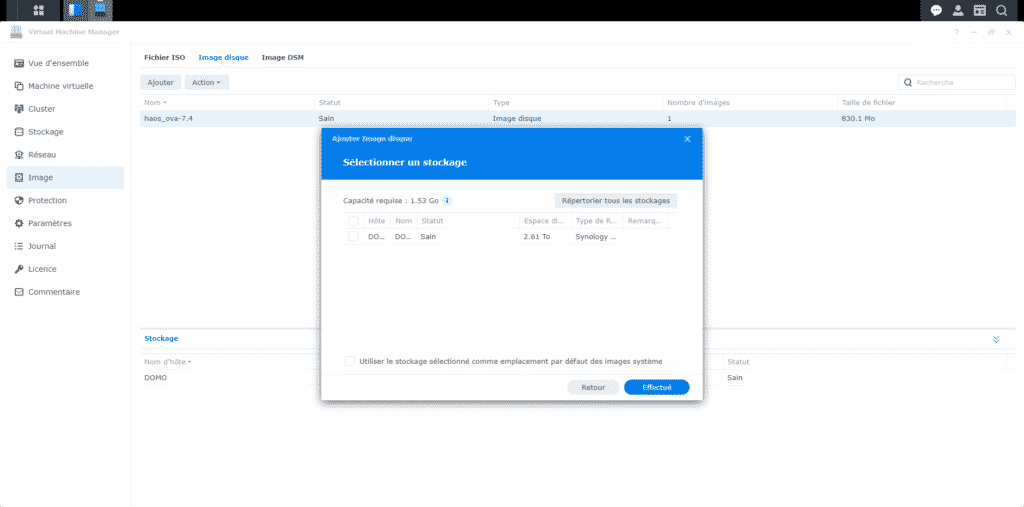 5
Create a Home Assistant virtual machine
We still have to import our Home Assistant virtual machine.
Go to: Virtual Machine > Create > Import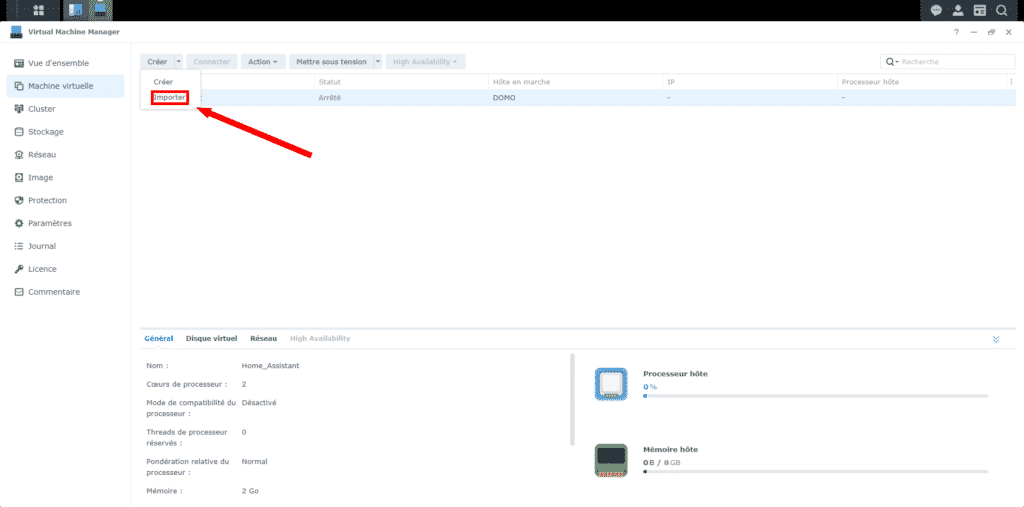 6
Configure General Specifications
We need to choose a name, the number of processor(s) and the memory to allocate to the virtual machine. Unless you dedicate your NAS to home automation alone, we advise you not to use too many resources for this VM. Here, we will settle for 2 cores and 2 GB of memory. It's enough.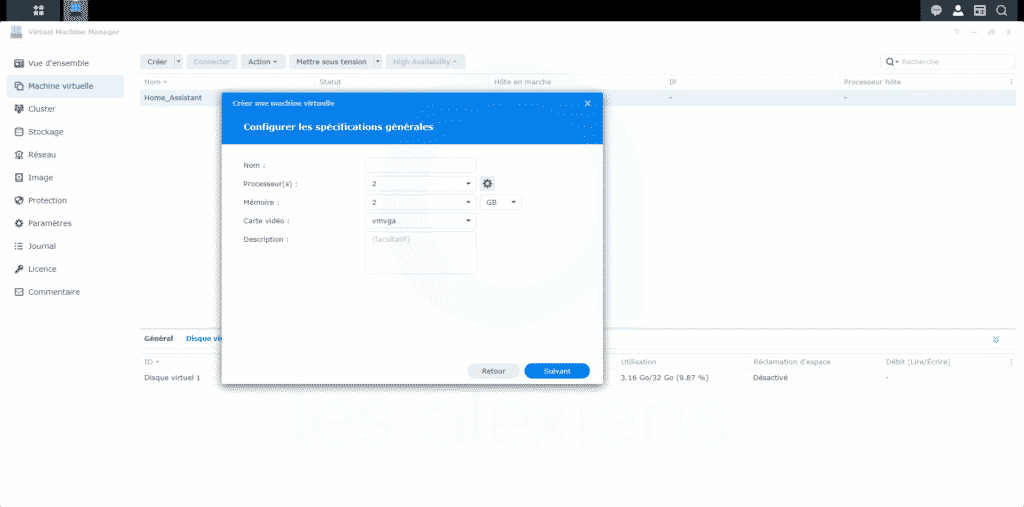 7
Choose disk space to allocate
We don't need a lot of space and 10 GB will be enough to start with. We can anyway increase it later if necessary.
8
Configure a network
Here it is very simple, the default network configuration suits us.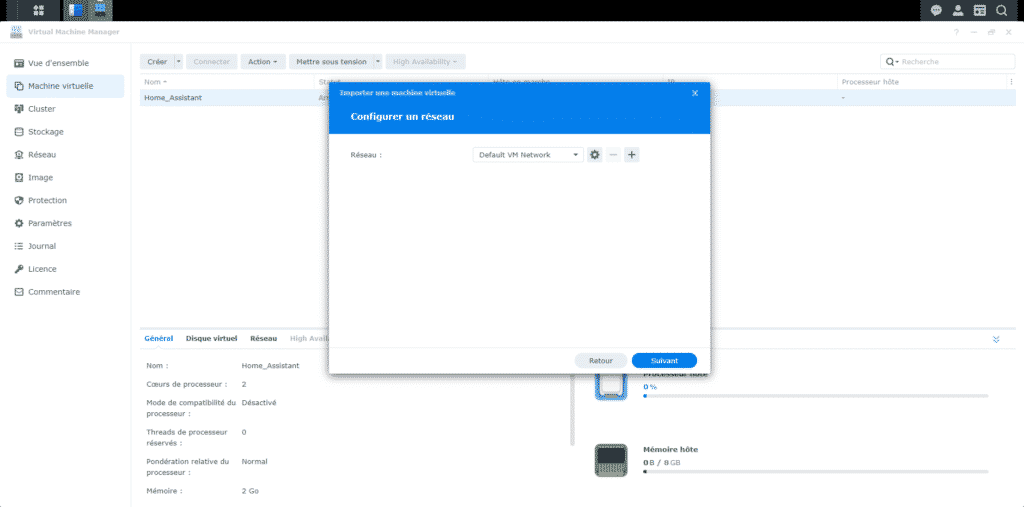 9
Other parameters
This time we are going to change a few settings. We activate theautostart (so that our VM starts at the same time as our NAS) and we select UEFI instead of Legacy BIOS. We opt for a french keyboard and USB 2.0 controller which is reputed to be more stable than 3.0 on Home Assistant (if you're coming from a Raspberry Pi, you won't be surprised). You can use it to mount one or more USB devices (up to four) such as ZigBee, Z-Wave, EnOcean, Bluetooth, Rfxcom, etc. keys.

In our example, we have chosen to mount only one
Sonoff ZigBee 3.0 dongle
(
approx. 10€ at Domadoo
) for the moment. We will see in a next tutorial how to use it with Zigbee2MQTT.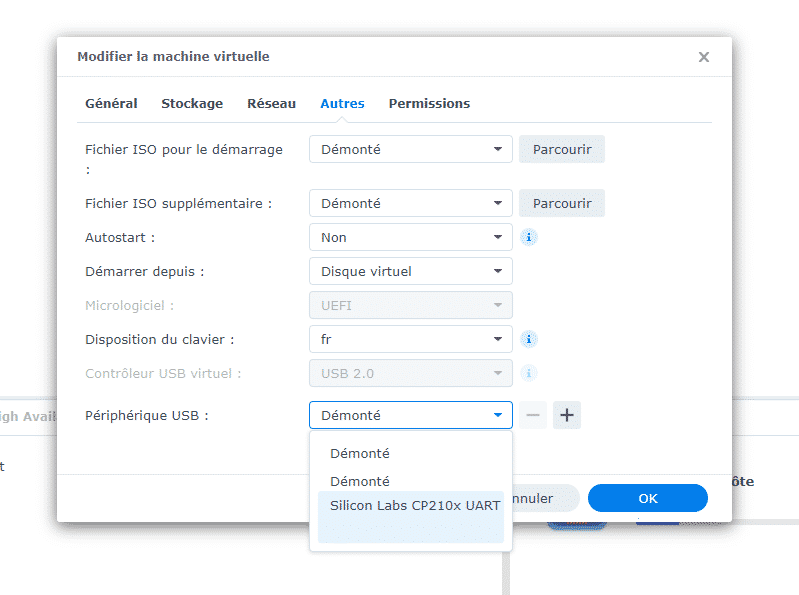 10
Assign permissions
Finally, we authorize the users of our choice.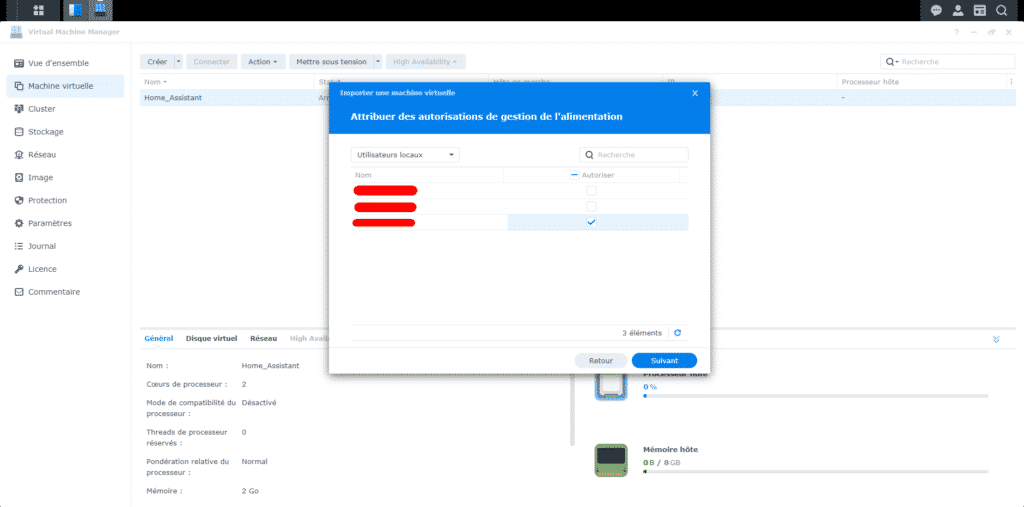 11
Summary
All we have to do is read (or not) the summary of the parameters and click (or not) on "Turn on the virtual machine after it is created". If you forget, don't worry, it is of course possible to launch it later.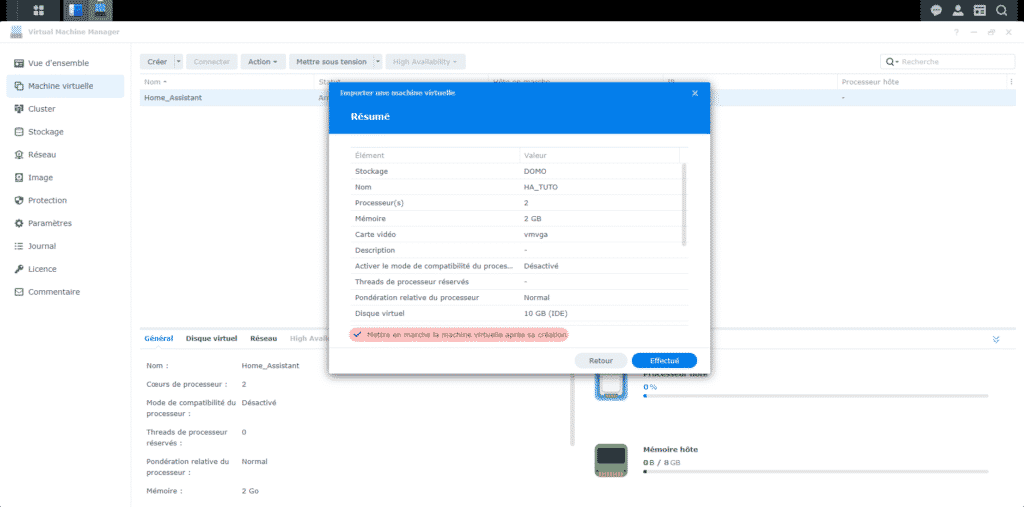 12
It's almost over!
You just have to wait a few minutes before you can continue directly on your VM Home Assistant...
Our Home Assistant virtual machine on Synology VMM is now functional.
Configure Home Assistant on NAS
Go to your browser then type the following address : homeassistant.local: 8123
(You can also access your instance from your virtual machine's IP address: http://vm_ip_address:8123 )
Wait about twenty minutes, Home Assistant is installed ...
You just have to create a Home Assistant OS account. Be careful, choose strong identifiers because this is the administrator account of your home automation server. Be careful not to divulge them, even if you are offered help on a forum, malicious people could play tricks on you.

Discover the Home Assistant interface
Your virtual machine Home Assistant is now ready. All you have to do is install your home automation. But, before that, we invite you to go to the second tutorial in order to familiarize yourself with theHome Assistant OS interface. Indeed, as you can see, there are still a lot of little things to install before you start playing with your connected objects...