Here he is, the guide demanded loudly by Alexians of all stripes: the digital taming guide ofAlexa or GDNA!
Un GDNA, will you ask us, but for what? Well exactly! The purpose of this guide, like that of the galactic traveler, is to help you navigate theuniverse ofAlexa, in its subtleties and its difficulties.
So, follow the guide, don't panic!
Configuration Amazon Alexa : setting up your speaker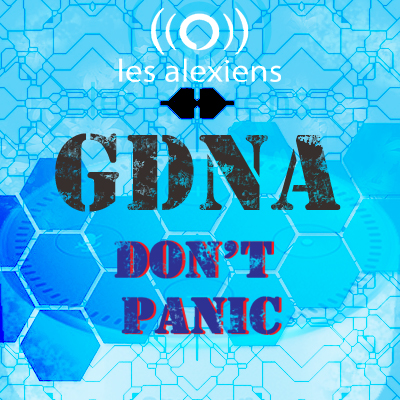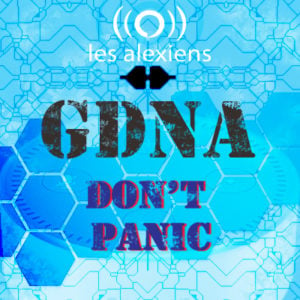 Once the long-awaited object has been unpacked from its smiling blue box, you will have to find the right position. There are often returns to the fact thatAlexa can't hear well, that she must cry out for her to respond and even in the most extreme cases threaten her with bodily harm. Most of the time, this comes from the location of the enclosure.
You have to put it on a clear space, not too close to a wall (about 20 cm is good) which will return the sounds and therefore cause interference or softer surfaces such as cushions, armchairs or others which could themselves absorb the sounds. In the same way, avoid putting trinkets, books ... in front of the enclosure, because it will ultimately have the same effect. It must also be able to broadcast sound as simply as possible, without obstacles.
Then plug it in and let yourself be guided. You will go and see, it is very simple (as shown in our installation tutorial for Amazon Echo / Dot / More ou Amazon Echo Spot ). Note that the echo 2, Echo Plus and Echo Dot (see 2nd generation Echo Dot test or 3nd generation Echo Dot test) will be configured via the app Alexa, while the Echo Spot and Echo Show will be directly via the screen.
The prerequisite for all this is to download to your smartphone application Alexa and come and register with your password Amazon, those of your purchase account. If you don't have one, you'll need to create one. There is no need to be a subscriber Amazon Premium to use Alexa.
How your speaker works Amazon Echo
We are not going to go into technical details and other data processing systems. Let's stay pretty superficial without going into the depths of the cloud, instead let's focus on how to use it.
Your speaker gets on board a named AI Alexa. This dear Alexa is omnipotent because it is present in the cloud. She will visit you when you call her with the activation word for your speaker: « Alexa » by default, but also "Echo" ou « Amazon ». You have the choice.
Once the activation is done, ask your question or make your request: " Alexa, what is the weather like? "," Alexa, start the radio "…
You should know that there will be two groups of requests or activities possible : those that are part of the basic operation ofAlexa, native features, and those that you will come to activate on demand, Skills.
What to do with Alexa?
Listen to radios via Tune In,
Find out about the weather forecast, auto traffic in your area,
Ask all kinds of things from Alexa : doing research on the internet, jokes, anecdotes, stories ... The possibilities at this level are enormous,
Listen to music via Amazon Music, Deezer, Spotify ... with a premium subscription, family or an account Amazon Prime,
Read Kindle and Audible books,
Watch Prime Video (on Spot and with the Prime subscription)
Do routines ...
...
Skills Alexa
A skill is like a mobile application which will add you a program. The, by activating the skill, you will be able to have access to many additional experiences:
Reading of specific radios, information,
Cook with your Echo via dedicated Skills,
Play and learn about specific themes,
Control connected devices compatible with the voice such as bulbs, sockets, vacuum cleaners, thermostats, diffusers ...
… We will see all of this through the GDNA. But beware, beware… Some of you may experience a spatial problem at this level, because any trip into the digital universe can sometimes have side effects: if your account Amazon is an account created on Amazon.com, you will have access to skills store UK / US in English ofAmazon and not in French ... A manipulation is to be done, which you will find here.

To activate a skill, it's simple:

go to the game "Skills and games", find the one that interests you and select "Activate for use".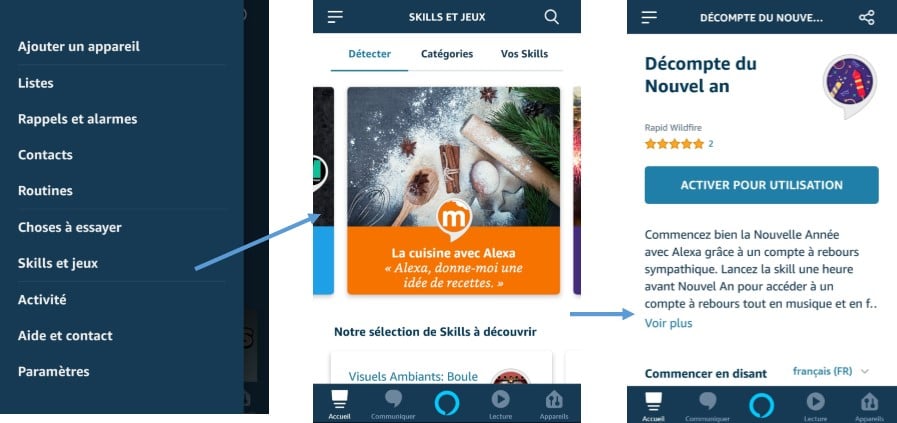 How to set Alexa ?
Here is an interesting part because a lot of the native features ofAlexa will be done in accordance with these settings. Don't panic, follow the guide.
First of all, the weather and traffic data will be managed in relation to your address. So it is necessary to properly configure it on your Echo. Note that if you put several Echo on the same account, the settings will be taken over automatically.

To configure the traffic on a daily trip, do as follows (click on the destination address to change it):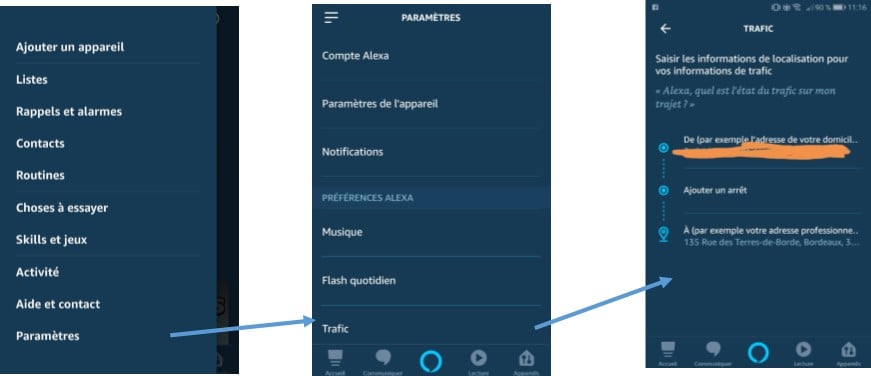 What else can you find in this device settings menu? It is very broad and a diagram is more explicit.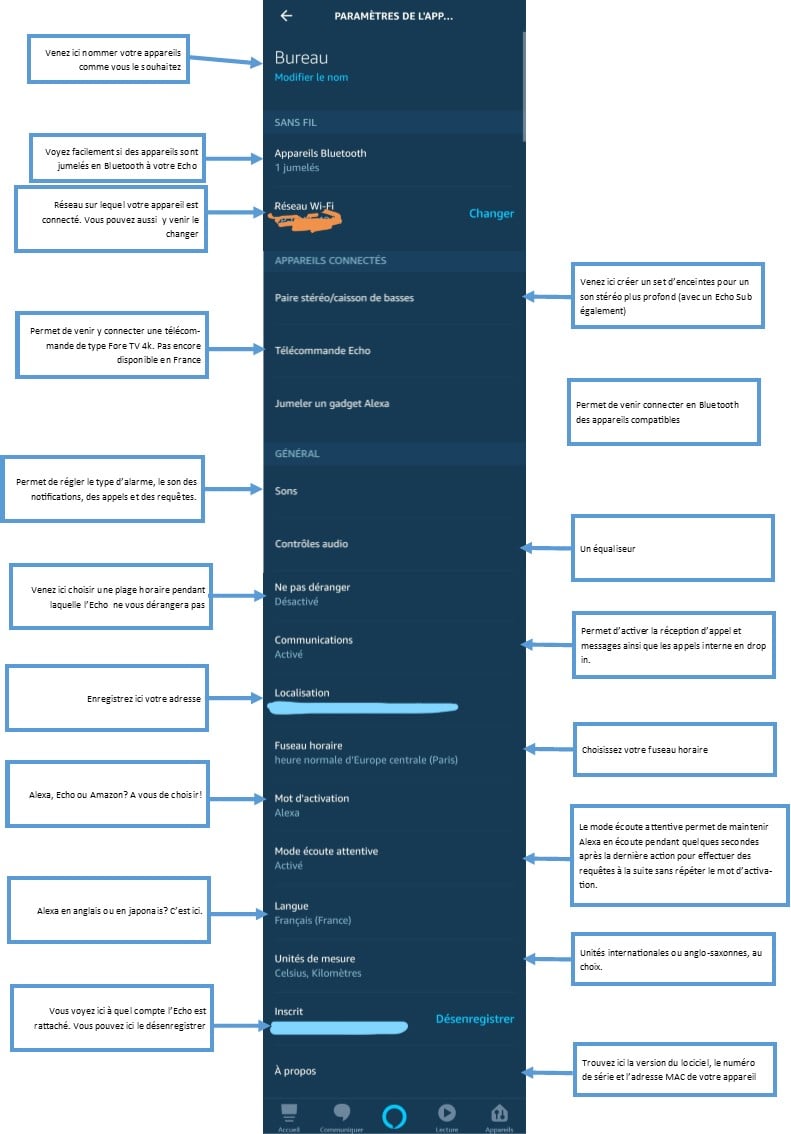 Not bad huh ? Now, let's look at a few parameters in detail:
Sounds in the app Alexa :
You can come and select the sound level, the type of alarm (sound…) and others.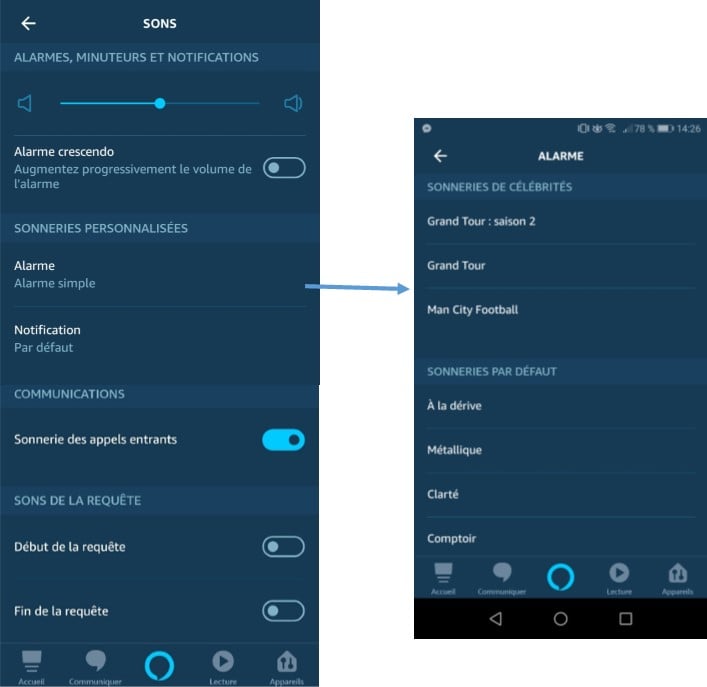 Audio equalizer Amazon Echo :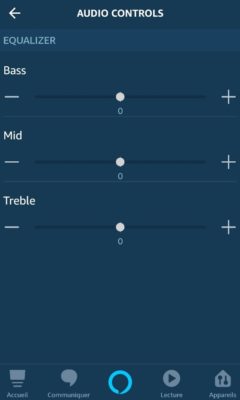 "Do not disturb" mode:
Don't want to be bothered by calls, drop-ins, or other annoying little things? Enter the menu " do not disturb ". It's up to you to choose the time slot concerned.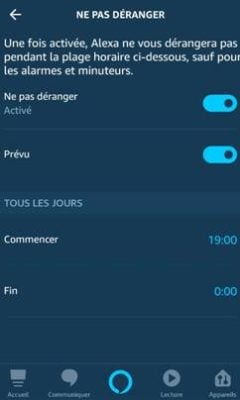 Communications: make calls with Alexa
Important part of this GDNA to communicate in space and time with your Alexa. In this sub-menu, configure call reception and above all, drop-in by clicking on the link. The Drop-in is an intercom system via Alexa. There are 3 possible choices: no drop-in authorized, authorized only inside the household (i.e. Echo devices of the same account) and authorized for contacts to which you have given access ( via the communicate tab.
This first part of the GDNA allowed you to familiarize yourself with its operation and its parameters. Other questions ? Surely… Follow the guide.