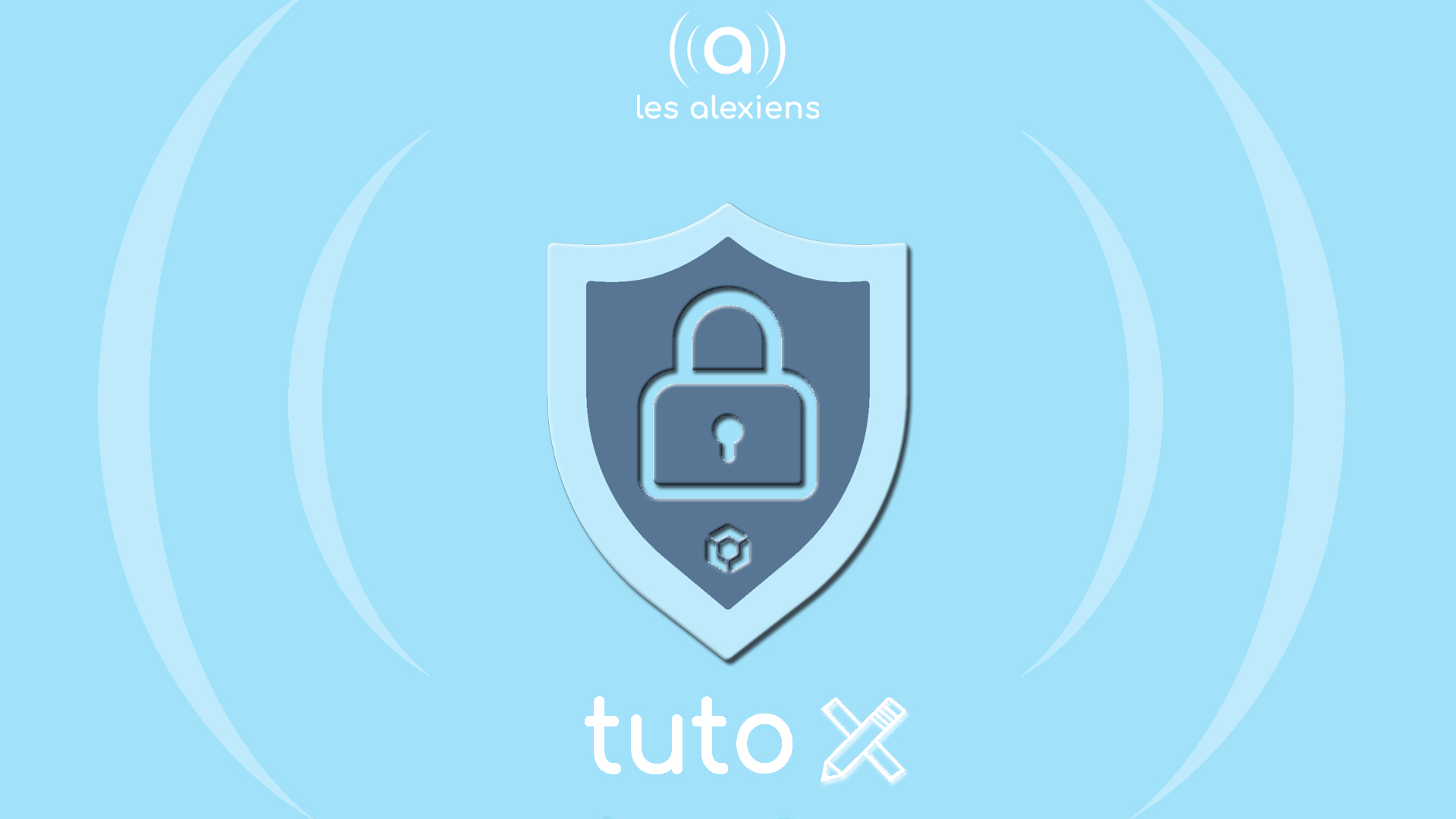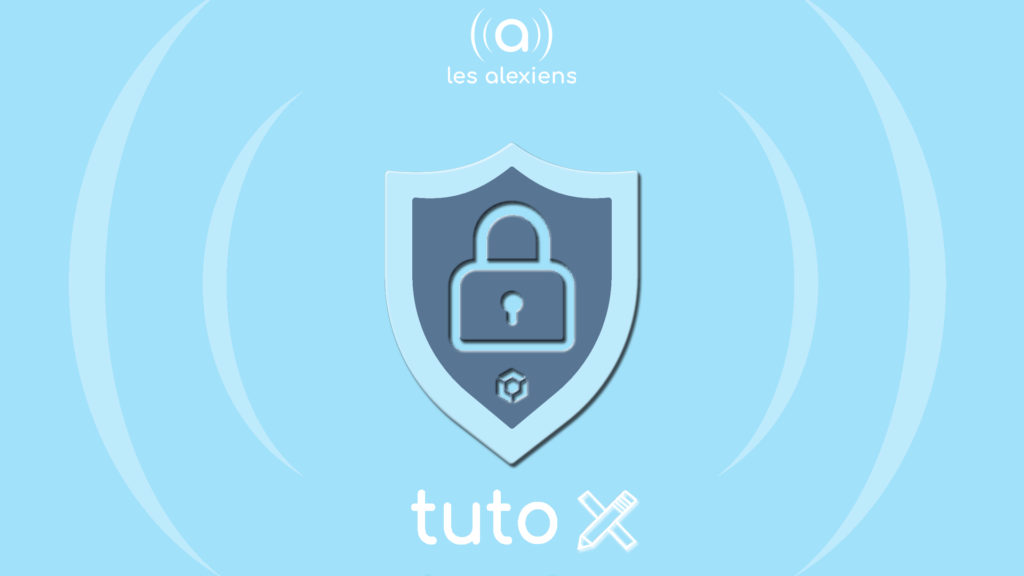 If there is one subject that is making the headlines in the media, it is privacy of voice assistants. Accused, sometimes unfairly, of being a threat to our privacy, they record your voice commands before sending them to the cloud where they are stored.
If you can of course physically mute the microphones of your Echo devices again hide the Echo Show 5 camera with a button, Amazon heard the grievances of early users ofAlexa and allows you toerase your recordings.
Although it is strongly advised to leave them to allow Alexa to know you better and especially to understand you, it is good to note that these short recordings can be used to improve services through human intervention. In other words, they can, for a tiny minority of them obviously, be listened to actively by employees ofAmazon.
Google, Apple and Microsoft are doing the same, each having recently communicated on the subject in order to defuse this somewhat explosive information, because this is necessary to improve the artificial intelligences which, as you can imagine, feed on data to learn how to better understand us and above all better serve us. Indeed, if you have already browsed the pages relating to confidentiality and the processing of personal data, you can neither ignore it nor blame Amazon et al for hiding this fact from you.
Since arriving in France, Alexa has always allowed listening and erasing its sound clips. The feature was already present in beta. Nothing new in the battalion therefore, except thatAmazon, for the sake of transparency, has greatly improved its portal « Alexa and my personal information " and now allows you to easily configure your personal assistant to protect your confidential information, or even "defense secrets". Little is known, but many users ofAlexa indeed work for the secret services and hold highly sensitive information! This is why the Alexians, in their great kindness, come to your aid today to avoid being accused of high treason because of artificial intelligence.
Amazon allows you to find all these privacy settings in the application Alexa. Although easily spotted, here's how to find them:
Open your application Alexa,
See you in " Settings ",
Select « Alexa and your personal information ",
In addition to a host of general conditions of use, you have access to four menus.
Voice history: delete your conversations with Alexa
Click on "View voice history".
In this menu, you can choose to delete some requests or recordings that you consider to be undue, for example. You just need to expand each entry, or make multiple selections to delete more than one. Furthermore, you will notice a button "Activate voice suppression". The latter allows you to do without the application Alexa to perform these operations and ask directly to Alexa.
If you turn on voice suppression, then all you have to do is tell Alexa :
- " Alexa, delete what I just said ",
- " Alexa, delete everything I said today ".

History of your Amazon Echo, your compatible devices or with Alexa integrated
Alexa receives ongoing information about the status and use of your third-party home devices, such as your connected sockets, your smart light bulbs, or your thermostats and others robot vacuum cleaners. A button offers you to delete everything. Radical!

Be careful, your user experience may be altered.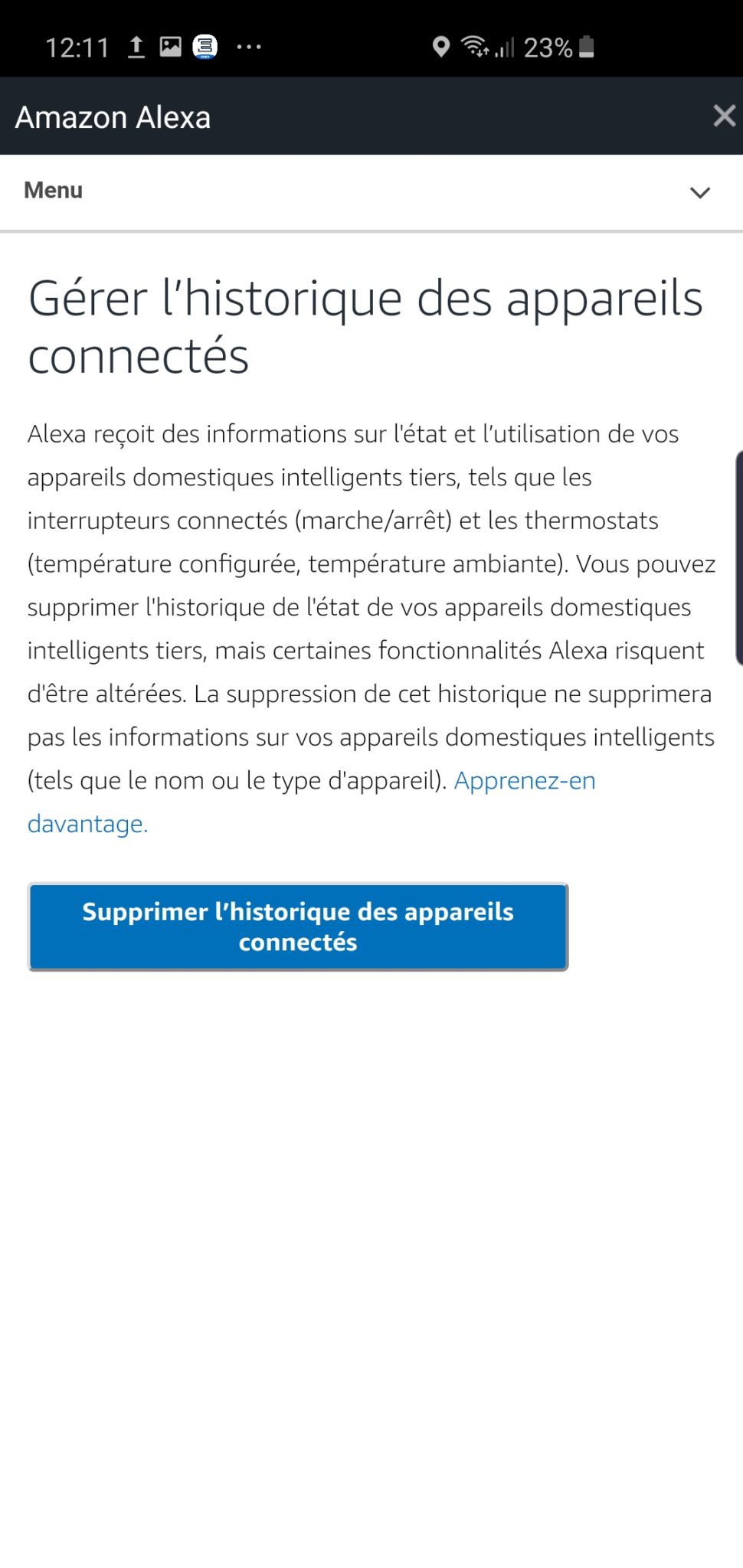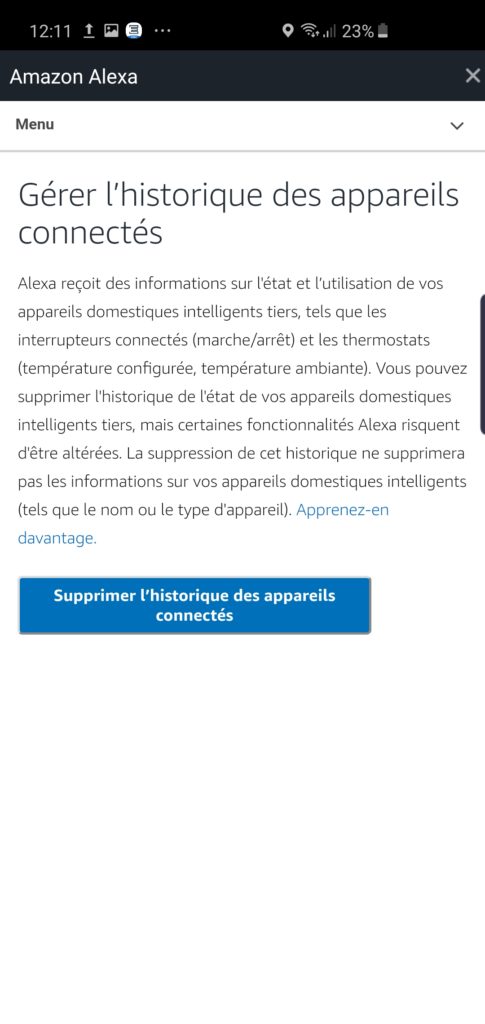 Skills permissions
So few skills Alexa access for the moment our personal informations, you can still see what each can see if you haven't taken the time to read it and have given your permissions to the skill too quickly. It is surely the thing to be, in fact, the most careful even if many are unchecked by default. AlthoughAmazon does not allow developers to have extensive access to data collected by Alexa, some skills can indeed collect a certain amount of data. While the goal is usually to provide you with highly personalized service, it's good to know exactly what it's all about.
Note, however, that
Amazon thoroughly examines each of the skills submitted to him
before you publish them and many developers will tell you that the approval process is far from easy. Suffice to say that you are unlikely to find
skills Alexa
really intrusive. Also, most of these permissions are not granted by default and
it may be good, on the contrary, to give them to benefit from a more efficient service
.
Participate (or not) in the improvement ofAlexa
Many users today finding Alexa largely fairly efficient, they will probably consider it superfluous to help it improve. It must be said that our voice assistant borders on perfection and has only a few flaws.
Amazon therefore offers you the choice of unchecking two options however essential to the improvement ofAlexa. This is to their credit, and ultimately unlikely to be a handicap for the company, which fortunately benefits from users who are aware that their exchanges with Alexaboring as possible can significantly improve their user experience. Among them, those who took part in the beta tests will confirm this: Alexa has improved dramatically by feeding off our wildest demands.
By unchecking these two options, you fall into the ordinary and do not help either humanity or Alexa, to progress. Yes, just that! You are free to do so, however.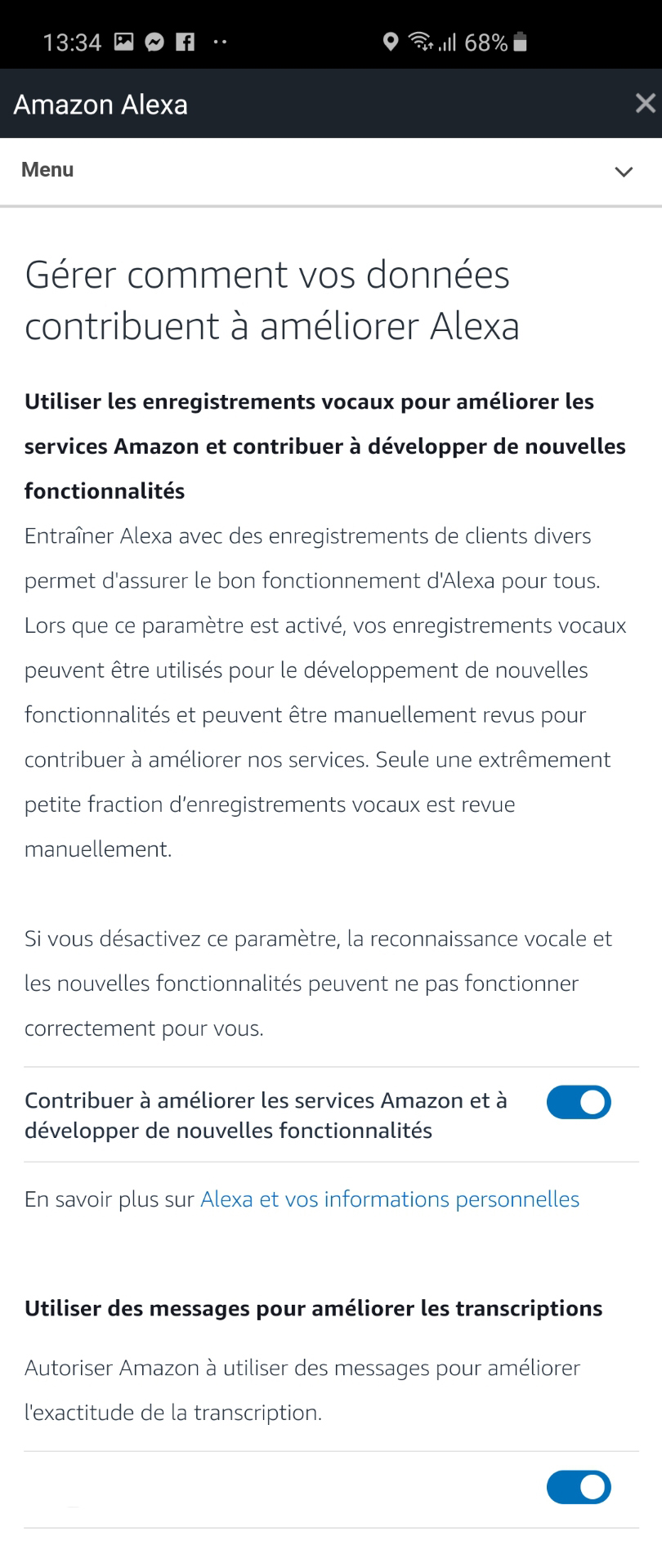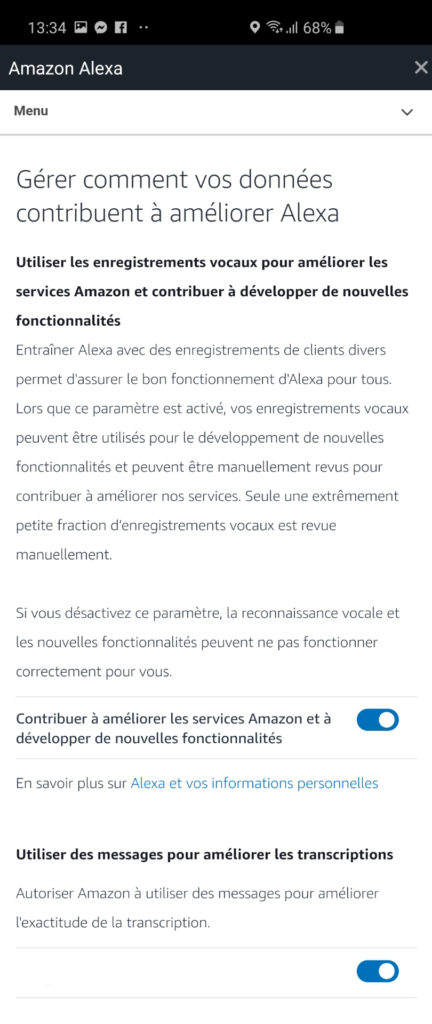 In conclusion, a little humor never hurts, we have greatly exaggerated popular psychoses, but know that refusing to Alexa to make progress and then complain about it is a bit like abstaining from voting and then criticizing the policy led by elected officials chosen by others. A good hearer!