Today, the alexians will help you install a Netvue Orb Cam camera. Not that this is difficult, but there may be subtleties to consider. What is the interest of this type of connected camera working with Alexa? We immediately think of the video surveillance of its home as with any connected camera. Indeed, it is equipped with a motion detector and night vision. The BABA for a surveillance camera. Another possibility, as it works with Alexa, you can stream it to a spot and listen to whether baby is sleeping well. It will all depend on where you put it.
Ah yes, because even if on Amazon this is not announced, this camera is compatible with Alexa via the app and the Netvue skill.
Getting to know the camera
La camera is quite small (9,1 cm high and 6,9 cm wide), so it can be put almost anywhere. It comes with a USB cable and an AC adapter as well as a wall mount bracket. The cable is about 1m20.
The first thing to do is to download the Netvue application. You will find it in the store of your operating system. Create an account with your email and a password (8 characters, including number, letter and capital letter). You will receive an email to activate the account immediately.
Once done, you can also activate skill Alexa Netvue Live Video using the previously created username and password.
There you go, we can now move on to installing the camera.
Pairing with the Netvue application
We'll have to recognize the camera by the application in order to use it, as a light bulb or a socket. It also works on 2,4 GHz Wi-Fi. But in principle, the installation is a little more structured than for a light bulb.
First, open the Netvue app, tap the "+", select "indoor cameras" and follow the guide. We'll have to scan the QR code behind the camera to detect it and have it taken into account by the application.
Then connect the camera to the mains. And there, it will be necessary to be attentive and to listen. First of all, check whether the infrared LEDs light up for some time after plugging in. Then go on to the next step, namely to wait for the emission of a small chime noise (it is still quite loud eh…).
Then don't forget the next step, which is very important. It's the equivalent of flashing light bulbs by turning them off and back on. For that, press the small button under the camera (no long press, just a push). the small green light on the camera will flash very quickly. This will take you to a selection page for your network.
But it is not finished, it will now be worth to finalize the recognition of the camera by making it detect a QR code which will appear on your screen smartphone (press it to make it full screen). This can be quite painful, so put yourself in bright light for easier detection. If it works, a beep will be emitted, so be patient and do not remove the phone from in front of the camera before the sound… The camera will then connect to the router. Wait for the camera to make some nice music (if it is an alarm type, there is a network connection error, bad password or other). If this is the case, it is because it is well connected to Wifi and will then connect directly with netview. It's almost finished ! The last step will be to name your camera.
And There you go ! If all goes well, you have this screen: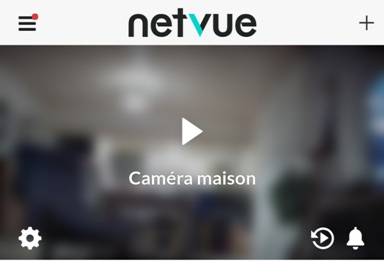 On the other hand, if you have this screen when you press the play of the camera, it may be due to a problem with the network that is a little too weak not allowing you to display the video. The solutions will consist either in changing the network if you have several, or in a Mesh Wi-Fi system… But in any case, even if it is possible to change the Wi-Fi settings in the camera options, we recommend that you redo the complete installation.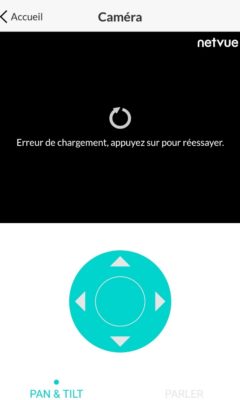 We will do a short tour of the parameters. First of all, when viewing the video live, you can choose the image format (auto, standard or HD), take a photo or even speak through the camera (hence the interest in a camera). baby…). In the camera settings we find various entries including sharing the camera (with members of your family for example), activating motion detection, cloud service (recording videos in the cloud constantly or in case of detection. PLEASE NOTE, these are paid services), programming a standby (start and end time while the camera will turn off), motion alert (with alert on the phone in addition to the motion detection to be activated), direct standby ...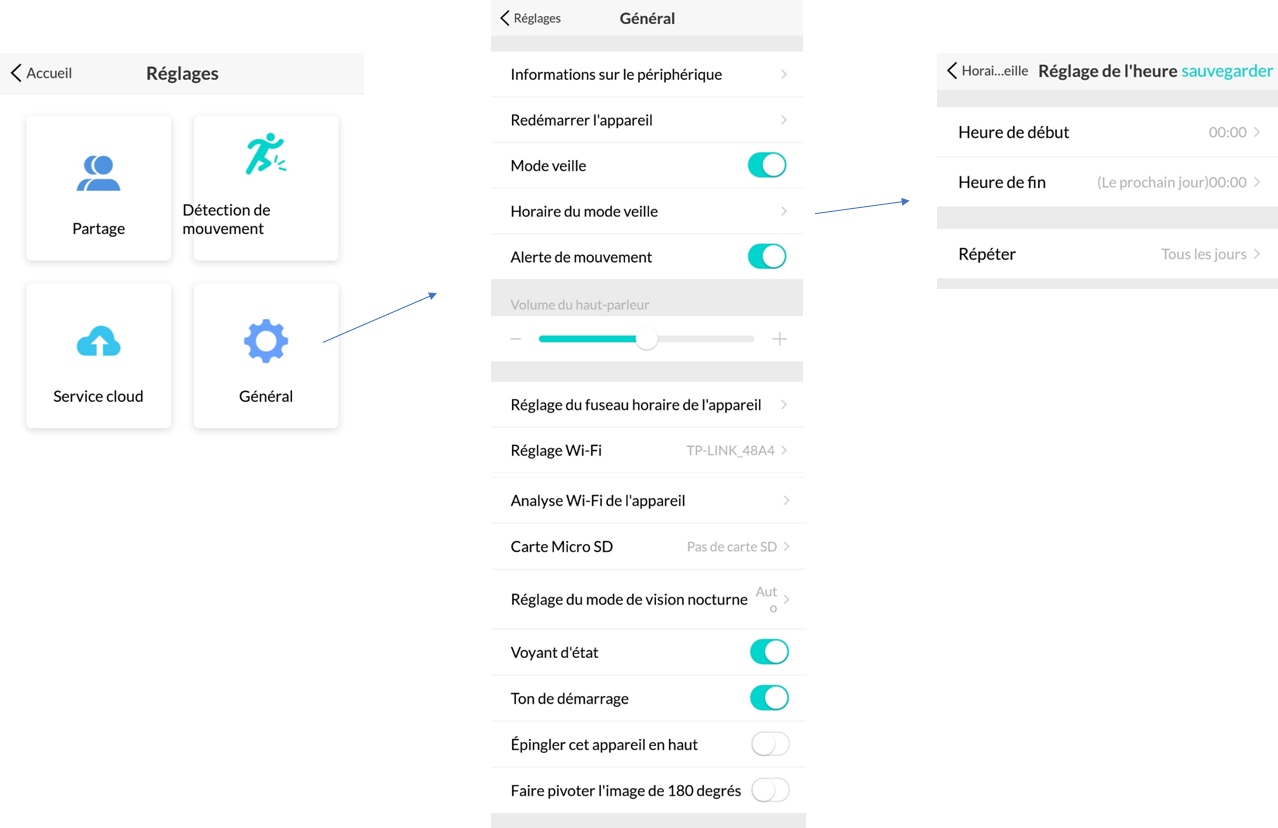 And with Alexa what does it give?
THEpairing with Alexa is done as for a light bulb or a lamp: search for the devices, wait untilAlexa find it and voila! Look carefully to see if your camera has the camera logo, necessary for its proper functioning (considered as a camera).
From there, how do you ask your Echo Spot to display the video? Quite simply by saying: Alexa, shows "X", so in our case " Alexa, Home Camera watch ". Simple isn't it?
And now, thanks to this tutorial, you can now install your camera without any problem Alexa and use it as you see fit (surveillance camera, baby monitor, etc.). Aren't we nice ?!