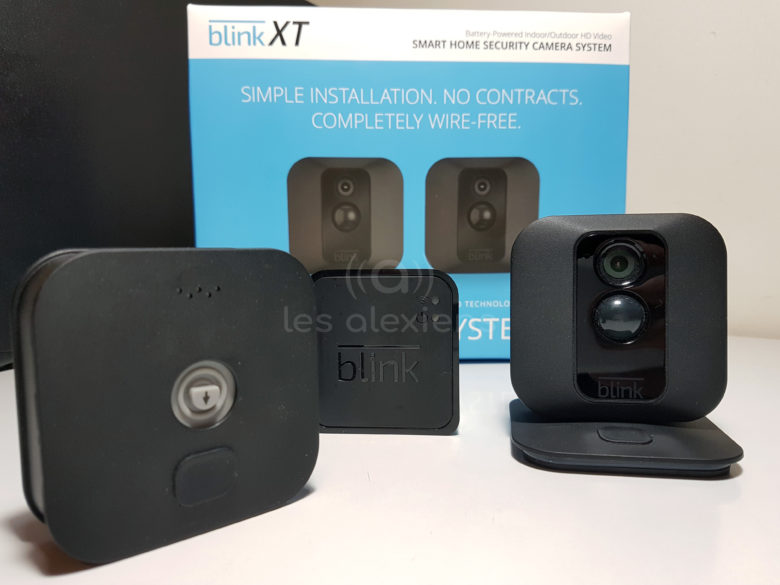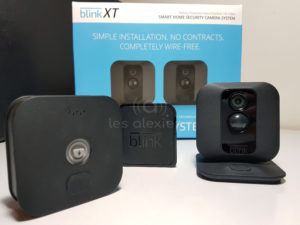 A few months ago, we presented you a full test of Blink XT cameras. Small marvels of compatible technology Alexa and of which it is possible to visualize the flow on our Echo Spot, Echo Show 2 et Echo Show 5.
Unfortunately, although the company Immedia Semiconductor LLC belong to Amazon, its French skill only allows you to view the flow of your surveillance cameras, and not to voice arm or disarm with Alexa. In France anyway.
The Alexians, too impatient to be able to perform these tasks via voice commands, therefore turned to the IFTTT web service to overcome this impossibility. If we hope that the Blink XT2 cameras will be released very soon will be accompanied by an update of the skill and possibility of arming and disarming the Blink system from the application Alexa, we will however explain to you how to overcome this impossibility thanks to IFTTT.
Blink Europe indeed offers several official applets on IFTTT for Amazon Alexa that you can use with all Blink models. Let's see how to implement them.
Not available
August 13, 2022 8:51 a.m.
Updated: August 13, 2022 8:51 a.m.
What is IFTTT?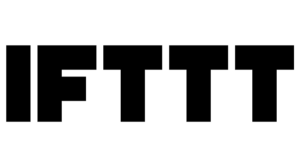 IFTTT is a free web service Which allows you to create applets, or small simple instruction strings, which will be triggered by state changes, hence its name: IF This Then That. Understand, "If that then that". In other words, "If such an event occurs, then trigger such an action".
In our case, you can for example arm or disarm your Blink XT cameras when a defined event occurs. If I leave such and such a perimeter, then my Blink cameras will arm. If I say such and such a sentence to Alexa, then it will disarm the cameras. It's simple, isn't it?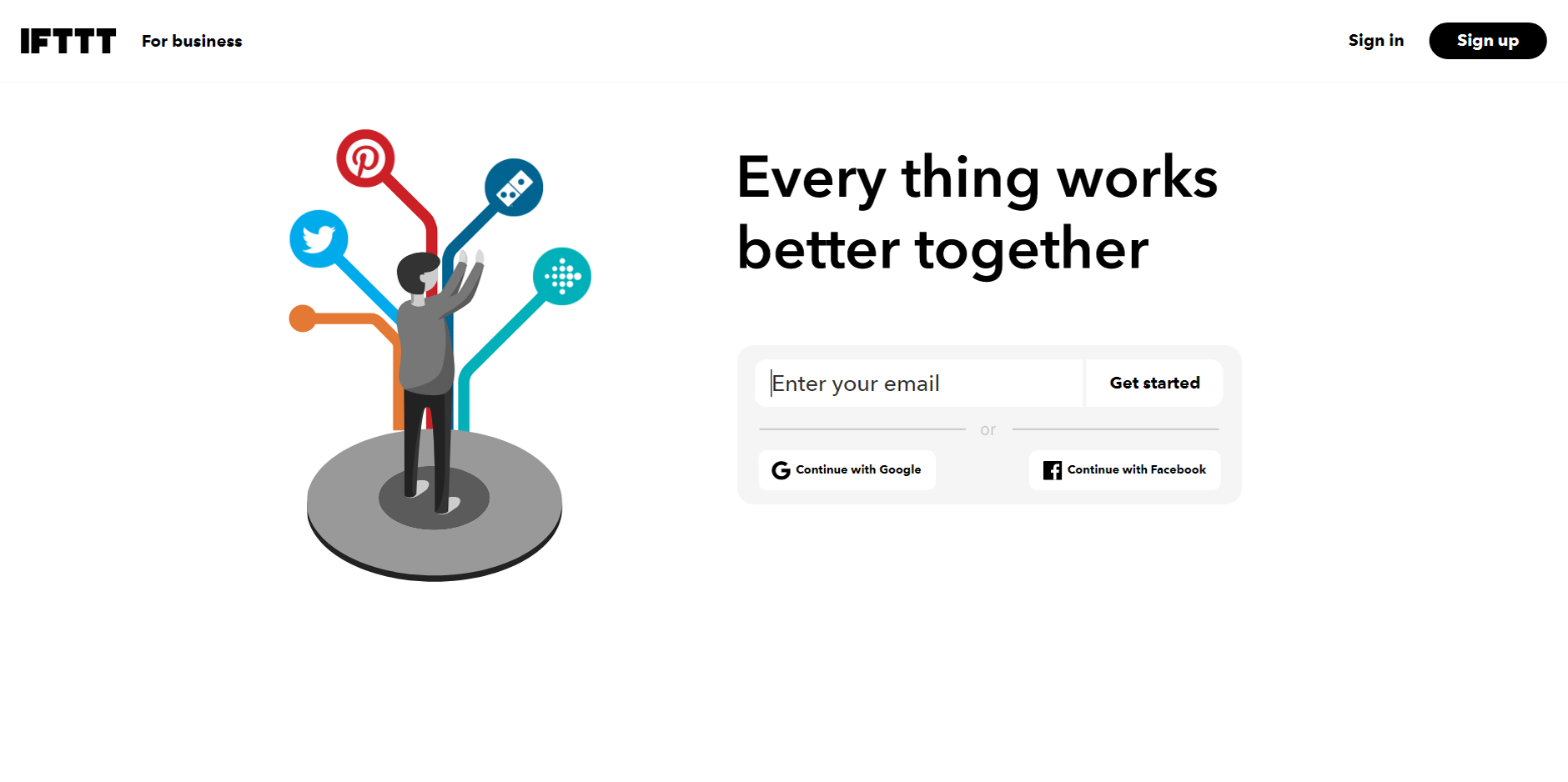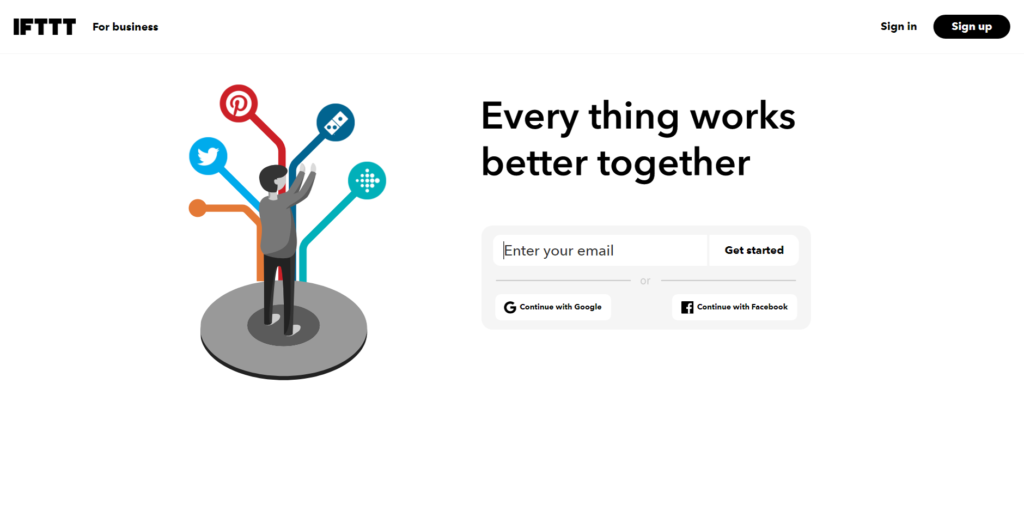 Blink: create IFTTT applets for Amazon Alexa

To use IFTTT, you must either download the application Android ou iOS, or go to the site IFTTT.com. It is the latter that we will use in our tutorial, but you can just as easily perform these operations on a mobile application.
Once done, all you need to do is register. To go faster, you can log in with your Google account or your Facebook account.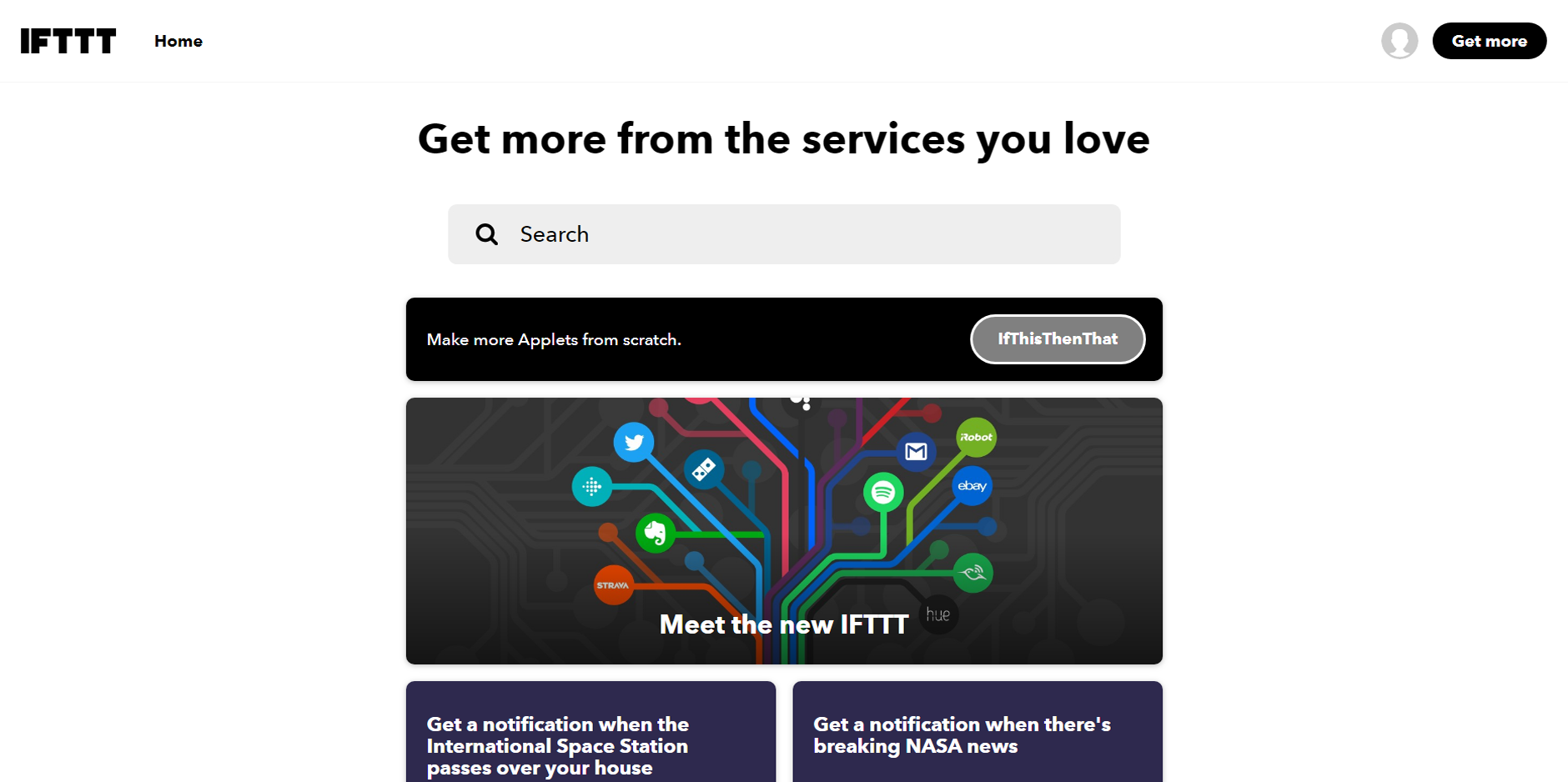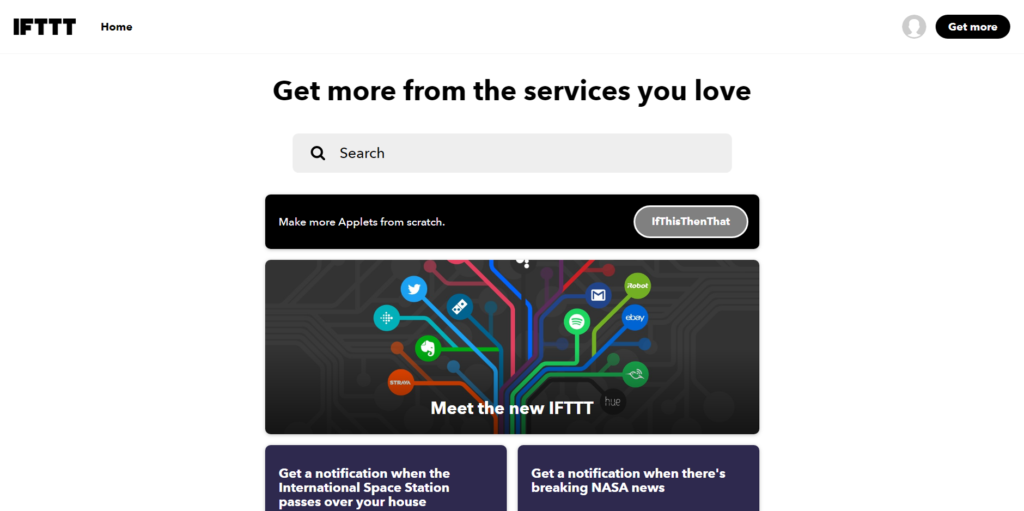 Here we are on IFTTT and its interface that some will qualify as austere, others as simple but effective. Grant them that they have significantly improved it in recent months. While typing Alexa in the search box, you will find that there are already plenty of applets for our favorite voice assistant. Enough to give you ideas, no doubt, but back to our… Blink!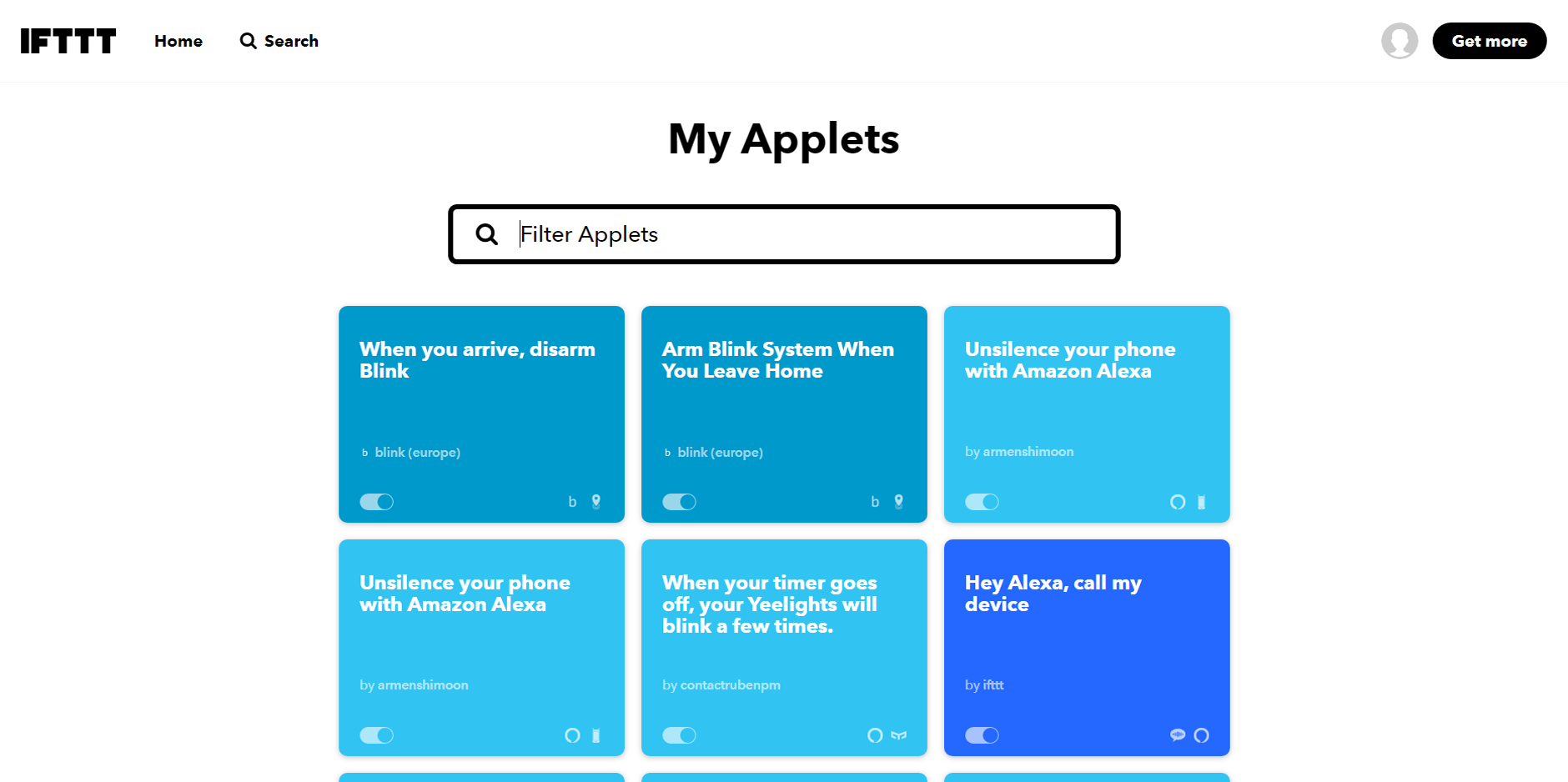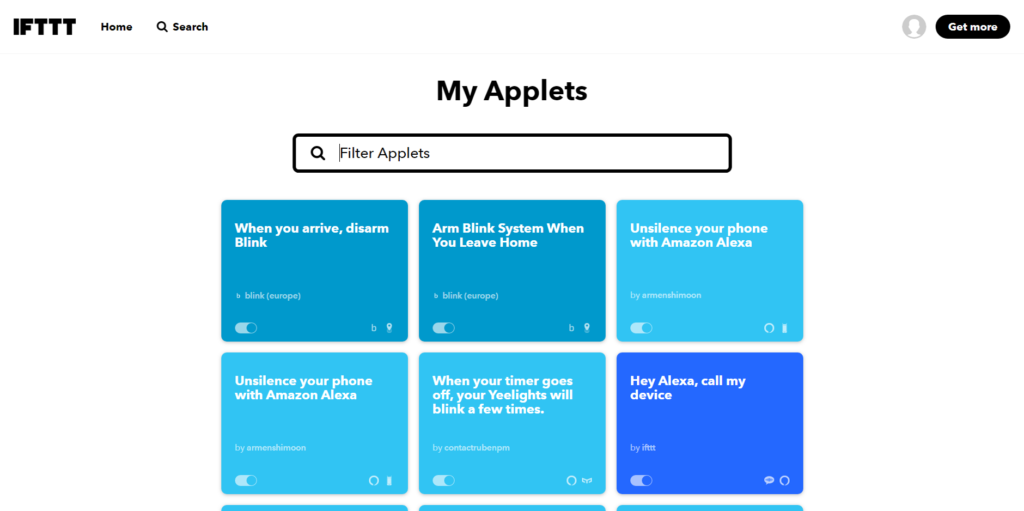 You will find many Blink applets et Blink Europe (these are the ones you should select if you are interested in them), but unfortunately you will not find any allowing you toarm or disarm your system.
Never mind, we are going to create them! And of course guide you step by step… Decidedly, these Alexians are helpful!
First stage :

create an IFTTT applet

1- Click on the button "Get more" top right.

2- In the black box located under the search bar, then click on the button "IfThisThenThat" ou follow this link to create an IFTTT applet if you can't find it (the service is sometimes a bit messy…).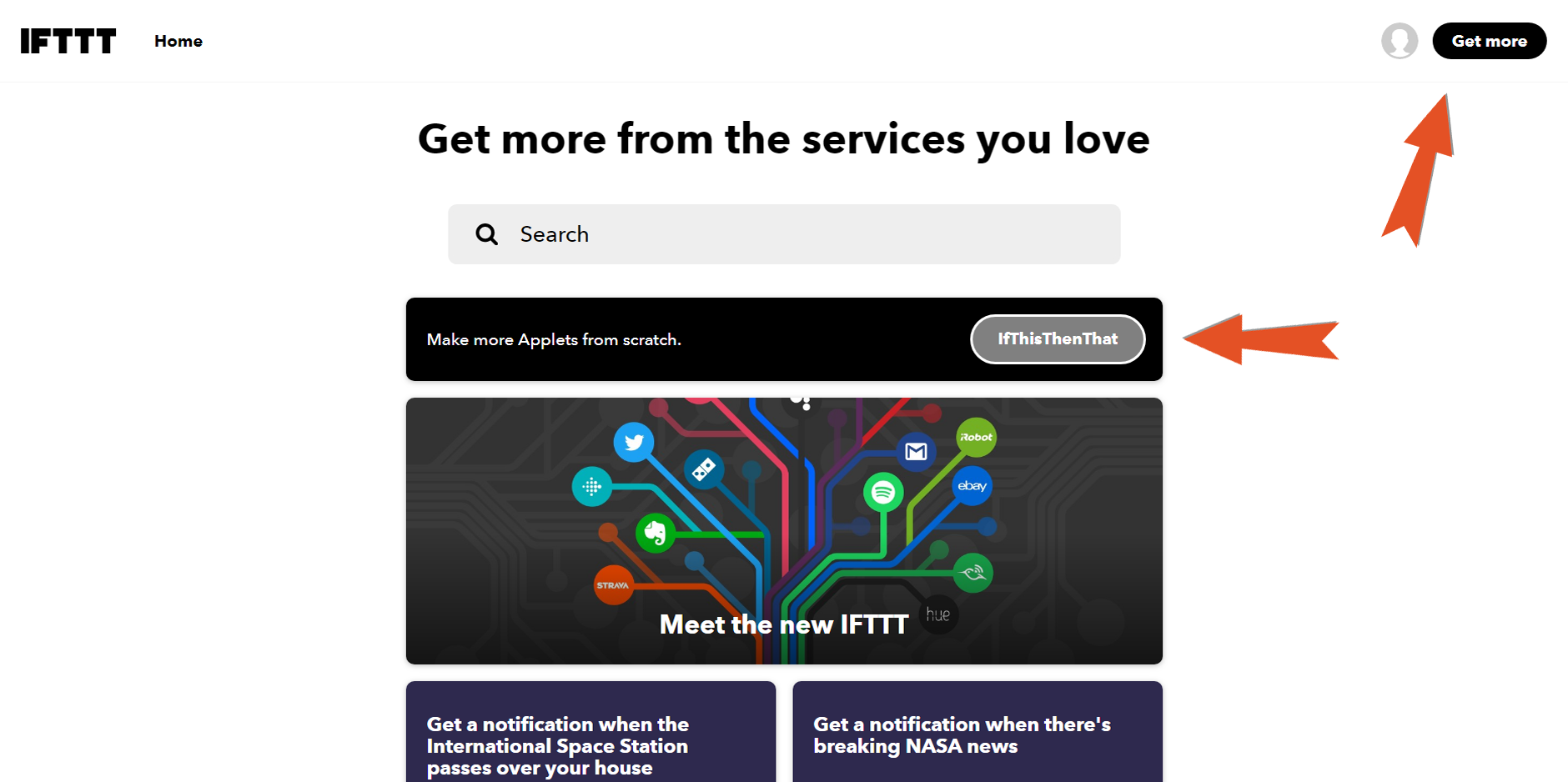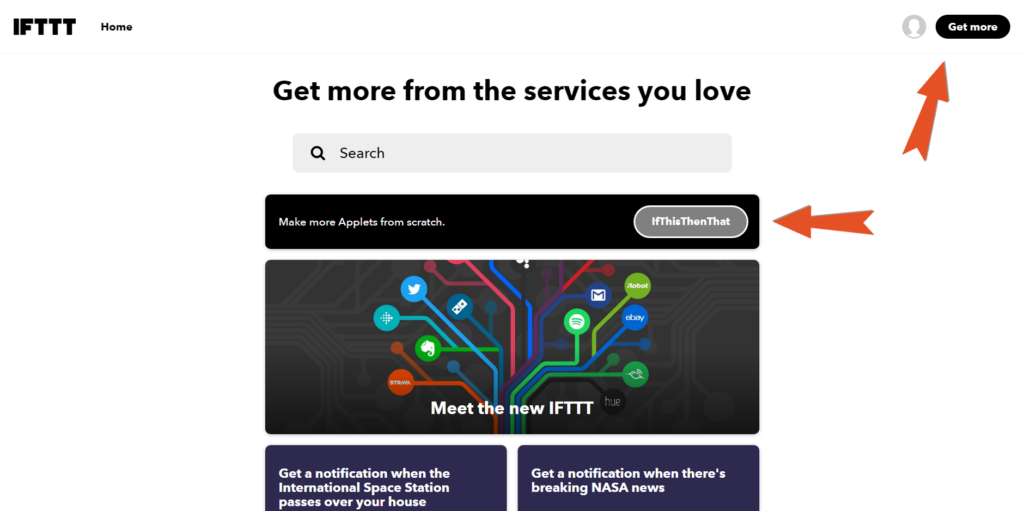 Second step :

choose a trigger Alexa

1- Click on "This".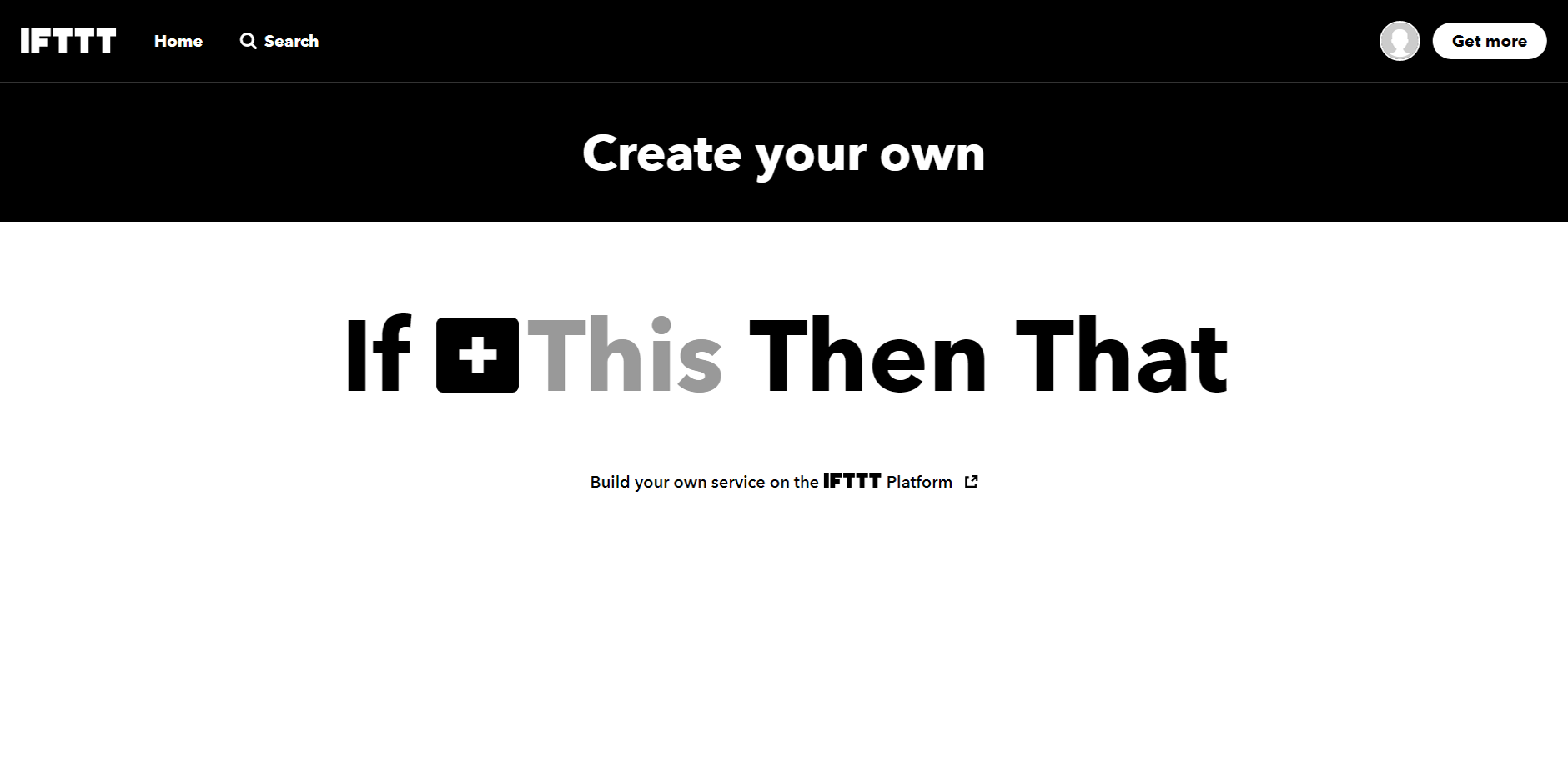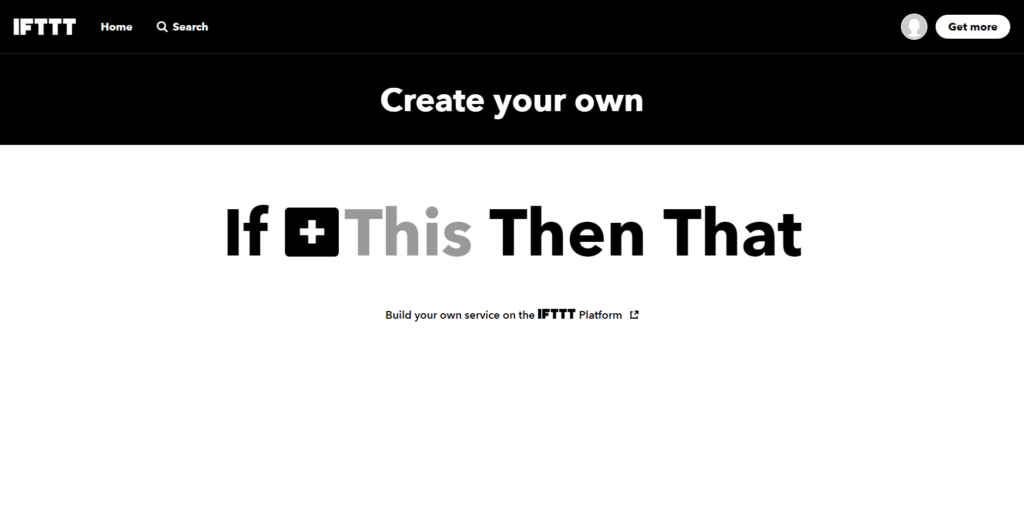 2- Search « Alexa » in the search bar.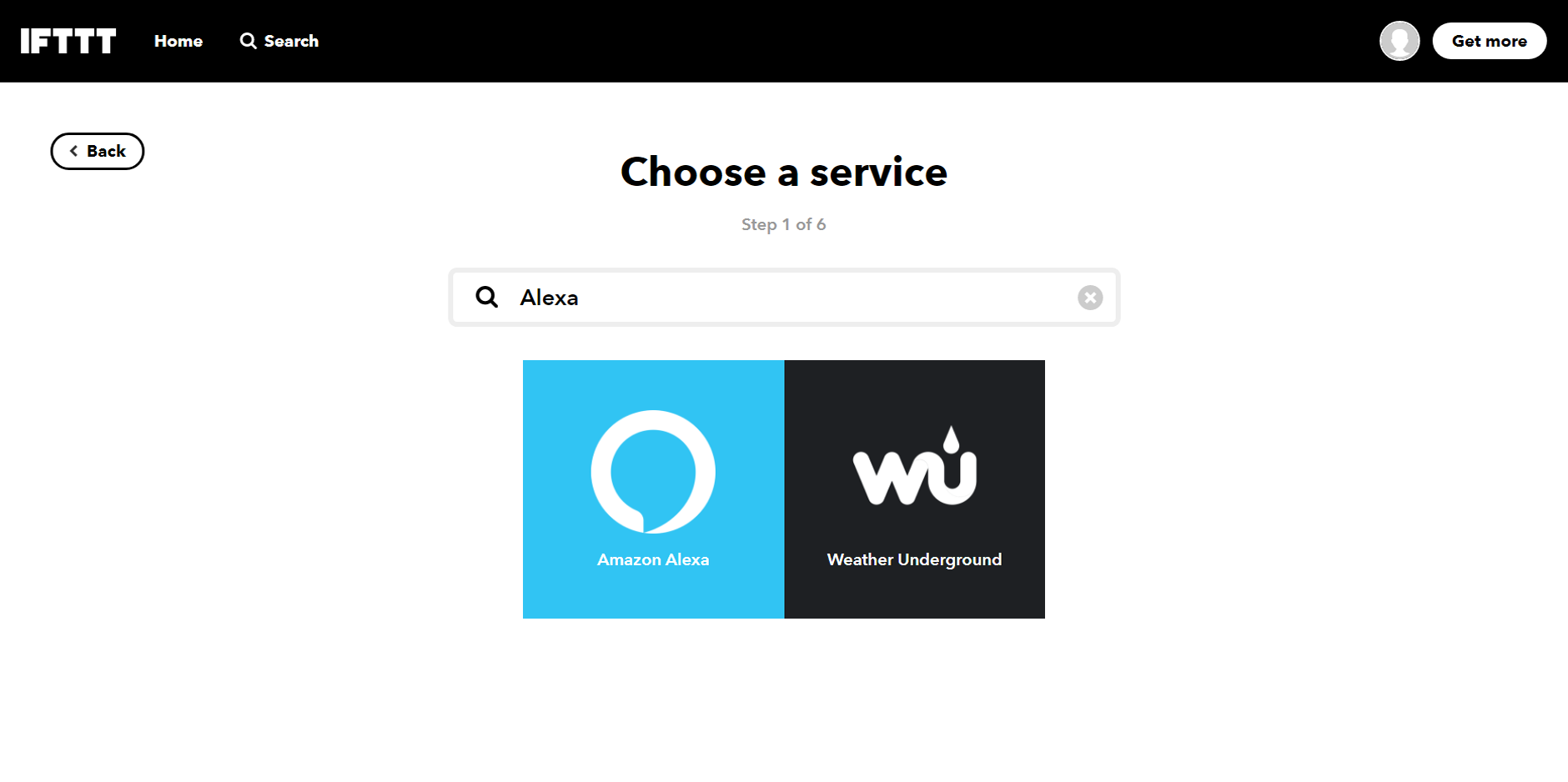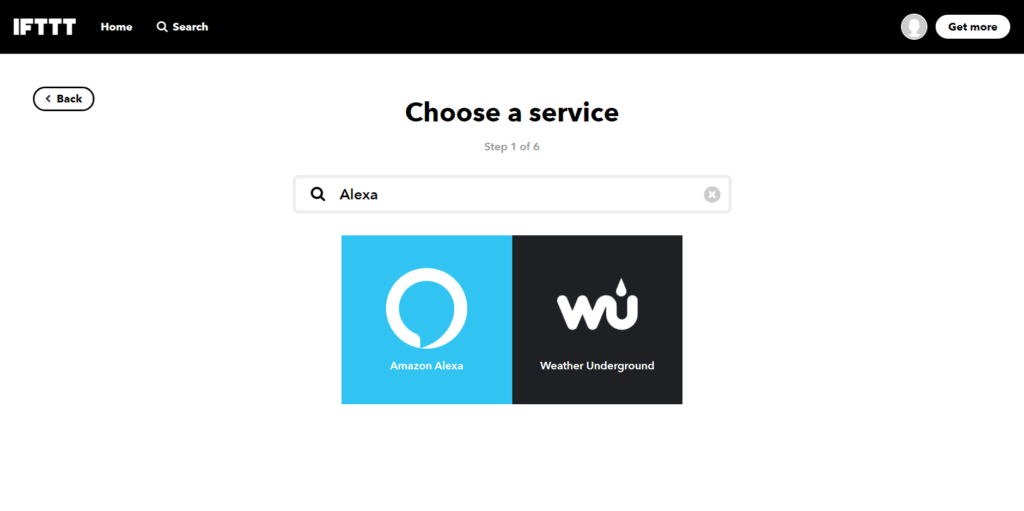 3- If you have never used IFTTT with Alexa, a page will logically invite you to identify yourself. Enter your account credentials Amazon.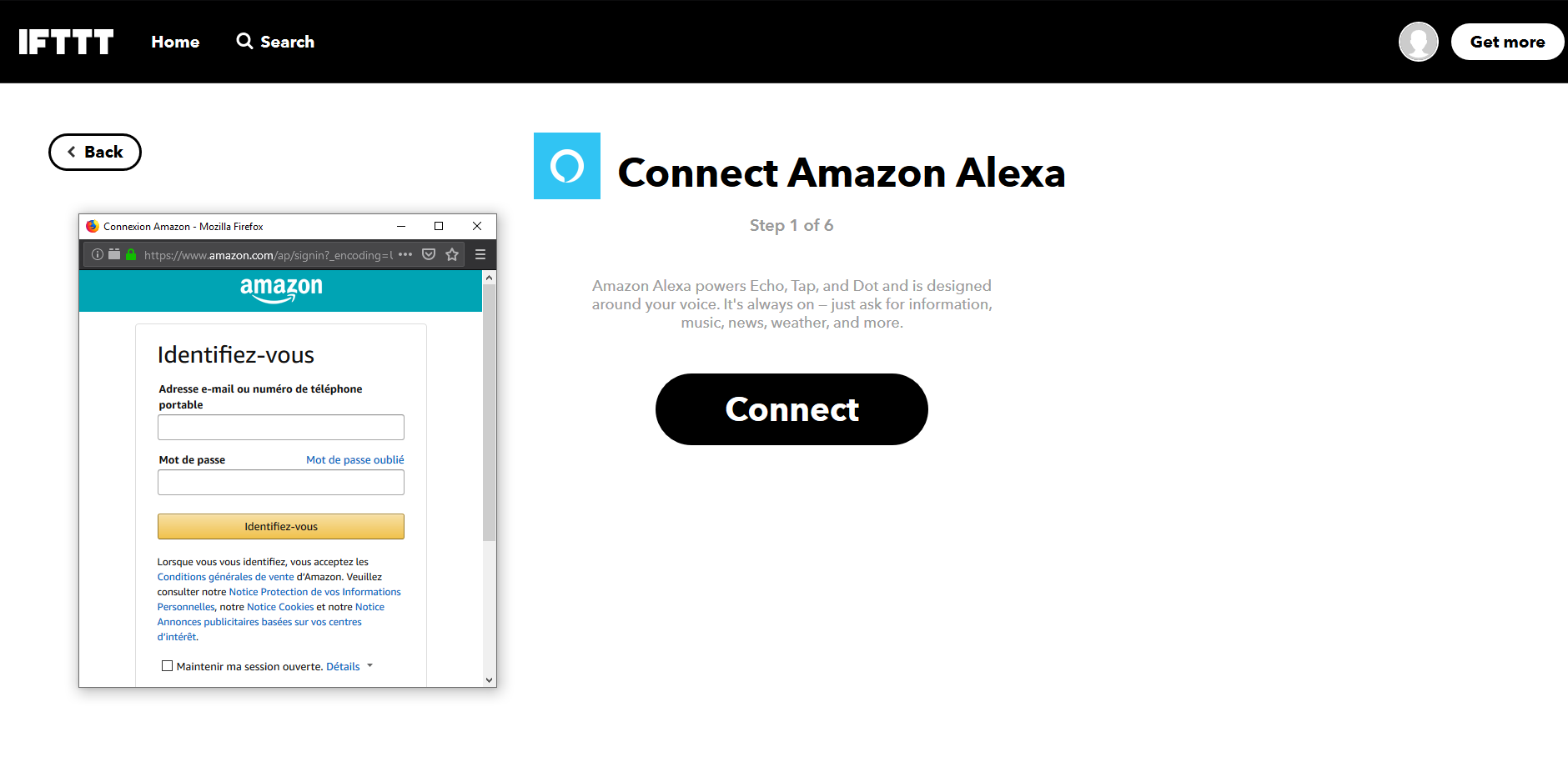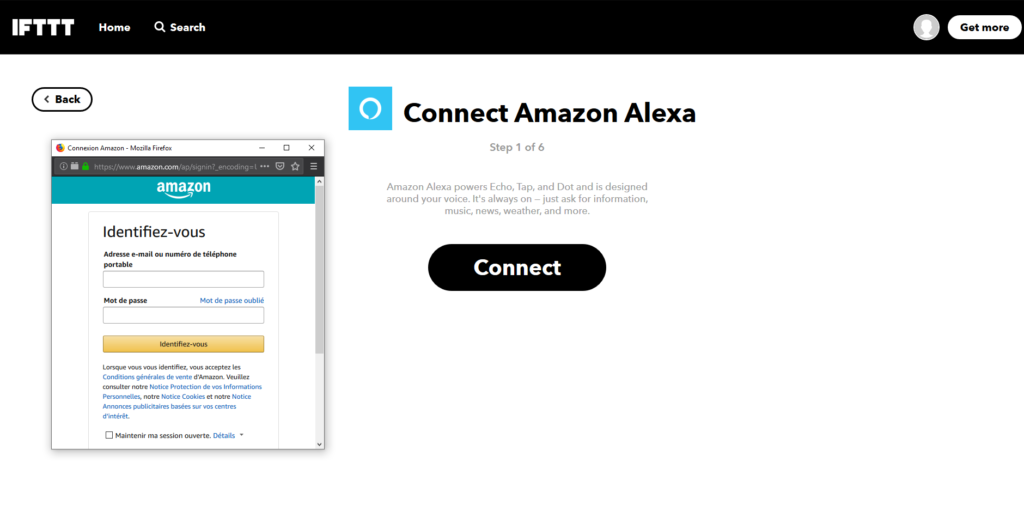 3- Then select the first option, namely "Say a specific phrase". If you are very angry with English, know that it means "say a specific phrase".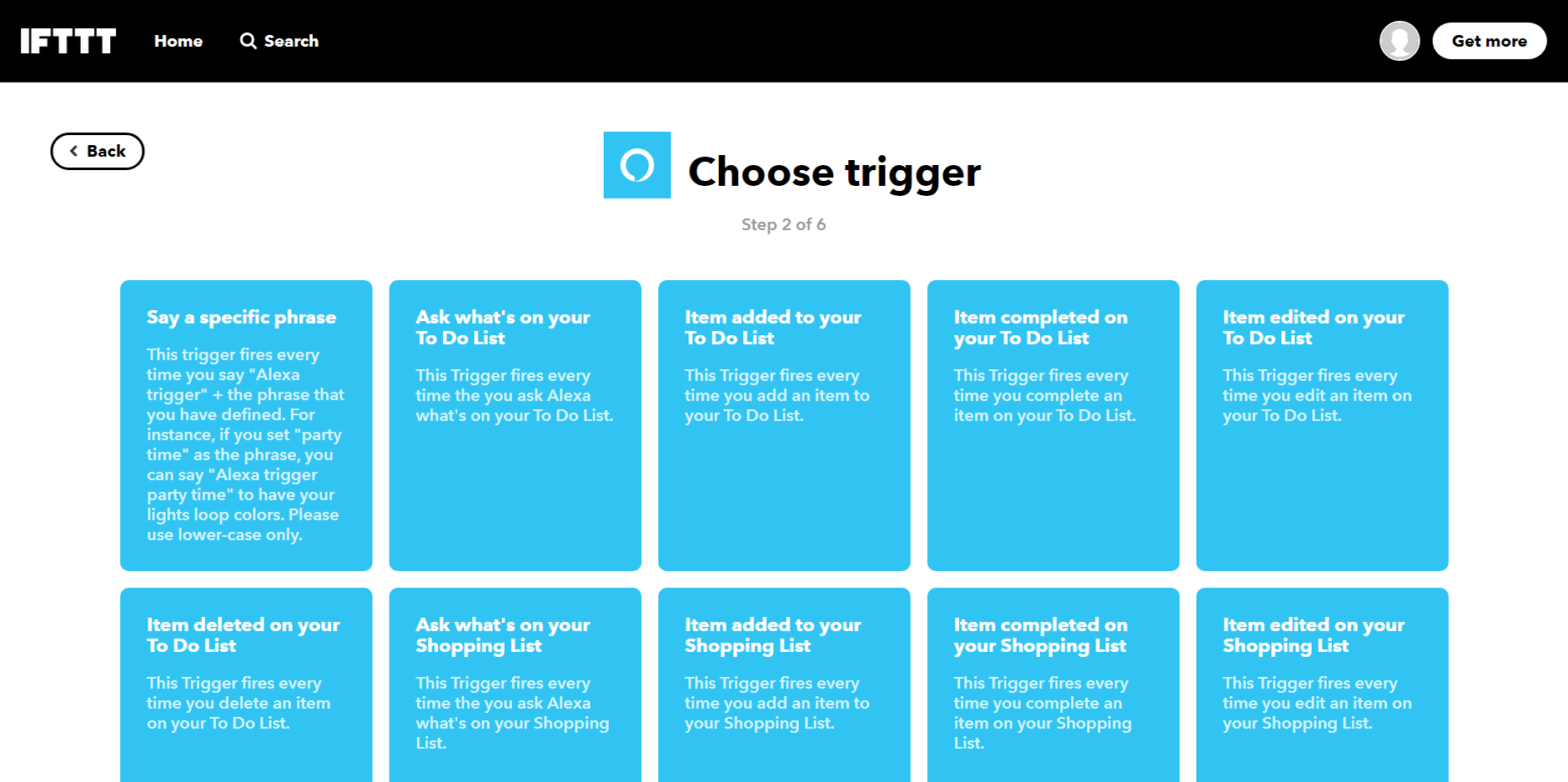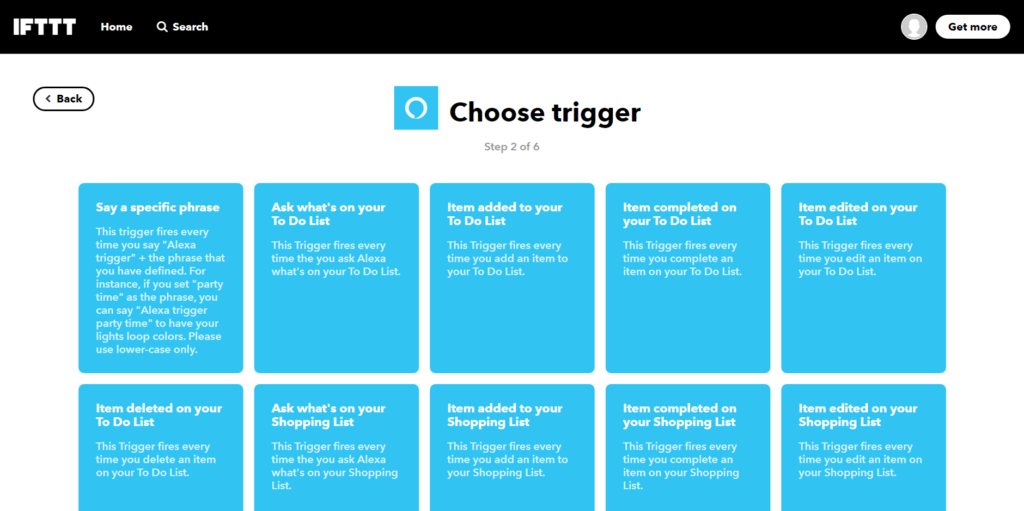 4- Choose a trigger phrase. Be careful, do not use only lowercase letters (you can accentuate them however).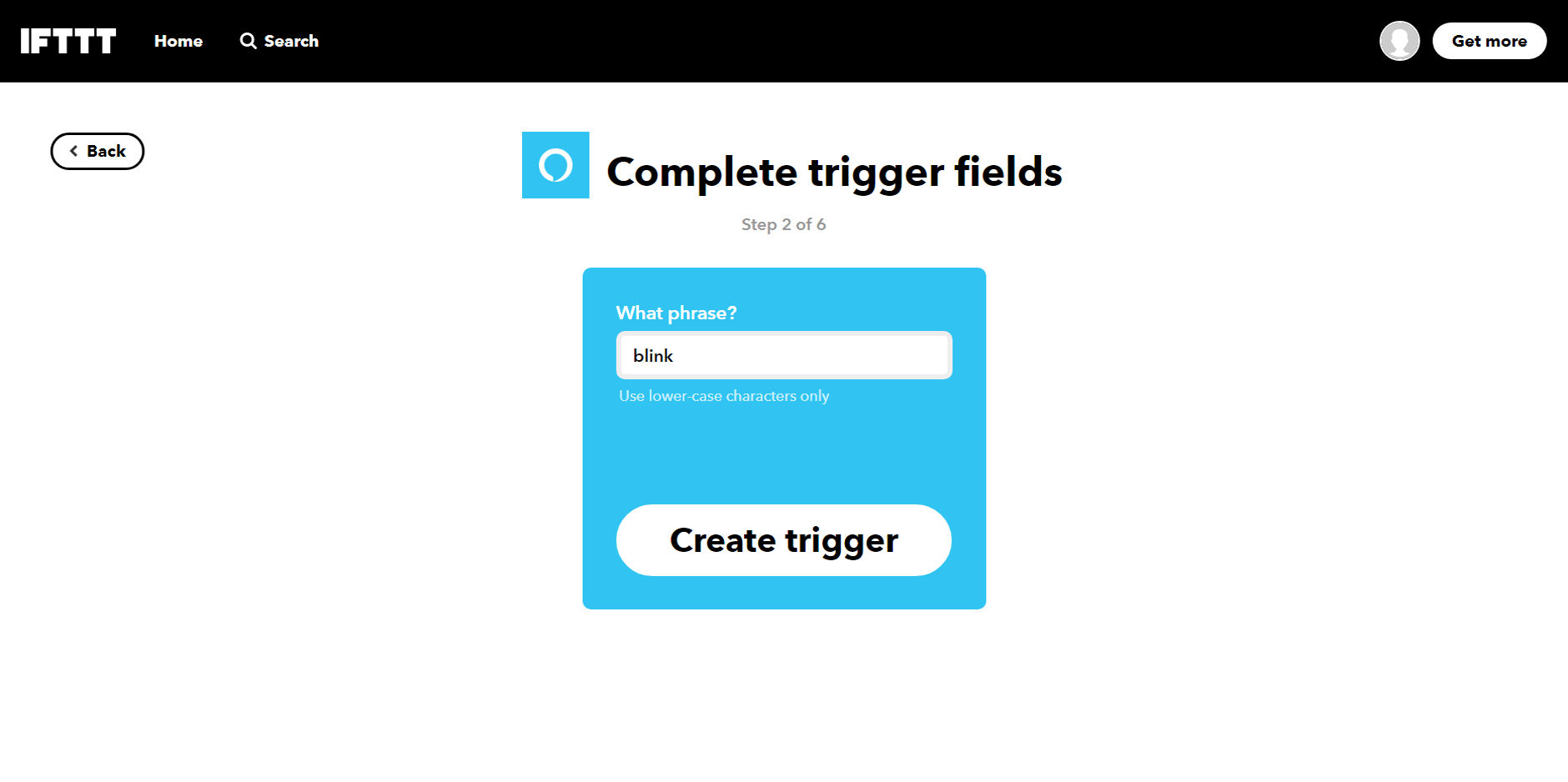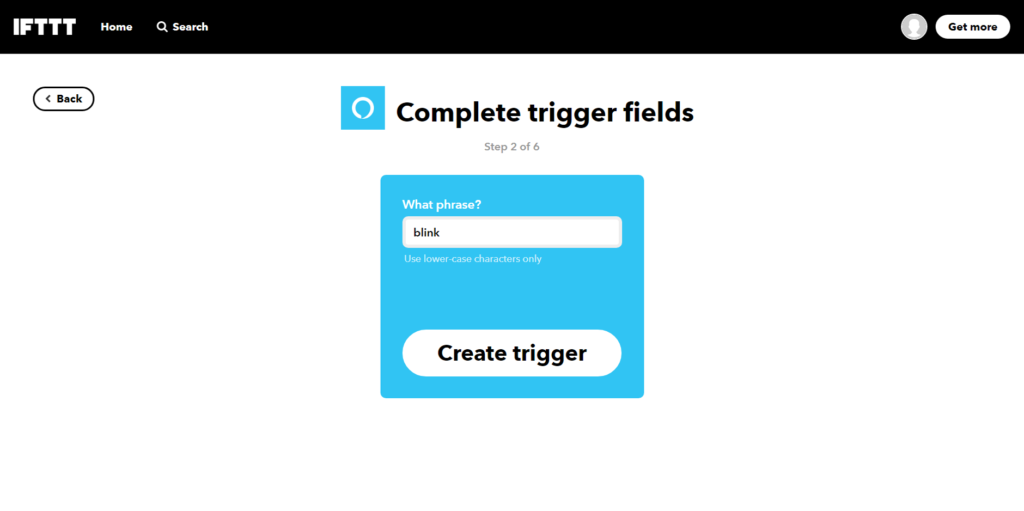 Be careful, note that you will have to start your sentence anyway with « Alexa sets off ",

this is one of the drawbacks of IFTTT.

We therefore advise you to choose a suite that is as natural as possible. You will always be in time to change it afterwards, but you might as well get it right from the start!
Third step :

choose an IFTTT action

1- You are then on the previous screen, except that the logo ofAlexa is now displayed instead of the "+".


2- Click on "That".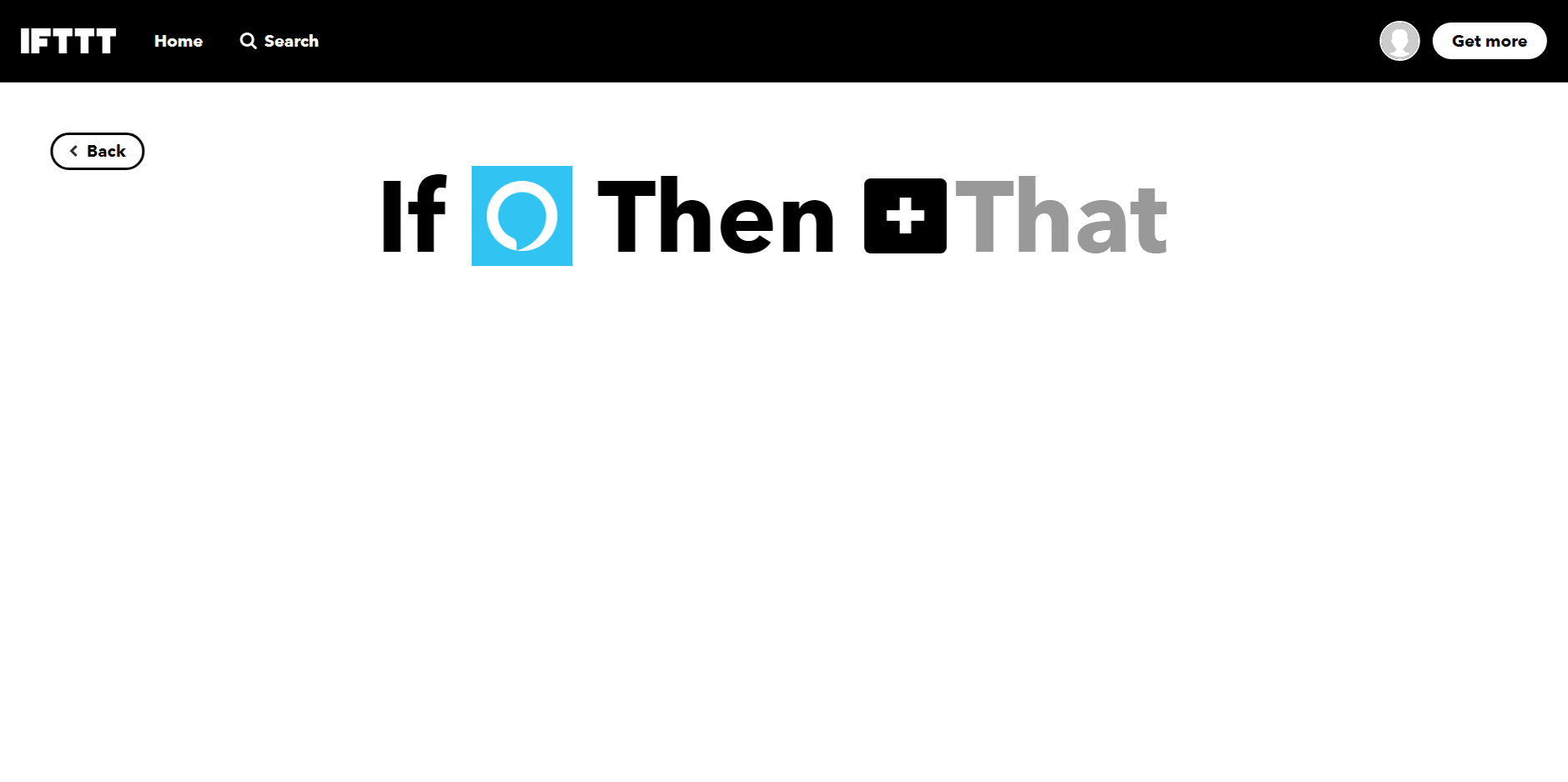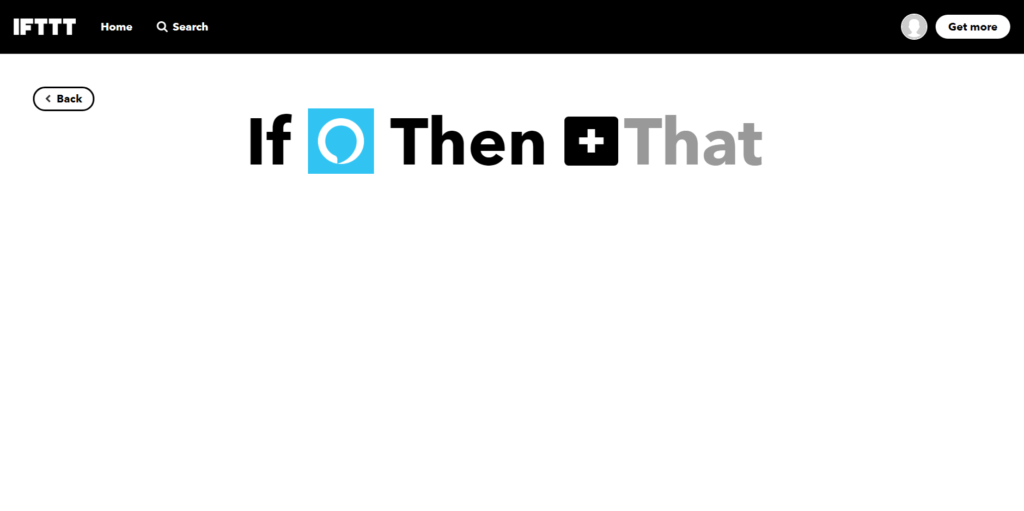 3- Type "Blink" in the search bar and select Blink Europe (if you are in Europe, of course).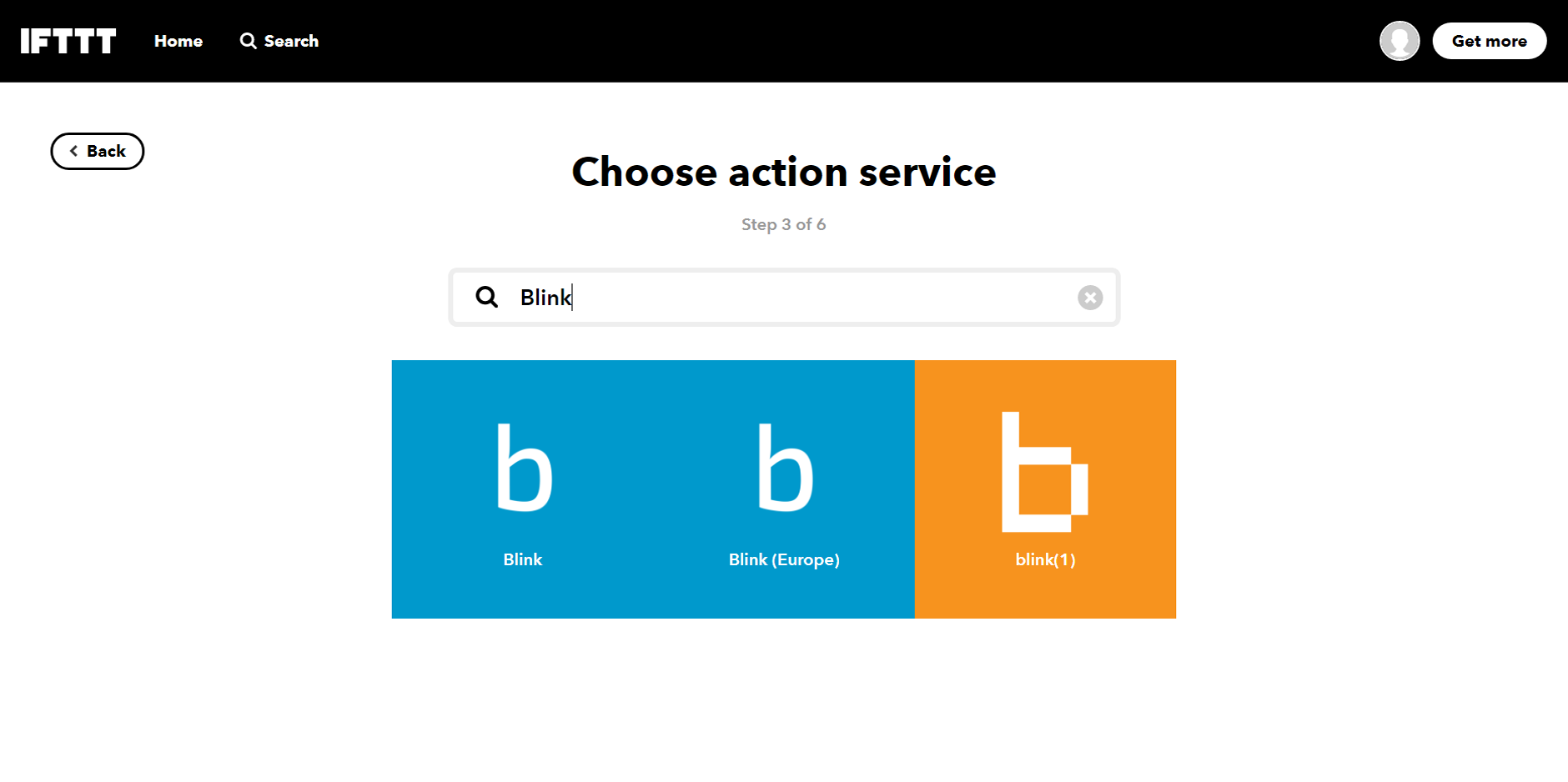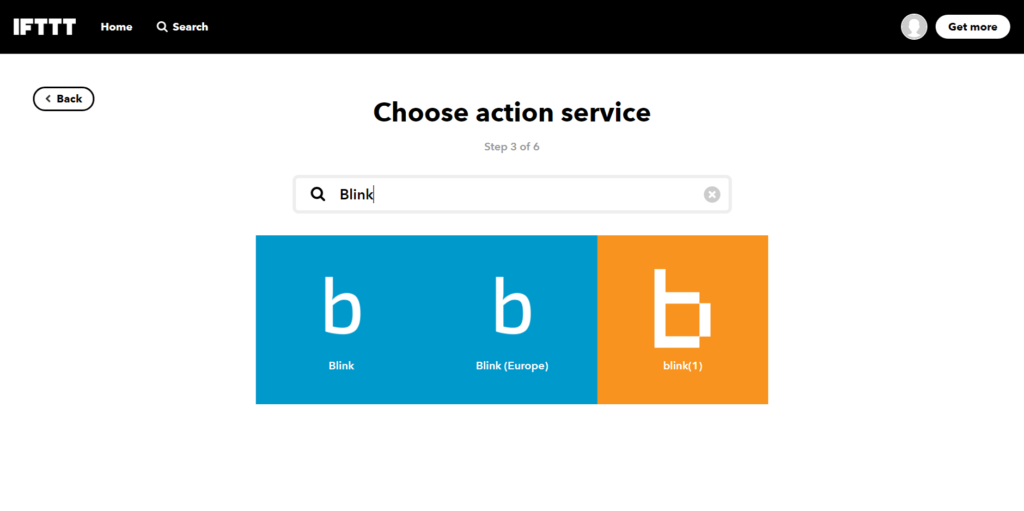 4- Link your Blink Europe account to IFTTT by clicking on "Connect". A window allowing you to enter your Blink credentials will then open.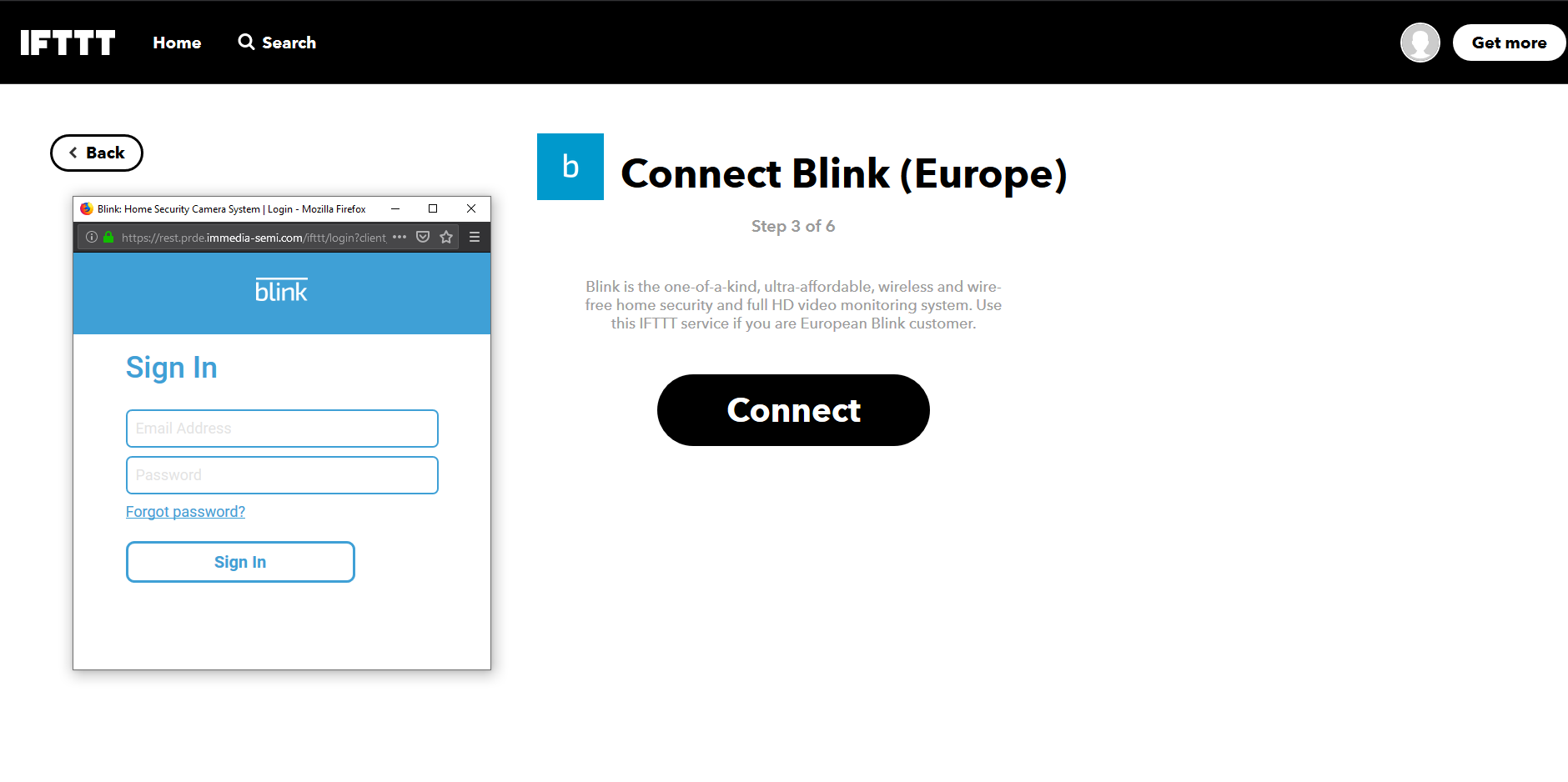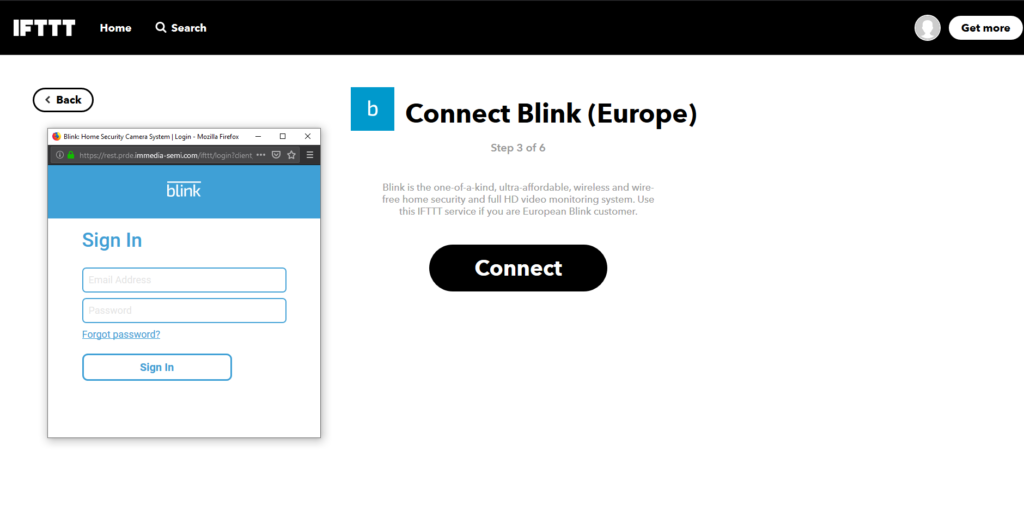 5- You are now connected to your Blink system. A new window offers you the choice between "Arm system" et "Disarm system", which respectively allow you toarmor and therefore activate the detection of movements, or disarm and therefore deactivate your Blink cameras.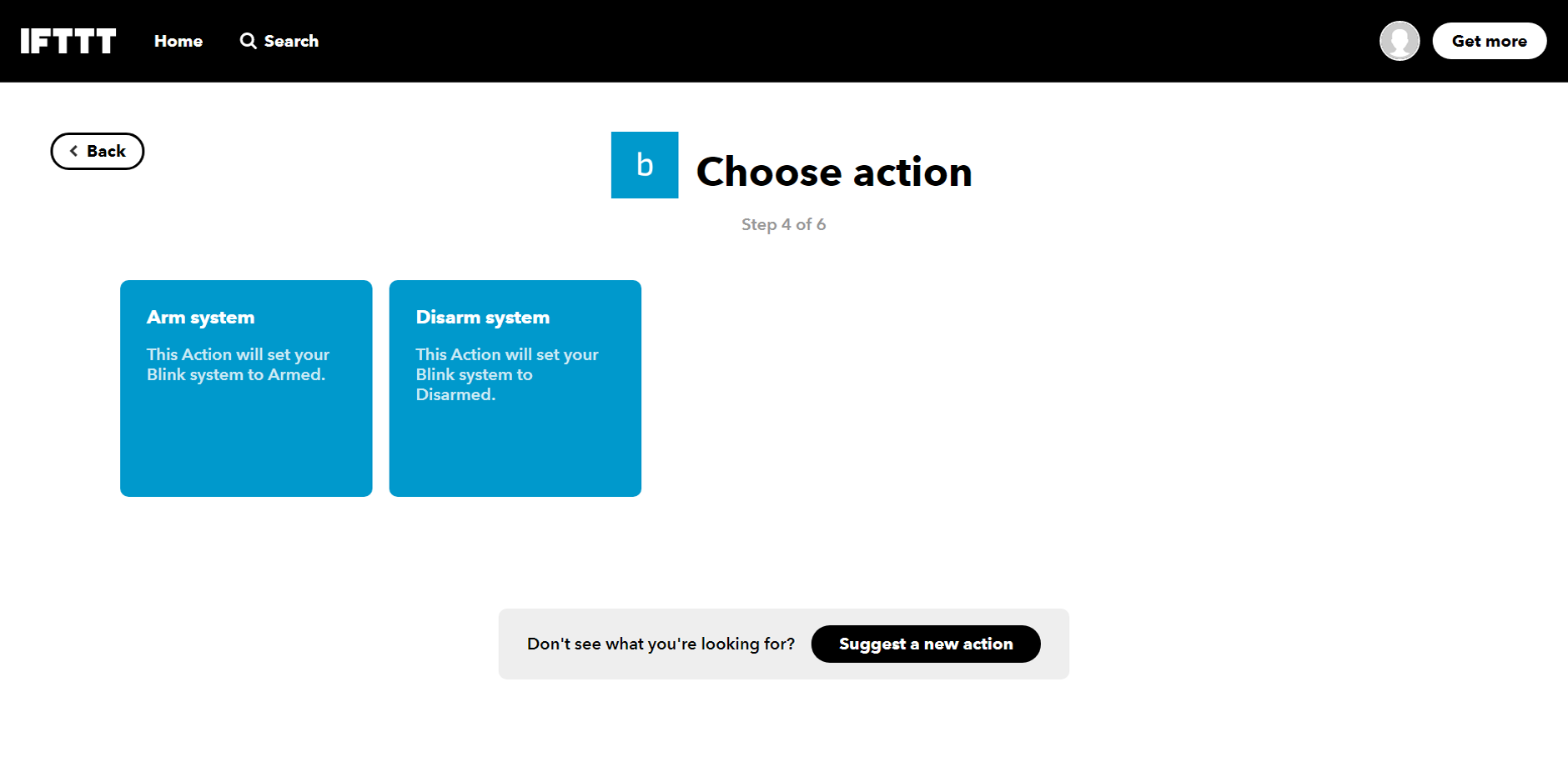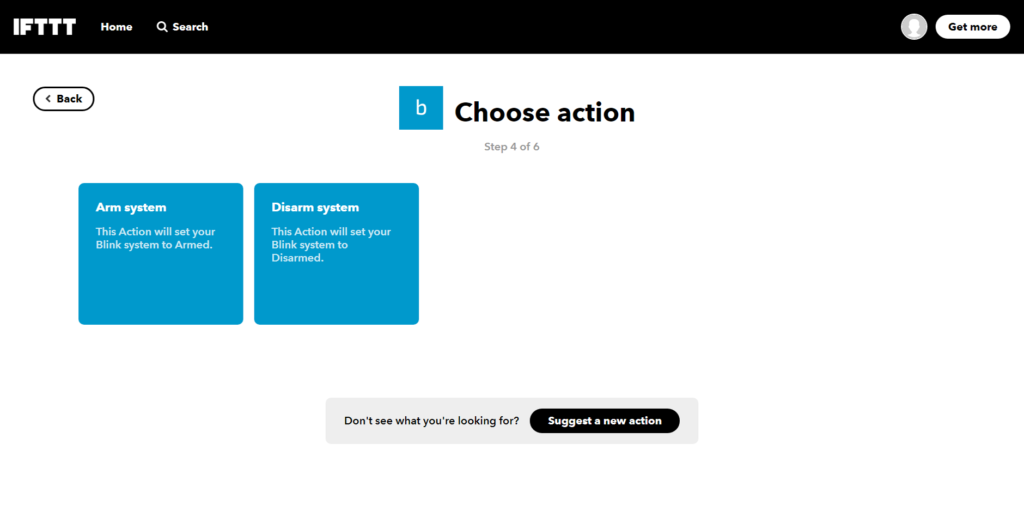 6- We will start by creating an arming applet and therefore choose "Arm system". It will be the same procedure to disarm if you choose "Disarm system".
You arrive on a page allowing you to choose your Blink system, or a particular camera. If you want to trigger all your cameras, choose the system name, otherwise the right camera for you.
Finally, click "Create trigger" which will create the IFTTT trigger.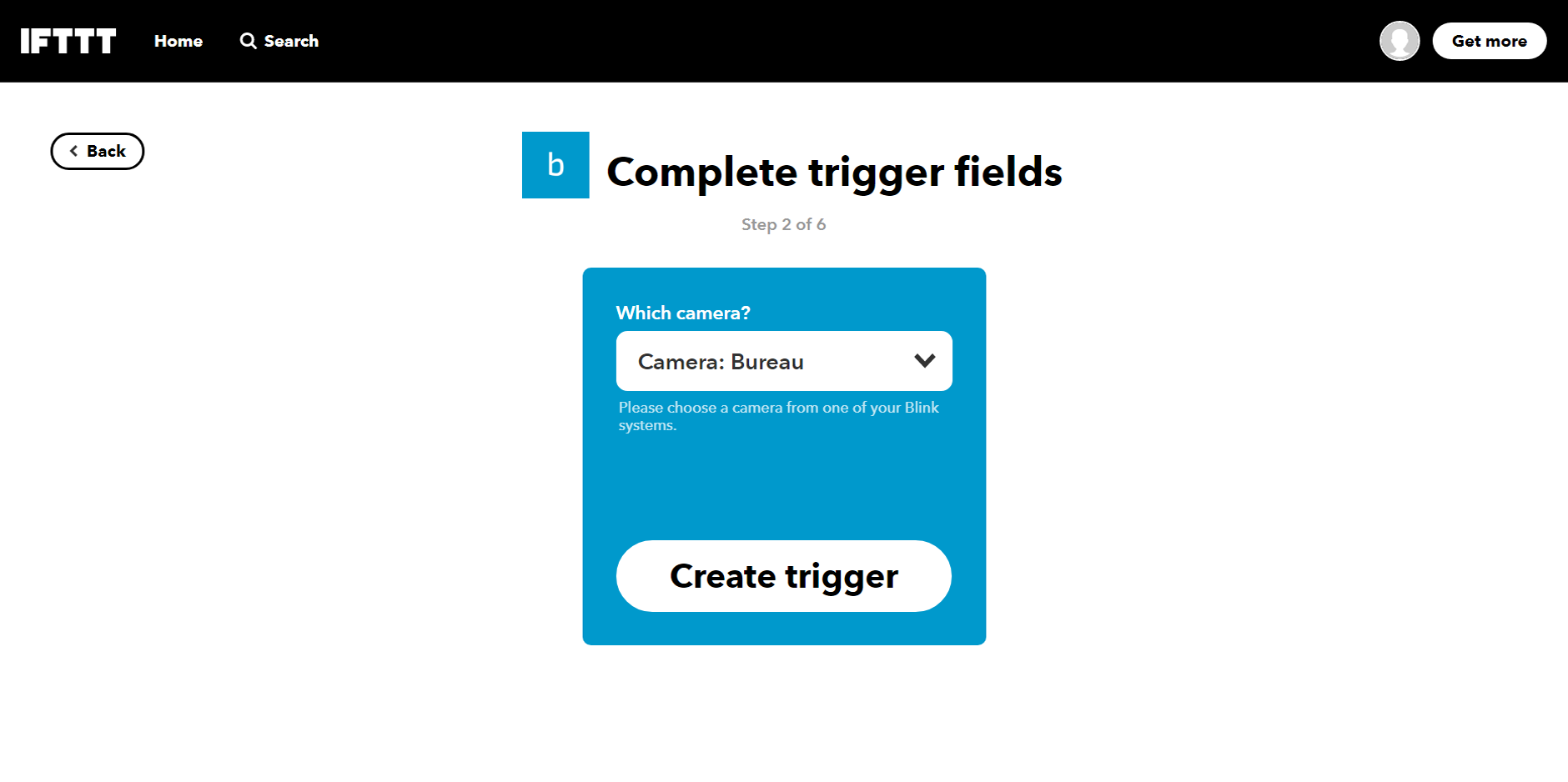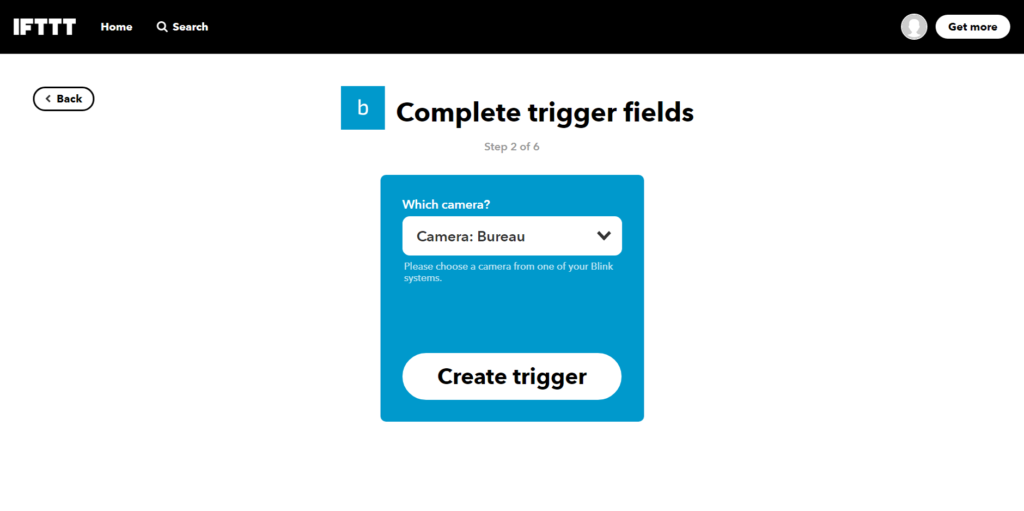 7- A new summary page opens. You can choose whether or not to receive an IFTTT execution confirmation notification on your mobile. You can also change your trigger title, trigger phrase for Alexa, the system or the camera to be armed from this screen, but also view the activity of the trigger in "View activity" or test it for proper operation using "Check now".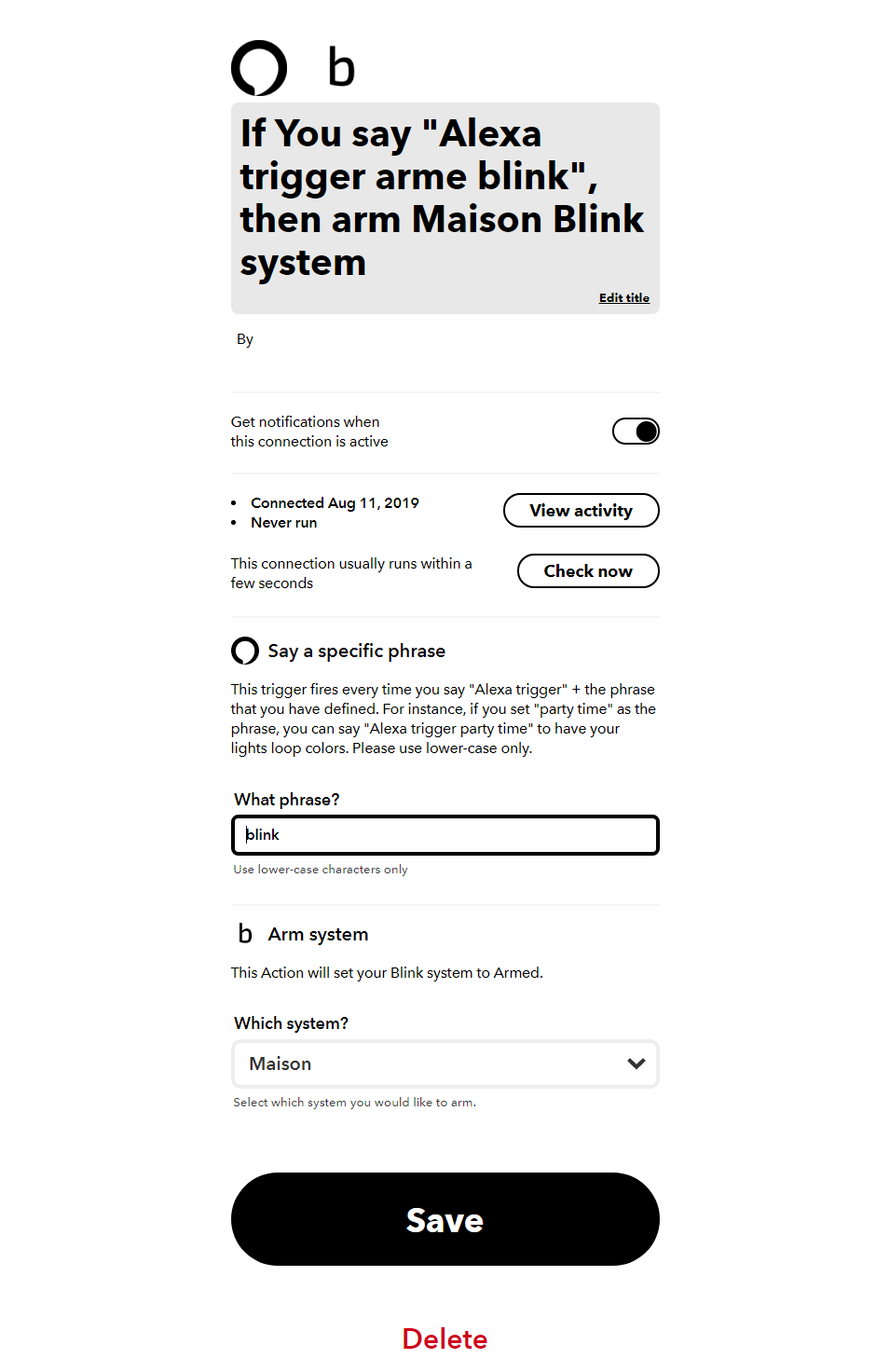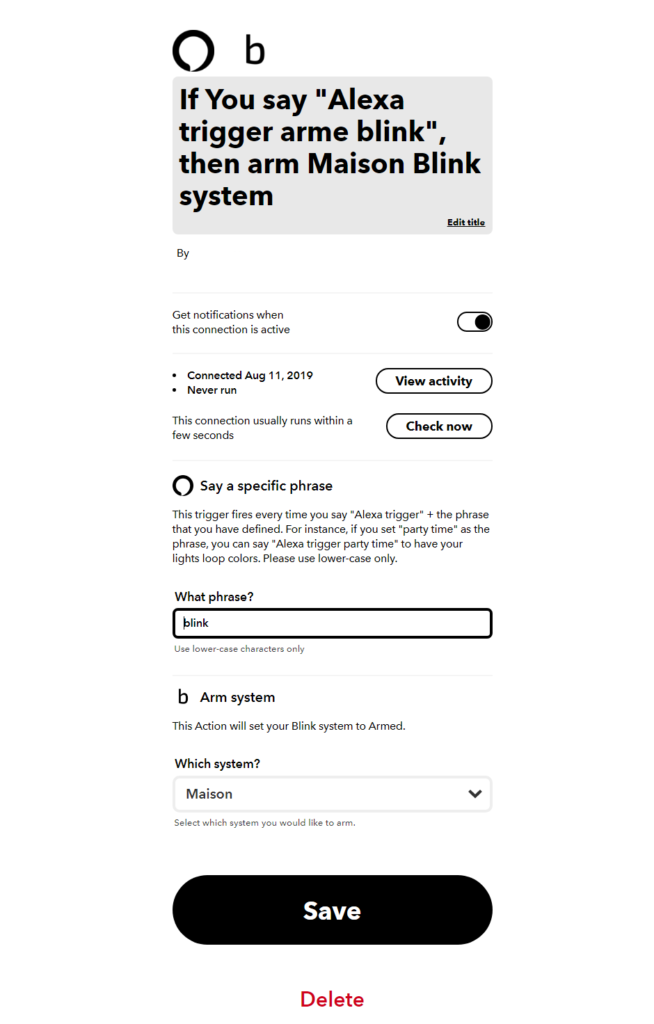 Fourth step: test with Alexa
That's it, you are now able to activate your Blink or Blink XT cameras with a voice command Amazon Alexa!
Okay, that's fine, but let's check if everything is going well on our appliances Amazon Echo.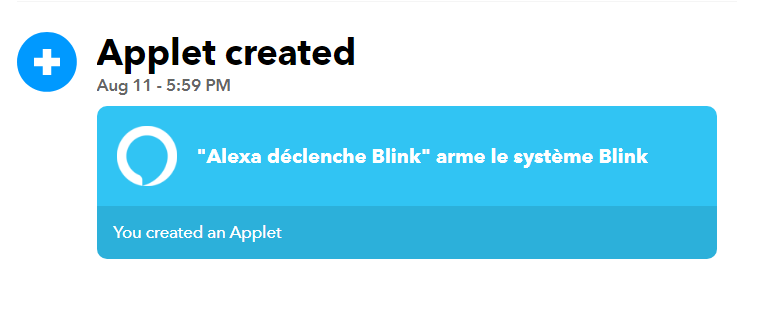 « Alexa, triggers Blink " (pronounce the sentence you have chosen above of course).
If all goes well, you will hear an audible confirmation. If applicable, Alexa will notify you of the problem by warning you that it cannot find the IFTTT trigger.
Finally, you can check the correct execution of the trigger directly in IFTTT.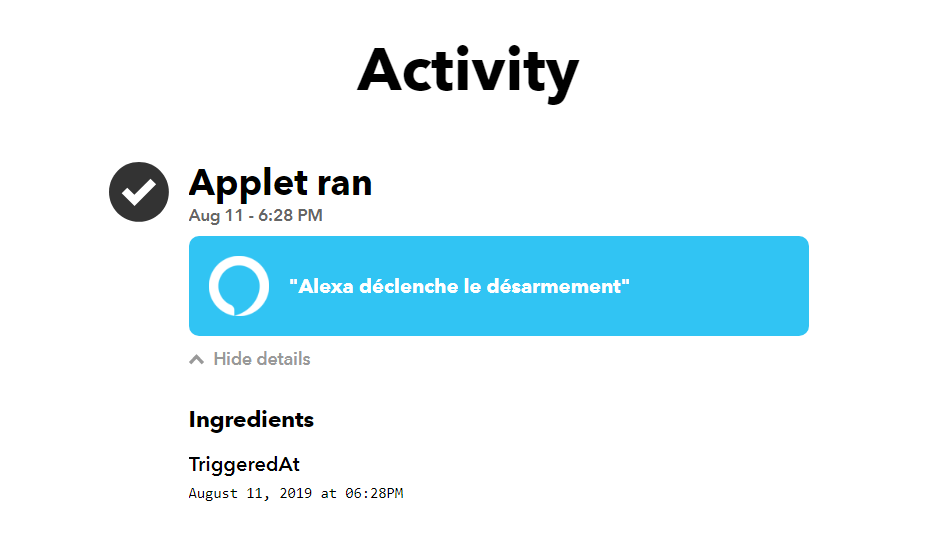 And to disarm Blink cameras with Alexa?
Well, it's very simple, you just need to repeat the previous steps and to choose "Disarm system" this time. Choose a different phrase, of course, otherwise Alexa won't know which one to choose and won't do anything at all.
There you go, you can now leave your home and simply say to Alexa arm your cameras while putting on your shoes. No need to take out your smartphone and launch the Blink for Home app. Isn't life beautiful?
Updated: August 13, 2022 8:51 a.m.