If you are here, it is certainly that you have acquired material Tuya Smart. However, even if you have successfully tame the application Smart Life, you probably still find limits to it or would like to pair your products with other brands or protocols. Perfect ! You are in the right place, today we are going integrate together Tuya Smart Life in Home Assistant in order to be able to make our scenarios more complex as well as to link our equipment to other devices such as Aqara switches, for example.
You will need your Tuya login details or Smart Life (username, which is usually your email address and password) to use this module.
THETuya integration for Home Assistant that I propose to you today is the one natively supported. There are other integrations to be cloudless (Without using the brand's servers) which we will see later if you are interested.


Smart Life with Home Assistant to enhance your experience
Currently there is support for the following device types in Home Assistant:
Climate: Supports air conditioners and heaters
Cover: Supports modules for shutters
Fan: Support most types of Tuya fans
Light: Support most kinds of Tuya light / Smart Life
Switch: Supports switches and sockets
Activate Tuya or Smart Life in Home Assistant
For activate the devices linked to your Tuya account or Smart Life, add the following to your file configuration.yaml :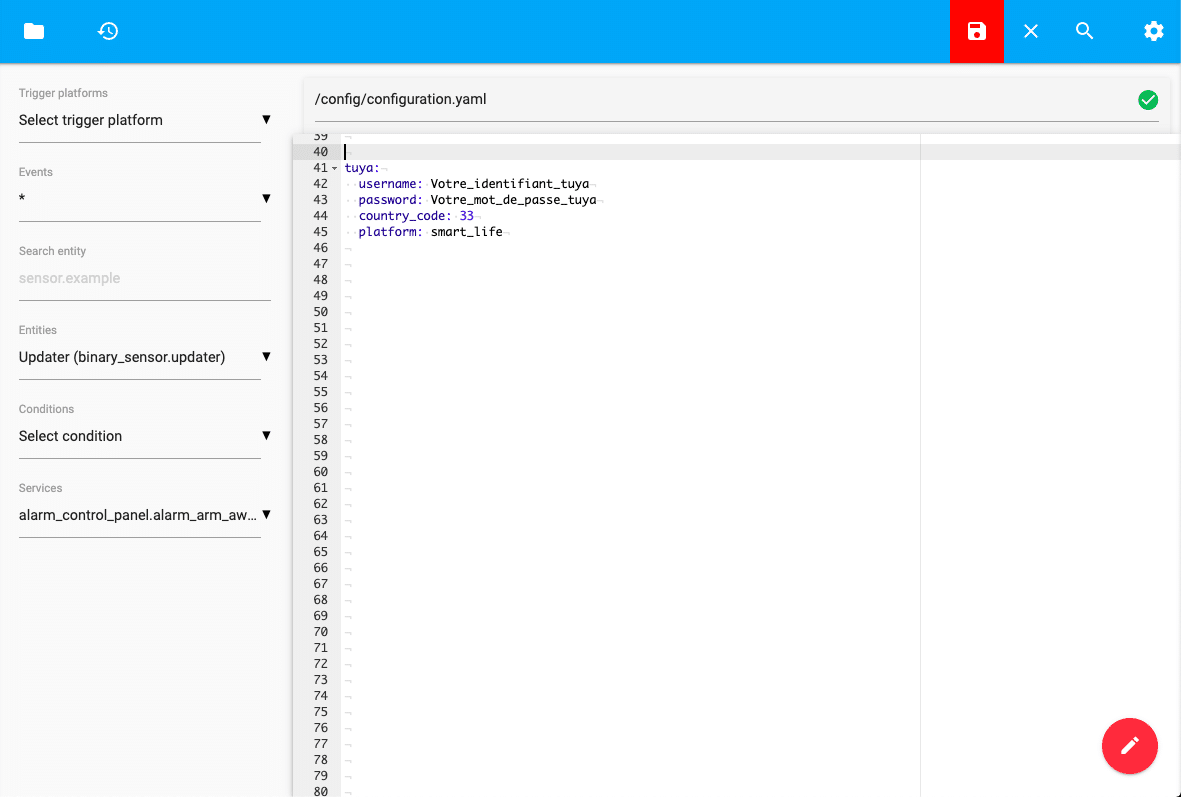 hose:
  username: Your_tuya_identifier
  password: Your_tuya_password
  country_code: 33
  platform: smart_life
Integration information
username: your Tuya account ID or Smart Life (usually your email address)
password: the password of your Tuya account or Smart Life
country_code: Country code (France: 33, Belgium: 32)
platform: Application you use and with which you registered your account
Platform available in Hass.io
By default, the parameter platform uses yours for Tuya, however you can change this setting to smart_life if you use the app Smart Life.
Installation completed. You can associate your Tuya products with other brands and products. : )
Which products are compatible?
We have offered hundreds of compatible device tests Smart Life, we invite you to consult them. Whether it issmart bulbs, so-called smart sockets or ofroller shutter switches, there is no lack of choice! Here is a small selection of inexpensive Tuya home automation systems that are fully compatible with Home Assistant.